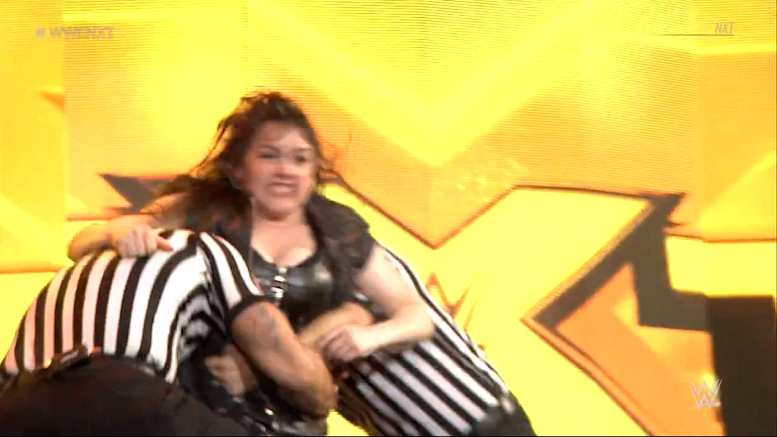 New year, new tag champs, new venue, same recapper. Welcome to the first 2018 NXT #RPWrestling Recap of 2018.
Queen of Wild Stallions (Dakota Kai vs. Shayna Baszler)
Is it just me, or did Shanya Baszler's music include some inexplicable stampede effects? After a few days at the Performance Center spent putting whoever she can find into submissions, the Queen of Spades faces off for the first time against fan-favorite Dakota Kai. Dakota is a fiery and engaging partner and Shayna absolutely demolishes her with a gleeful grin on her face for the full match.
The match ends via stoppage after Shayna delivers a nasty stomp to Kai's elbow, but it's not over til Shayna locks in her signature clutch. Ember Moon runs in to lend a hand. Shayna just grins her way out of the ring. This should be an exciting feud.
The Authors of Pain Throw Down the Gauntlet
I think this may be the first time we've heard Akam and Rezar speak for themselves. Honestly, they're pretty great (or at least, as intimidating as they should be).
Kassius Ohno vs. Raul Mendoza
This match takes some time to really pick up, but it's nice to see Raul Mendoza again. He is a very talented competitor and powerful wrestler, but no match for Ohno just yet. After a sloppy start, Mendoza finds his footing, only to get thrown off his feet by a powerful elbow from Kassius Ohno — and Ohno and his beautiful hair get the win.
Zelina Vega Continues to Be the Best
"I want to make sure Johnny Gargano understands there is no running from the NXT Champion, Andrade Cien Almas."
Zelina needs to find herself a tag team and then win the women's championship. Book it, WWE.
The Velveteen Dream Returns
The Dream returns to demand a thank you from Johnny Gargano for the good luck he received in the form of the Dream's injury. He spends a few minutes getting into Johnny's head. Will we get lucky enough to see the Velveteen Dream return to action against Gargano before TakeOver: Philadelphia?
Street Profits vs. Unsuspecting Bystanders
This is my favorite new match type. They startle a rogue NXT employee backstage, generously complimenting his tailoring. They then politely knock their way into William Regal's office, using their considerable charm and charisma to talk their way into a number one contender's match versus the Authors of Pain. That's big business!
Donovan Dijak vs. Lars Sullivan Watch 2018: Day Ten
Did Donovan Dijak debut to take on Lars Sullivan? No. Garbage.
Thanos' Real Name is Lars Sullivan
Change.org petition to reshoot Avengers: Infinity War, but replace Josh Brolin with Lars Sullivan and Lars Sullivan's beard. Whatever Lio's been doing in the performance center may not pay off tonight, but it has paid off — he seems more comfortable in NXT. Hopefully his next match his against a… less formidable opponent. Lars demands a match with fellow Big Beefy Boy Killian Dane immediately after, which is not the surprise Donovan Dijak debut I was hoping for. That's almost as rude as the superfreak accident from the top turnbuckle Lars delivers to Lio before strutting offstage.
Let Nikki Cross Fight Adam Cole, You Cowards
The Undisputed Era blindside Sanity backstage before their rematch. Nikki Cross interrupts their bragging in a wild quest for vengeance. The only thing I love more than these weaselly piles of garbage is the idea of these weaselly piles of garbage all getting their asses handed to them by Nikki Cross.
William Regal comes out to dispense justice, and Roddy Strong trots out to help, with the intimidating Aleister Black hot on his heels. The one true tag team: a tall, a small. Regal doesn't bother putting a stop to the proceedings. He just makes the match. And we're off! Complete with a reference to the current Raw tag team champs from Nigel, which I'd rather not think about. (Check out Gregory "Good" Brothers' Raw recaps for more.)
Roderick and Aleister are a fun and talented team, but there are few more experienced machines than O'Reilly and Fish right now. The unexpected pairing manages to take the Undisputed Era by surprise, but not even Roddy's knee strikes can keep them from taking the win. Adam Cole makes his way back into the ring to throw hands and a big boot for good measure. So beautiful; so cruel. The era of undisputed bad attitudes.
Aleister gets a little revenge though, courtesy of William Regal: an extreme rules match against Adam Cole at TakeOver: Philadelphia. This should be good.
That's it for this week's #RPWrestling recap of NXT. Will Sanity ever get their rematch? How's Dakota Kai's elbow doing? And will Donovan Dijak appear to defeat Lars Sullivan, even though Lars is already going to face Killian Dane? Find out next week on NXT.