Wonder Woman #7
Writer: Greg Rucka
Artist: Liam Sharp
Colours: Laura Martin
Letters: Jodi Wynne
Variant Cover: Jenny Frison
Publisher: DC Comics
A review by Stephanie Pouliotte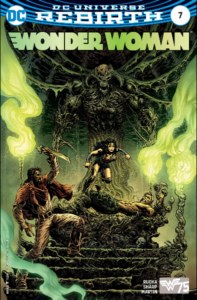 Wonder Woman #7 dives right into the action as Diana and Barbara Ann free the rest of the prisoners inside Cadulo's hideout, arriving just in time to intervene in his ritual to revive Urzkartaga. But it seems the god has already risen from his slumber and seeks once again to enslave his female worshippers. The web of deception begins to untangle as Cheetah is faced with a choice, finally let herself see the truth or get ensnared deeper into The Lies.
The arrival of Dr. Barbara Ann in the previous issue of Year One really enhances our investment in Cheetah's character in The Lies. With a better understanding of her past, we see the Cheetah as Diana does, as the brilliant woman she once was, but now we also understand the stakes she has in the game. Despite Diana's faith in her companion, Rucka keeps the reader guessing if Cheetah can stave off her blood lust. In the end, she plays a critical role in the outcome of the battle and the consequences of her decisions are that much more poignant knowing what she stands to lose. Her depiction in the final panels is both cathartic and distressing as Rucka wonderfully plays off the tandem storylines to really fill out the emotional beats of Cheetah's arc. I look forward to seeing how else he plans to use this mechanic to his advantage, especially in exploring Diana's character.
Wonder Woman finally sees some action in this issue and thankfully Rucka keeps the pace brisk after months of measured storytelling. Seeing Diana in battle was a long time coming, but her physical power isn't her greatest asset. From the very first issue where she cast aside her false image as a symbol of war, Rucka has emphasised Diana's ability to draw out the truth as the core strength of her character. Only by being able to see through Urzkartaga's deception does she understand what needs to be done and even then, it's her faith in others that ultimately makes the difference.
Throughout the issue Rucka juxtaposes Diana and Barbara Ann's temperament and Sharp and Martin echo this duality in the artwork, often depicting Cheetah as a feral shadow behind an almost glowing Wonder Woman. Sharp's detailing on this issue is his best so far, particularly his pencilling of Urzkartage and Cheetah, and Martin's colours are strikingly rich and heavy. I still felt there was some inconsistency in Diana's facial expressions and it stands out all the more because it isn't noticeable for any other character. I was really digging the thick-border panels that run off the page during her battle with Urzkartage. Sharp integrates a more dynamically bold layout for the fight sequence that really sustains the flow, even though some of Diana's movements were a bit stiff. On another note, Jenny Frison provides a stunning variant cover, one of my favourites so far. This is first one not drawn by Frank Cho, who left the team after vocal disputes with Rucka over his depiction of Diana.
Verdict
Buy It. Wonder Woman #7 shows the depth of character that can be achieved through the parallel storylines and finally picks up the pace in this action heavy issue. In broader news, Rucka talks about the queer narrative and Wonder Woman in a recent interview with Comicosity, confirming that Diana is a queer character (I felt this was fairly evident from the very first issue of Year One). Though one can argue that Wonder Woman has been queer from her inception, Rucka's open discussion on the topic and its depiction in the story further solidifies the refreshing vision this creative team has for Wonder Woman.