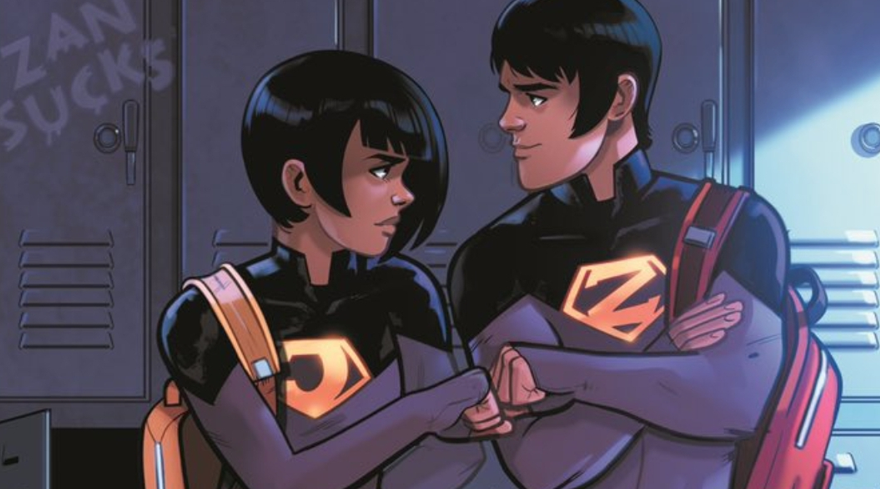 Wonder Twins #1
Writer: Mark Russell
Artist: Stephen Byrne
Letterer: Dave Sharpe
Cover Artist: Stephen Byrne
Publisher: DC Comics
Review by Nico Sprezzatura
When it was announced in late 2017 that Brian Michael Bendis was leaving Marvel—after decades of work—for DC, the general consensus seemed to be cautious optimism. Luckily for both Bendis and the Distinguished Competition, however, their gamble has seemingly paid off in a big way. Coming off the heels of his acclaimed dual run on Superman and Action Comics, the latest installment of his teen-focused "Wonder Comics" line arrives this week with Wonder Twins #1.
Written by Mark Russell (The Flintstones, Exit Stage Left: The Snagglepuss Chronicles) and drawn by Stephen Byrne (Justice League/Power Rangers, the upcoming Mera: Tidebreaker OGN), Wonder Twins reintroduces readers to Jayna and Zan, the titular Wonder Twins from the planet Exxor. Brought to Earth by Superman as a favor to their father, Jayne and Zan soon find themselves tackling a huge obstacle neither could've ever prepared for: American high school. Oh, and they're essentially made interns for the Justice League as well.
Because it's been a while since their last appearance in any DC comic, Russell is tasked with rehashing their backstory while also setting up future adventures for the duo, and I'd say he's pretty successful in that regard. They're aliens with shapeshifting powers, activated by identical rings: she can become any animal, while he can turn into water. That's pretty much it! If you think it sounds goofy, well, duh. The Wonder Twins are inherently goofy, and Russell knows it.
I was really impressed by the comedic timing of Russell's script, which includes quite a few laugh-out-loud moments while also telling a coherent (and presumably) one-and-done story that'll lead into the next issue. He also subverts expectations quite handily; the "big bad" introduced here is pretty much dispatched away with by the final page, courtesy of the Wonder Twins themselves barely breaking a sweat. The twins' whimsical energy even rubs off on the super-serious Batman at one point in the issue. It's almost like Russell is teasing the kind of fan who complains about a movie not having **STAKES**, or a character being **OVERPOWERED**. Sometimes a story is just concerned with being fun! (See also: pretty much every detractor of Unbreakable Squirrel Girl on Twitter.)
I'd be remiss without lauding Byrne's art, which is a huge asset to the book. I've been a fan of his for a while (and I'm still really disappointed he never got to draw a Ray solo series after his work on that JLA one-shot!), so I'll take any excuse to look at his gorgeous art. His vision of the twins pays enough homage to their original iteration on the Super Friends cartoon, while also updating them sufficiently for 2019. The splash page depicting their first "Wonder Twins Powers Activate!" moment in the series is beautifully rendered, mimicking the zany energy of the cartoons on the page perfectly. You can tell Byrne gets the vibe Russell is going for, and it makes me excited to read more of it in the coming months.
The Verdict: Buy it.
Brian Michael Bendis' nascent Wonder Comics line of teen-focused comics continues to flourish with the zany, fun energy of Wonder Twins #1.