White Ash #3
Writer: Charlie Stickney
Artist: Conor Hughes
Colorist: Fin Cramb
Review by Anelise Farris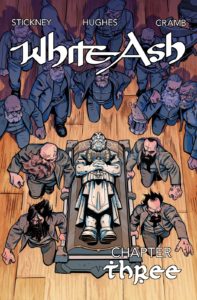 White Ash #3 sees the return of my favorite independent, creator-owned, fantasy-horror comic (15+). In the first issue we met Aleck, a miner's son, and his love interest, Lillian, the mine owner's daughter. You're probably already thinking how original, but, trust me, it IS: there's an inhuman family secret underneath this rural Pennsylvania town. In the second issue, we discovered more about this secret as Aleck learned more about his new-found heritage as a half-dwarf, as well as the fact that Lillian is an elf. Not enough to peak your interest? Well, this is way more than just a romance narrative. And there's more going on here than just a mystery about their races; something dark and deadly is underway in White Ash.
Okay, I love love loved the opening epigraph: "Same small town, even bigger funeral." I found myself smiling (maybe deviously?) and eager to dive right in. It opens in 1918 with a few bloody bodies, scratch that, it's a full-on blood bath—oh, and this is a glimpse into Lillian's childhood. From here, we jump to the present day with a hungover Lillian and a magically-healed Aleck dealing with Lillian's father's suspicion. Lillian denies her feelings for Aleck (remember they are different races/classes, etc.), but her father doesn't seem so convinced. Meanwhile, Aleck borrows a slim-fitting "Elf Power" shirt from Lillian (I loved this detail), and he heads out to find a healing potion for his comatose dad.
I did not want White Ash #3 to end. The writing is compelling, flows effortlessly, and the dialogue gives such energy to the characters. I find Aleck to be more endearing with each issue; he's quirky and humorous, and reminds me of Yorick from Brian K. Vaughan's Y The Last Man. And Aleck's interactions with each of the characters are so full of expression! Lillian is equally delightful. I like that she's not forthcoming with her emotions and provides a hard exterior that Aleck lacks. And, as always, the art is a perfect pairing to the story. The clean linework, strong facial expressions, and cool colors kept my eyes glued to the page. The lettering is done so smoothly, and I of course love the bits of Elvish!
Verdict: Buy it.
BUY IT. What are you waiting for? Chapters One through Three, in standard and limited edition variant covers, will be available on Kickstarter from July 9th through August 8th.