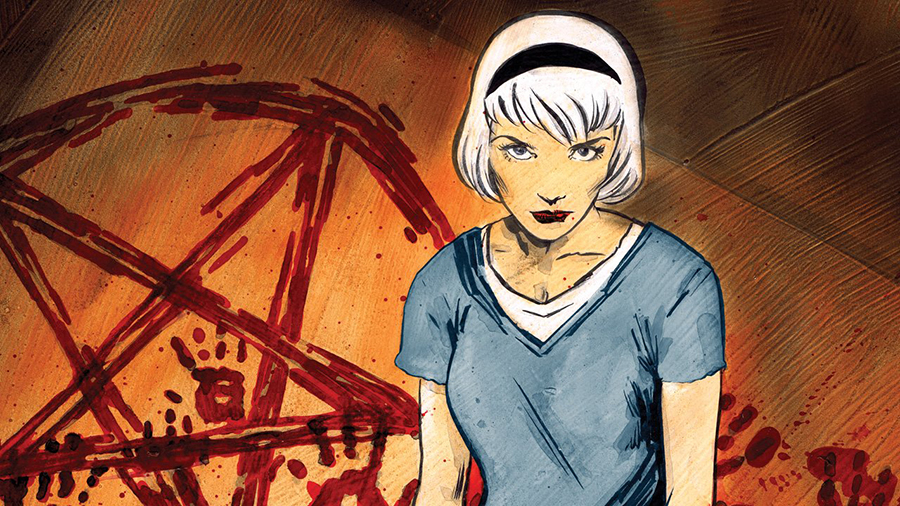 It was announced in September that the CW is set to create a Riverdale spinoff entitled The Chilling Adventures of Sabrina. Named after and based off Roberto Aguirre-Sacasa comic book series of the same name. The new show will veer away from the 90s comedy Sabrina, the Teenage Witch that we all know and love. It will explore the sinister side of Greendale, Sabrina's hometown.
Some theories have surfaced surrounding the new show and Sabrina's involvement in Riverdale. No doubt there will be a crossover of some sort, especially with Archie's season one rendezvous with Ms. Grundy in Greendale and the Blossom twins' relationship with Sweetwater River. Here is what we know about The Chilling Adventures of Sabrina and Sabrina Spellman's involvement in Riverdale so far.
1. The New Show Will Put a Horror Twist on the Classic Character
The Chilling Adventures will focus on Sabrina's coming of age as a half-human witch under the guardianship of her aunts Zelda and Hilda Spellman. If the show is anything like its predecessor, Sabrina's story won't be as happy-go-lucky as Melissa Joan Hart's 1996 portrayal of the character. The Sabrina in The Chilling Adventures openly dabbles in the dark arts. She also has a deviant moral compass (she goes so far as to put a spell on Harvey to manipulate him to go out with her).
2. Riverdale has Been Hinting at Sabrina's Involvement Since Day One
The Blossom twins took their fateful boat ride on Sweetwater River, which is the dividing line between Riverdale and Sabrina's hometown of Greendale. Ms. Grundy also moved to Riverdale after her affair with Archie, where she was subsequently murdered. Also confirmed by a reddit user that the comic book that FP Jones was clutching in jail at the end of season one was actually a copy of a Sabrina comic called Chilling Adventures in Sorcery. FINALLY at the end of season two episode two, the song "Season of the Witch" plays while Riverdale's newest villain, Black Hood, shoots Moose and Midge.
3. Riverdale is Slowly Incorporating Supernatural Elements
In season one, Archie hallucinated that the football team was a pack of werewolves. Cheryl had a dream that Jason returned as a zombie. Many have noted that both instances may allude to Afterlife with Archie, where the town of Riverdale is overrun by a zombie apocalypse that began with Jughead. A voodoo doll also turned up in the series along with talk of magic.
4. Cheryl Blossom is Probably a Witch
Ever since the season one finale, Cheryl has been a next level kind of creepy. She not only has her mother in some brainwashed state after burning her skin off along with their family home. She literally gave Archie's dad the kiss of life. While Fred Andrews is lying in his hospital bed unconscious, Cheryl tells Archie "You gave me the kiss of life, and now I'm giving it to your dad," and kisses Fred on the forehead. Seconds later Fred wakes up from his coma with a haunting lipstick imprint on his forehead. To make things even creepier, she was wearing an outfit that eerily resembled Fred's gunshot wound. If that isn't alluding to witchcraft, then I don't know what is.
5. The Convincing Evidence that Dove Cameron has Already been Cast as Sabrina Spellman
Aside from her uncanny resemblance to Sabrina Spellman, the Disney star has dropped many witchy hints on social media. They're becoming more and more convincing by the day. When rumours first surfaced as to whether Cameron could be cast as the Spellman witch, Cameron posted a pic of Sabrina Spellman on her Instagram with a telephone emoji as the caption. She also mysteriously tweeted the words "practical magic."
6. What the F@#K is Jingle Jangle?
The new drug that, thanks to Reggie, plagues Riverdale teenagers is named after a 1969 song sung by the fictional band the Archies. But where is this drug coming from? And what does Reggie mean when he says that it will "keep you up for days in more ways than one"? I honestly thought he was referring to a Viagra-esque effect from the drug (I wouldn't put it past the writers). But it's also possible that the drug will have some sort of zombie-supernatural effect on its users…
Okay, I realize that's a stretch, but in all seriousness, it could be coming from Sabrina Spellman if she's as conniving and reckless as Roberto Aguirre-Sacasa has written her out to be. I also might just be watching too much Supernatural.
7. The New Sabrina Spinoff Will Premiere Next Fall on the CW
The Chilling Adventures of Sabrina is scheduled to premiere during the CW's 2018-2019 TV season. Assuming that the third season of Riverdale gets picked up. The two shows would probably run simultaneously on the network next fall. Unlike the upcoming Wayward Sisters spinoff of Supernatural, the CW has shared their plans to premiere Sabrina on its own. However, this is further proof that Sabrina Spellman will appear on Riverdale at least a few times to cross-promote the new show.
I could be grasping at straws. However, it's more than likely that Sabrina will appear in Riverdale by the end of this season, especially given the upcoming spinoff series. Is it likely that Jughead will become a flesh-eating zombie? Probably not. Unless Riverdale was planning on doing a one-shot Boy Meets World-style Halloween special (hey, there's an idea!).