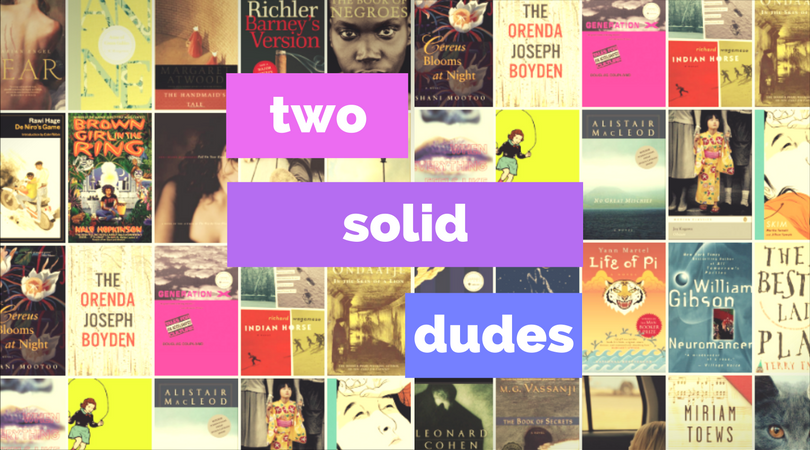 Hello, Rogues Portal! We're super excited to be making our first post over here – this feels like we're on a first date. But classy, like a date from OkCupid, not Tinder. We are two rad people in our 20s who love book lists. They're like mixtapes for books! (We also love mixtapes!) In the past two years we have both made the effort to get back into reading, but needed a reason to keep going with it. 
Our goal with this series is to read books that maybe we should have already, and get better acquainted with Canadian literature. (Did we mention we're Canadian?) We're going to listen to recommendations and talk to people about what they read in school and what they read now! We're starting with a list from CBC Books: 30 Works of Canadian Fiction to Read Before You're 30 which, lets call it: is not a catchy title. So neither is ours: Two Solid Dudes.
We'll be posting a review of a different book every Thursday!
---
Q: Who are 2 Solid Dudes?
Róisín: We are just two book nerds who haven't actually read much CanLit. I could tell you every book I was assigned in high school and only one of the authors was Canadian. After a very unscientific poll of my friends on social media, I discovered that I was not the only one with this school stat. It seems like a few people read a lot of Canadian fiction – even one novel a year in English class, but most shared the same experience as Katy and I – maybe one novel by a Canadian author and a couple short stories.
Kathleen: I took English in summer school all through high school because I HATED all the English teachers in my high school (lookin' at you, Mr. Fucking Turner), so we only ever read maybe a novella and a short story or 3 because "we didn't have time to read books" (but 4 weeks is plenty of time?) so even all the "normal" books that you read in high school are books I totally missed. I read Fifth Business a few years ago just to see what the fuss was about. Otherwise, I grew up almost exclusively reading fantasy/sci-fi, and couldn't tell you how many, if any, of those authors were Canadian.
Q: Why the CBC Reads 30 Canadian Books to Read Before 30?
Kathleen: While looking for recommendations online this list popped up once and our original intention was just to check off all the books we had read. When we realised that we had read less than a third of the books between us, that we would show this list who is in charge! (By following its instructions unquestioningly)
Róisín: To be fair, the more you look at it the weirder this list seems. First of all, it's pretty heavy on the 90s CanLit. Only 11 of the books are from before 1991. Only 11 are by women. And only 11 are by people of colour. And a lot of those overlap. So is this a list of books that will make the average Canadian reader in their 20s better read, become more interested in fiction, and aware of the diversity of literature in Canada? Or is it a list an intern at CBC books put together based on a high school syllabus and the past episodes of Canada Reads?
Kathleen: This list also got us really obsessed with what people read in high school and why people read or don't read Canadian authors growing up.
Q: Any books you're looking forward to reading for the challenge?
Kathleen: Based on content? Skim. Graphic novels about a would-be Wiccan goth FTW. Based on the cover? Lullabies for Little Criminals. So many fun bright colours!  I'm also really interested in all the books that haven't been in Canada Reads, because they're a total outlier here.
Róisín: I'm kind of looking forward to reading all of them? Is that too much of a beauty pageant answer?
Kathleen: Girl. Yes, it is.
Q: Any books you're kind of dreading?
Kathleen: A Fine Balance, because it's 602 pages. It will be fine, he's a wonderful writer, but I'm like "c'mon, Rohinton! We've got other books to read! We have posting deadlines and we need to finish you! Get on with it!"
Róisín: Even though I wrote this question, I feel like "dreading" is too strong of a word to use. But I'm not exactly looking forward to reading Life of Pi. Not for any content reasons, just because I never felt interested in it at the height of its popularity I'm still not really interested now. (Sorry, Mom!)
Q: Any books or authors you're surprised are not on the list?
Róisín: Lots! Surprised there is no Margaret Laurence, Stephen Leacock, Morley Callaghan, Dionne Brand, Jane Urquhart, Carol Shields. Those are just the ones I expected, there are definitely a lot more that should be on a list like this! There are a lot more people I would add, more recent authors who released books before the list was compiled but maybe the compilers felt they were too trendy? I think I could make a list of similar length just with books that have come out in the last 10 years.
Kathleen: Heck yes. But also authors I am surprised are on the list, just 'cuz I certainly haven't heard of 'em.
---
ANYWAY, that's us! We're following up this post by immediately posting the review for the first book we read, Bear, so we can get all of you at Rogues Portal caught up with what we're up to! 
We've also just posted a quick review for Canada Reads, which you can find on our own blog! 
Here's the list, for anyone who is interested!
Anne of Green Gables by L.M. Montgomery
Two Solitudes by Hugh MacLennan
Beautiful Losers by Leonard Cohen
Fifth Business by Robertson Davies
Lives of Girls and Women by Alice Munro
Bear by Marian Engel
Obasan by Joy Kogawa
Not Wanted on the Voyage by Timothy Findley
Neuromancer by William Gibson
The Handmaid's Tale by Margaret Atwood
In the Skin of a Lion by Michael Ondjaate
Generation X by Douglas Coupland
Green Grass, Running Water by Thomas King
Book of Secrets by M. G. Vassanji
A Fine Balance by Rohinton Mistry
Fall on Your Knees by Ann-Marie McDonald
Cereus Blooms at Night by Shani Mootoo
Barney's Version by Mordecai Richler
Brown Girl in the Ring by Nalo Hopkinson
No Great Mischief by Alistair MacLeod
Life of Pi by Yann Martel
DeNiro's Game by Rawi Hage
Lullabies for Little Criminals by Heather O'Neill
Best Laid Plans by Terry Fallis
Book of Negroes by Lawrence Hill
Skim by Mariko Tamaki and Jillian Tamaki
Indian Horse by Richard Wagamese
The Orenda by Joseph Boyden
When Everything Feels Like the Movies by Raziel Reid
All My Puny Sorrows by Miriam Toews