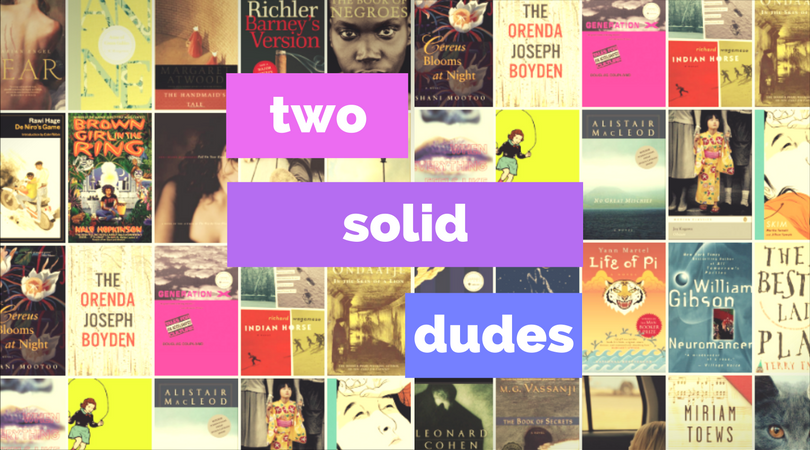 DeNiro's Game, 2006, 273 pages
Bassam and George are childhood best friends who have grown to adulthood in war torn Beirut. Now they must choose their futures: to stay in the city and consolidate power through crime; or to go into exile abroad, alienated from the only existence they have known. Bassam chooses one path: obsessed with leaving Beirut, he embarks on a series of petty crimes to finance his departure. Meanwhile, George builds his power in the underworld of the city and embraces a life of military service, crime for profit, killing, and drugs.
Told in the voice of Bassam, De Niro's Game is a beautiful, explosive portrait of a contemporary young man shaped by a lifelong experience of war. Rawi Hage's brilliant style mimics a world gone mad: so smooth and apparently sane that its razor-sharp edges surprise and cut deeply. A powerful meditation on life and death in a war zone, and what comes after.
This book either won or was nominated for every hecking award. It won the 2008 International Dublin Literary award, was shortlisted for the 2006 Giller and GG, as well as winning some awards in Quebec for the French translations. DANG. Also our friend Nora told me Kathleen the other day that 5 people have given her this book to read. I don't know who these 5 people are, but surely they are as reliable as a list from the CBC.
THOUGHTS:
Kathleen: True story: I hate books about wars but LET ME TELL YOU: this one was incredible. First of all, the writing is so beautiful and so poetic, with great use of repetition.
Secondly, the characters are so accustomed to bombs dropping, water and food scarcity, and the militia roaming the streets are normalized, which is jarring AF. The timelines in the story can be vague, but you get the sense that the war has been their reality for a long time.
The characters and their relationships were very well fleshed out, and I didn't forget anyone's name while I was reading! Even the characters that we only met once or twice seemed very three-dimensional.
Roisin: I hear you on hating war books girl, I find guns very uninteresting. I feel like it is a similar thing? I really loved this though. Parts of it made me very uncomfortable. And I left this book needing to examine why it made me feel that way. I was alarmed by the way Bassam was affected (and unaffected)by the war around him. This violence that shapes his youth and informs his relationships is both visceral and everyday.
We see him make and lose friends, a girlfriend, even his family relationships are strengthened and torn apart by the end of the book. So much is wrapped up with his friend George and how power changes him and allows him to change Bassam. By the time Bassam was in Paris I was getting butterflies every time I turned the page, worried about what was going to happen next. This book left me devastated but also wanting more! I'm slightly worried I read it too fast that I missed things, it moved at such a speed.
Kathleen: I'm so dang impressed that this was his first book!
Roisin: This book was so tense!
Kathleen: SO TENSE.
VERDICT: Should it be on the 30 before 30?
Roisin: Yes!
Kathleen: Absolutely.
NEXT WEEK'S BOOK: Book of Secrets by M.G. Vassanji (but for real this time!)