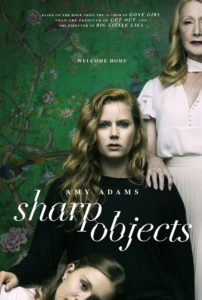 SHARP OBJECTS – Episode 1: Vanish
Starring: Amy Adams, Patricia Clarkson, Eliza Scanlen, Sophia Lillis, Chris Messina, Henry Czerny, Elizabeth Perkins
Director: Jean-Marc Vallée
Writers: Marti Noxon
Based on: Sharp Objects by Gillian Flynn
Reviewed by Insha Fitzpatrick
This review CONTAINS [SOME] SPOILERS. Mild TW for mental health/self-harm mentions.
"I can't quit you, babe So I'm gonna put you down for a while."
I Can't Quit You Baby – Led Zeppelin
Small-towns are one of the scariest, yet most exciting things I've ever watched on TV. Take some favorite towns like Twin Peaks, Hawkins (Stranger Things), Sunnydale (Buffy) and Bon Temps (True Blood). Think about them for a second and what they have in common. Of course, they carry a unique quality about them. One that not only excites but intrigues, however, they may also harbor some dark secrets. They tend to send a shiver up your spin once you peek behind the mountains and enter deep inside something you never thought you would.
With Sharp Objects, we're introduced to another small rural town. There's some darkness lurking within its residents and the secrets they hold. All of this through the eyes of a woman that used to live there. She's come back and uncovers some f*cked up memories and even more f*cked up situations.
Sharp Objects focuses on Camille Preaker (Amy Adams), a reporter from St. Louis Chronicle buried in a baggy mess of clothes and secrets. Her boss sends back to Wind Gap, her rural down with beautiful southern-like rustic charm, to investigate a case involving two missing girls. One found dead. The other still missing. While Camille's back in her hometown, she encounters her mother domineering and proper Adora (Patricia Clarkson), silent and still stepfather (Henry Czerny) and beautiful and slightly free half-sister Amma (Eliza Scanten). The time back in Wind Gap isn't giving Camille the best of memories. She slowly starts to sink back into her tragic and painful childhood memories that detail a heartbreaking backstory.
The first episode Vanish brings us into the beginning speculations if things are going to get better or worse. (Spoilers: Worse.) The first episode is always interesting because there's always something that you feel like you're missing but everything in Sharp Objects is practically laid out on the table. After Camille is not so welcomed back to her hometown, she feels like an outsider looking in. You can feel in your heart that she doesn't want to be there. She wastes away on cheap vodka bottles, cigarettes and candy bars as her nutrition and addiction. The episode feels like she wants to do just that… vanish.
We find at the end of the episode that she has a history of self-harm. The final image of the episode is a perfect way to end because it tells us all we need to know without saying anything. As Camille slips into the tub, we see scars along her body and the back of her arm is the most important. She carves VANISH in her skin. It's a gripping and heartbreaking look at Camille, but also a weirdly peaceful one. She grabs her headphones, sinks into the bathtub and becomes completely in her element. It's a self-contained portrait of a woman that's still not on her feet just and trying hard to keep it all together, especially her mental state in a place she definitely doesn't want to be in.
They tell us this story through Camille that immediately makes her an intriguing character. We also hold our reservations about her until those final minutes of the episode. The abstract way the story presents itself weaves viewers through Camille's thoughts of tragic and happy times. She's triggered by somethings and nostalgic about others. It makes us see her more of a fantastical human mess, but one that we can identify with, but with caution. The director of all of these episodes future episodes, Jean-Marc Vallée, lets the camera into Camille's thoughts more than anything else. It's essential that we see that with the character because she's gone through traumatic experiences. We're walking side by side with her, down the same path she's taken before.
This feeling is doubled when Yves Bélanger's camera is in focus. Bélanger (Brooklyn, Arrival, Big Little Lies) has worked on movies that have their own type of feeling to them. It's a feeling that's shedding in mystery, but also of deep understanding. He knows how to shoot without overwhelming the viewer, but he keeps it simple and in focus. Think of the look of Big Little Lies, but a little bit grittier and dirtier. He and Vallée almost work with a look that's two halves of a whole David Fincher movie. He knows how to frame a face so very well that you understand the emotion behind their eyes. In Sharp Objects, there are plenty of shots with Camille just observing, avoiding, but you always wonder what she's thinking.
This also makes you want to talk about Marti Noxon's writing. He also runs as the showrunner and completely knocks it out of the park. Noxon's creates that abstract type atmosphere that tells you so much with so little. I could only imagine what his script looks like because there's almost as little dialogue as possible, but it's also so loud in what it's saying. When the characters are interacting, they're so completely honest and the narrative flows so naturally with the dialogue between them. Moments hit hard and you find out you're holding in a breath for some moments. That's what a good script does. I honestly didn't expect to get as much information out of the first episode as I did. It'll leave you latching on for more.
I want to talk about the supporting cast before we get to the star of the show cause boy, I have a lot to say about her (more than good, I promise). As always Patricia Clarkson absolutely illuminates the screen as Adora, Camille's very much domineering and overbearing mother. She will absolutely give you the creeps of how proper, in control and in line she needs to keep everything. Adora OOZES southern charm that makes you think she's doing to pull out an ax at any moment. She's a character that you want to watch out for. There's some shady stuff with that lady. Mark my words.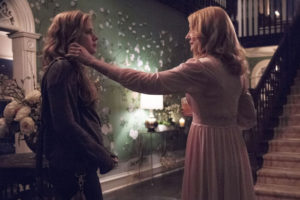 Eliza Scanten as Amma, Camille's half-sister shadows a "secret life." Not really, she's actually able to get out of Adora's watch for a little to go play. She's also an interesting figure that we're not very sure where she will fit with Camille, but it's going to be interesting to learn. There's also Chris Messina as Det. Richard Willis, an agent sent to the small town to investigate like Camille. Messina does a bang-up job in this that I didn't expect. I'm very excited to see him breaking out of the comedy world and into something bone-chilling. He carries a natural chemistry and rapport with Amy (all the cast does tbh) and it works brilliantly on screen.
Now, I want to talk about who we all came for. Amy Adams is nothing less than stunning and brilliant in this first episode. I'm so excited to watch her in the upcoming episodes. Amy is an actor that really holds you in her grasp. Yves Bélanger's work with Amy in Arrival which means that he knows just how to frame Amy in order to get that raw emotion. He knows how to bring the camera into her focus and she knows just what to do. This makes us the viewer completely in love with her in the process. Camille is a wreaking ball and Amy does an absolutely wonderful job illuminating her to where you just… feel for her. Amy is the perfect actor to give us that emotional pull that we need. I guarantee that this will last throughout the season.
VERDICT: WATCH IT. Sharp Objects brings us slowly but surely into Camille's fractured world in a drunken haze. It's captivating yet somber look at a woman in crisis, but also a woman trying her fucking best.
I'll see you again for the next episode "Dirt." Until next time Wind Gapians, bye!
---
If you or someone you know struggles with self-harm or substance abuse, please seek help by contacting the Substance Abuse and Mental Health Services Administration (SAMHSA) – 1-800-662-HELP (4357)
For additional resources, please visit HBO – SHARP OBJECTS / RESOURCES.