THE WIDOW
Starring: Kate Beckinsale, Alex Kingston, Charles Dance, Babs Olusanmokun, Ólafur Darri Ólafsson, Jacky Ido, Bart Fouche, Matthew Le Nevez, Shalom Nyandiko
Director: Samuel Donovan (Episodes 1 – 4), Oliver Blackburn (Episodes 5 – 8)
Writer: Harry Williams, Jack Williams
Reviewed by Sidney Morgan
This review CONTAINS MINOR SPOILERS.
For a few years now, Amazon has been developing original programming to compete with the likes of Netflix and HBO. From action/dramas like Bosh and Tom Clancy's Jack Ryan, to comedies like Mozart in the Jungle and The Marvelous Mrs. Maisel, these shows have been acclaimed, successful and of high quality. They've also partnered with various international developers, co-creating new content including Britannia that was produced with Sky Productions and most recently, The Widow co-produced with ITV.
The premise of The Widow isn't original. Georgia, played by Kate Beckinsale (Underworld, Van Helsing), is happily married to Will (Matthew Le Nevez). However, a tragic event hits them putting an intense strain on the relationship, and ultimately on their happiness. With Georgia unable to work, Will takes a job, but one that requires him to occasionally travel to the Democratic Republic of Congo (DRC). It is during one of these trips that Will is scheduled to be on Sankuru flight 19, which ends up crashing. Only one passenger is found alive, but they succumb from their injuries a few days later. Everyone else is declared dead.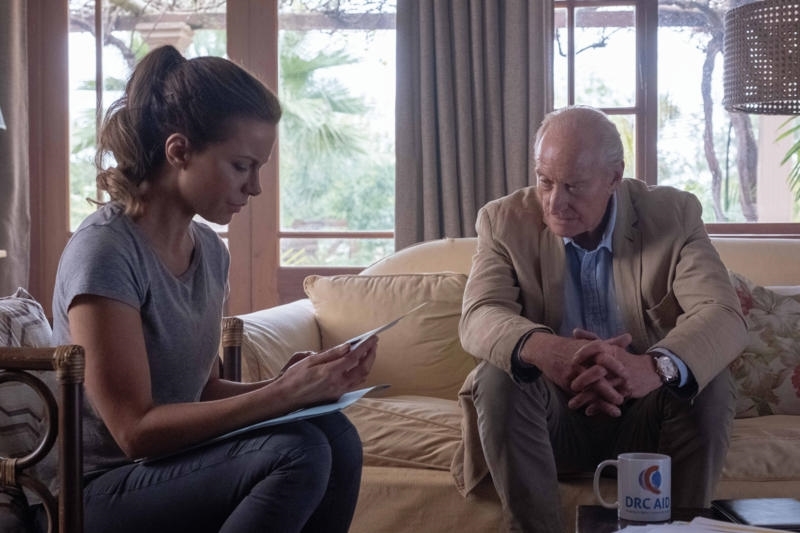 Fast forward three years and Georgia still isn't over the death of her husband. In a freak coincidence, she ends up at a local clinic in Wales to deal with an injury when she sees a news report of a riot in Kinshasa (DRC) on the television. She's convinced she sees her dead husband Will. And thus starts a thrilling search that takes her to the DRC to try and find out what happened to him, and if he is indeed alive.
The Widow is an excellent story, a testament to the brother writing duo of Harry and Jack Williams (Rellik, Liar). There's intrigue and a complex mystery which drives the plot. Georgia's desperation to find out what happened to Will motivates her to go to great lengths to uncover the intricate plotting that led to the outcome witnessed three years ago. It doesn't take long for her (and viewers alike) to understand that there are far more serious stakes at hand.
Having become aware of what his employer was involved in, Will greedily wants his share of the pie. He underestimates how dangerous the various players involved are. Thankfully, he has a guardian angel looking out for him. And the more Georgia sticks her nose in this business, the graver the danger she finds herself in as well. Watching the story unfold over the eight episodes is gratifying. The mystery is addictive and has plenty of edge-of-your-seat moments. Don't be surprised if you end up watching this show in a few sittings, if not one.
I enjoyed the various performances. Kate Beckinsale played her role well (there's a bit of Eliza Graves from Stonehearst Asylum in this character). She comes across as weak, but to think her so is a mistake. She's stubborn and driven, though careless and reckless. And thanks to some well-written coincidences, she survives all of her ordeals. Charles Dance (Game of Thrones) as Martin Benson and Jacky Ido (The Catch, Inglorious Basterds) as Emmanuel Kazadi, two people who help Georgia on her search, were gems to watch. Both actors exude a welcomed calm among otherwise tense situations, showing their concern and personal motivations to help Georgia.
(**The following paragraph CONTAINS SPOILERS**) Alex Kingston is excellent in her role as Judith Gray, whose allegiance is never clear until closer to the end of the show. Her back story to explain her motivation was especially poignant. Kingston conveys the hurt, the anger and the cold hatred with clarity. She is outstanding. And even though the entire cast merits a shout out, two actors warrant to be mentioned. Bart Fouche (Maze Runner: The Death Cure, Escape Room – 2019 version) as Pieter Biello and Ólafur Darri Ólafsson (The Meg, Emerald City) as Ariel were excellent. They both exhibit an odd, yet admirable sense of loyalty that is bound to affect viewers' perception in an uncomfortable yet satisfactory way.
The Widow was nicely shot. The scenes in Wales were beautiful. The isolation it provided Georgia could be felt. Using it in the opening scenes immediately brought up questions as to why Georgia would be there, and seemingly alone as there's nobody there to help her when she's injured. As for the rest of the show, the majority of the scenes take place in the DRC and those are filmed in South Africa. It adds realism to the show.
If you're looking for non-stop action, then The Widow might disappoint slightly. Keep in mind that the entire story is fuelled by Georgia's – the aptly titled widow – need to come to terms with her husband's death. On her quest to find Will, or at least answers about the crash, we're privy to some intense action scenes. However, the show is also peppered with slower ones, especially when we're given background information on Georgia and Will (and others) in various flashbacks. Perhaps if I'd watched the show in several sittings, the slower scenes wouldn't have been as noticeable. It's definitely not a reason to avoid the show. Just temper your expectations and keep in mind it's as much a drama as it is an action show.
Georgia is incredibly driven (perhaps stubborn) and it affects her decision-making. It gets very frustrating to watch. There are places in the DRC that are dangerous (a reflection of the DRC present day's reality). In the show, there's barely an episode where someone doesn't remind Georgia of this. But it doesn't matter as she ignores the warnings and travels into known dangerous areas, without so much a care in the world. It's pure stupidity and that she gets away with it is a bit of a stretch. Kudos to the writers who at least gave Georgia the dialogue to admit to friends that she was in dangerous territory. At least she didn't across as naive. Set aside your skepticism, otherwise the frustration may take away from the enjoyment of the show.
Directors and/or writers, usually have no issues in making political or social statements in their television shows. Sometimes it's subtle, other times obvious. However, something seemed off with Georgia being the one to organize the demonstration. There's no doubt that the information she found was essential in exposing some of the corruption, but why didn't anyone else (read – any of the locals whose family members or friends died in the crash) find out? It felt slightly belittling to them. I get that the political climate of the DRC is oppressive, but none of the affected people were able to do anything about it for three years? Yet Georgia does in a few days? After three years? Another bit of a stretch.
Though The Widow is a work of fiction, civil unrest, political corruption and wars do happen in real life. One of the sad consequences of these is what happens to children. Often victims, they are tragically torn from their families and forcefully enlisted to fight in these wars. The psychological damage done to them is practically irreparable. The Widow highlights this issue very well, with various scenes dedicated to show the impact it has on them. The casting director found a gem in Shalom Nyandiko to play the role of Adidja, one of those children in question. Despite the horrors around her, she avoids killing as best as she can and helps another young boy dealing with the traumas he's witnessed. And it's incredibly well done. But when Georgia takes her away from her "gang" without a clear plan, it's Martin who reminds her – and us – that she can't save all the children.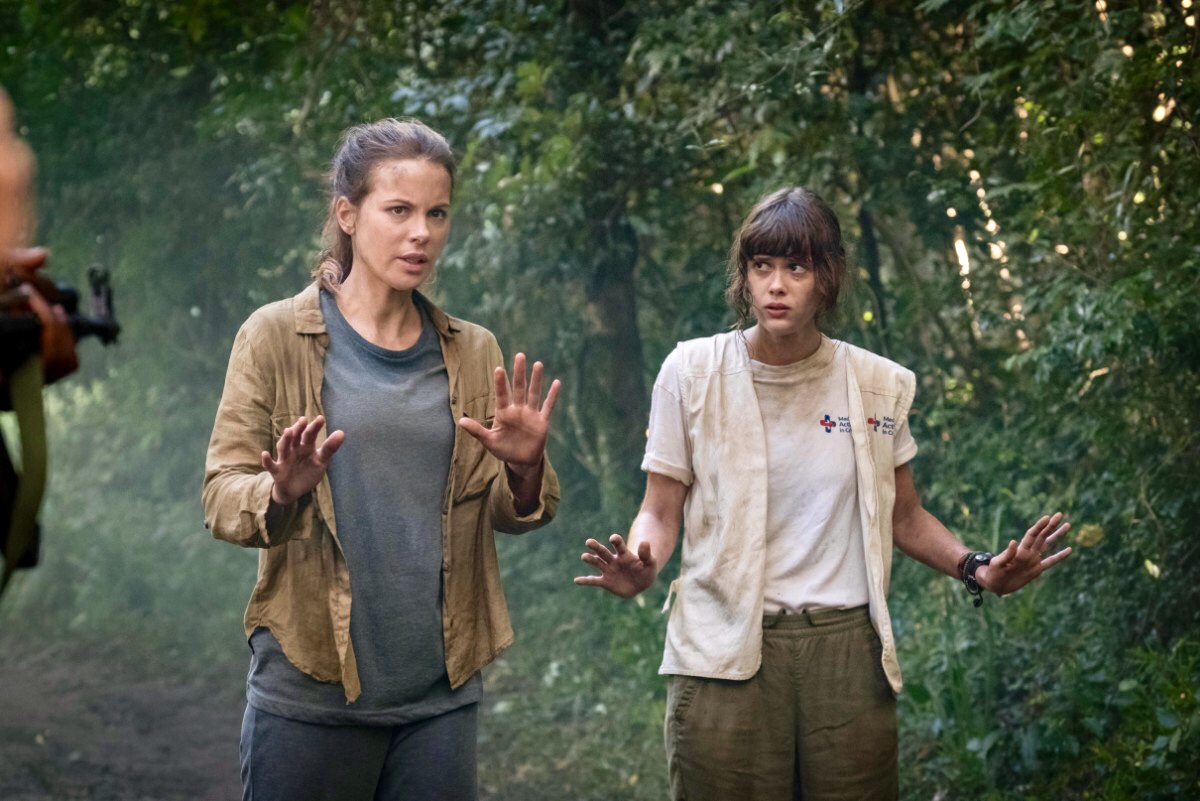 With so many children displaced, Martin is of the mindset that nothing can be done. The problem is too big for one person to make change. However, Georgia believes otherwise. Perhaps the answer lies somewhere in between, but what to do gets a little murky in The Widow. Leaving Adidja at a school for orphans, Georgia returns to England, seemingly closing this part of the story. From a fictional point of view, it makes for great drama between the two characters. A separation inevitably leads to sadness. But is this the right thing to do?
Given all that transpired prior to the ending of the show and how all the storylines were finished, it only made sense to keep the Adidja arc as is. However, a malaise might have crept into the writers' minds, or even the director's, because an extra scene that feels like an epilogue was added. Perhaps it was done for purely dramatic reasons, to give a Hollywood-type ending moment to the show. From that point of view, it works as there's plenty of emotional ammunition in that scene. However, what about Martin's warning? What about all the other children orphaned and enlisted and murdered children? To save one child can't be downplayed in any way. However, it's also important to remember that there still exists a far greater social issue which seems to get lost in that ending.
Finally, what about the villain? I get so annoyed when villains make stupid mistakes. How is it that General Azikiwe (Babs Olusanmokun), the mastermind behind these operations and the corruption, is so easily outdone by Georgia and Pieter? Years of building his little fiefdom falls apart because of a few oversights? Wouldn't he have thrived because he was able to notice those who were trying to take him down? Don't get me wrong, the story is solid and enjoyable. But if I'm going to nitpick, this is something that could have been written a little tighter.
Verdict
The Widow is an excellent show. Keeping in mind that the main premise is about a widow trying to figure out what happened to her husband, it does takes its time to develop. But stick with it, ignore some of the eye roll moments and you will be rewarded. There's a good thriller, political corruption and ultimately, the action doesn't disappoint. A great story, coupled with excellent performances make for a quality show you'll enjoy.
The Widow is now available for streaming on Amazon Prime Video.