Trust– Episodes 4-5: "That's All Folks!" and "Silenzio"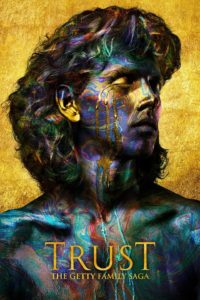 Starring:: Harris Dickinson, Hilary Swank, Donald Sutherland, Luca Marinelli, Andrea Arcangeli, Niccolo Senni, Francesco Colella, and Brendan Fraser
Written by: Simon Beaufoy
Directed by: Dawn Shadforth
"I don't want a portion of what the Gettys have. I want to BE the fucking Gettys!"
Trust really starts to stretch its legs in the one-two punch of "That's All Folks!" and "Silenzio." Both episodes, written by series creator Simon Beaufoy and directed by Dawn Shadforth, the woman who gave us the videos for Kylie Minogue's "Can't Get You Out of My Head" and "In Your Eyes." Episodes 4 and 5 capitalize on the more tense tone of episode three and open up the show's rapidly expanding scope. Mainly focused on the criminals who look to profit on Getty's kidnapping and the beautiful, but dangerous Italian countryside. Trust finally finds itself growing into the crime saga it promised. Thanks to these robust and well-constructed episodes.
Luca Marinelli's Primo knows he has something big on the line with the kidnapping of John Paul. But, this being Italy, he knows he has to get permission first. Enter Don Salvatore. Our first real look at the puppet master of the vast criminal network hinted at during episode three. Though the Getty patriarch has a "clamshell for a wallet," Primo and the Don still think they can get seventeen million out of the old codger and open up a line of communication to the family via a wormy cousin of Primo's who actually made something of himself and became a lawyer.
The action in London thankfully takes a backseat to the action during these two episodes. Frankly, I feel like that was a best possible decision for the show's growth. Though we get wry check-ins to Sutton Place, focused around Getty Senior's bustling business center and his razor sharp and hilarious house manager Robina (Charlotte Riley delivering some Lois Lane realness), Beaufoy smartly focuses on Harris Dickinson's plight and just how in over his head he is now.
Not only does this add a real air of menace and beauty to the show, thanks largely to Shadforth's intimately shot scene blocking and cinema verite like energy, but lets Beaufoy's scripting get to flex a different set of muscles than it did during the first three installments. Sure, we got some flashes of it during episode three. But episodes 4 and 5 hammer home the stakes of the story. The toll the whole affair is having on the perpetrators and victims of the crime.
If I had ONE complaint, its that we don't get nearly enough time with Hilary Swank's Gail and Brendan Fraser's Fletcher Chase. We're treated to some quick and adorable business with them semi-cohabitating. Fletcher playing the father figure and attempting to fix her AC. We get some heart wrenching "phone acting" from Swank in both episodes. That said though, it feels like Swank and Fraser are resources that aren't fully being used to the show's benefit. I really hope that changes next week.
Verdict: See Them. The Show is Really Starting to Hit Its Stride
All in all though, Trust is really riding a wave of positive momentum thanks to these two recent episodes. Though the show has taken a decidedly darker turn, Beaufoy and Shadforth keep the show's streak of dark humor going while also making sure it doesn't stagnate. Powered by 70s rock, pointed direction, and consistently engaging scripts, episodes 4 and 5 find Trust growing into a dark horse Sunday night favorite.
Until next time, my dirty debutantes, be seeing you.