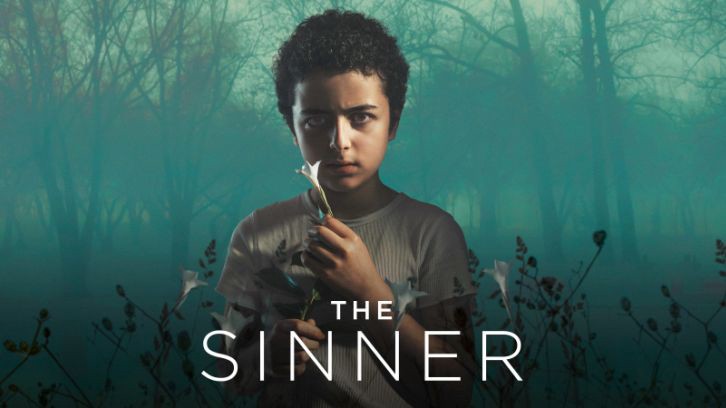 The Sinner – Season 2: Part II
Starring: Bill Pullman, Natalie Paul, Elisha Henig, Adam David Thompson, Ellen Adair, Tracy Letts, Carrie Coon
Director: Antonio Campos
Writers: Ellen Fairey
Based on the book The Sinner by Petra Hammesfahr
Reviewed by Sidney Morgan
This review CONTAINS MINOR SPOILERS.
After getting Julian to admit brewing the fatal tea, Harry still wasn't happy with the investigation. As in season one, the bigger question remained: why did this young boy poison his parents? So many questions were left unanswered, including the reliability of the story about a trip to Niagara Falls. If that had been the case, then why didn't Julian have a suitcase or bag or anything else but the clothes on his back for that matter? At some point, he would have needed a change of clothes and toiletries, no? Nothing is found. And then there were the few flashbacks, teasing something weird (cloak wearing mysterious person), and even implying that Julian isn't normal. So with very little to go on, other than the confession, it came as a slight shock when the episode ended with Julian's supposedly 'real' mother shows up at the police station.
If Vera (Carrie Coon) is Julian's mother, then who is Beth (Ellen Adair), the woman who was with Julian at the hotel and believed to be his mother? (Then again, why didn't Beth have any identification with her? Was that a clue in itself?) What we do know is that Vera and Julian are close, or at least know one another well. Julian's flashbacks make that abundantly clear, even if they made it seem like the relationship has more of a therapist/client feel. So, again, who exactly is Vera? For starters, she's the head of Mosswood, a commune just north of Keller. And that doesn't bode well. If the chief's (Jay O. Sanders) initial reaction is any indication (he wants Harry and Heather to stay away), something bad happens or happened there. And this is The Sinner, the words "don't go there" undoubtedly mean that someone will go there. While Vera tries to get the court to release Julian into her care, she comes unprepared to answer the judge's concerns, who also seem to have issues with Mosswood.
Something is definitely up with the commune, starting with the fact that Julian is the only child there. The father apparently isn't in the picture, throwing shade on Adam's role as well. Oh, and there's a sex offender who lives there as well. And who knows who else. But as Vera explains, anyone is welcome at Mosswood. But are they really? When Harry and Heather conduct their search, Harry notices that Jes (Erin Healani Chung) is wearing the same necklace Beth was in a picture he saw. As he questions her about it, she reveals that Beth gave it to her. But her deer-caught-in-the-headlights look when Harry pushes for more answers betrays that Beth and Adam, and maybe even Julian, were never supposed to come back to the commune. He suspects they were escaping Mosswood. But why, if it is such an idyllic place?
Heather (Natalie Paul) also has personal reasons for being apprehensive about the commune. When she was a teen, curious about Mosswood, her and her friend Marin (Hannah Gross who's brilliant in Mindhunter by the way) made their way to the commune. After a being found and asked to join a ritualistic burning of personal items to disconnect one from being held back, against Heather's wishes, Marin accompanies Keith (Paris Remillard) to a barn. And that's it. No more Marin. We know nothing else, other than that Heather is still, after all this time, obsessed with her. Was she more than a friend? Was she her first love? And what did happen to her in that barn? So with this opportunity, it wasn't surprising to see present Heather make her way to that same barn, even though it's not listed in the search warrant. (Of course, nothing will go wrong with that, will it?) And inside, she finds a large rock with what seems to be some blood on it. The camera focuses in on her and credits roll. Cue more questions!
What is wrong with Harry (Bill Pullman)? It really would be interesting to get into that man's head to figure out the mess that's there. We've already seen some of the issues he's got after watching season one, but now, in typical The Sinner fashion, we are only starting to scratch the surface of the why. There is a link to his childhood though when his mom did something terrible. Do his flashbacks seem to suggest she set the house on fire? He avoids personal topics, redirecting conversations to his work. Heck, even with his 'apparent' friend Jack (Tracy Letts), there's an as yet inexplicable awkwardness between the two, making me wonder why he's even bothering staying at the man's house? He just doesn't like being the focus of a conversation, and it's incredibly apparent when he opens up to Julian. But if it gets him to understand Julian, and ultimately the crime better, it's no surprise he chooses to do it, especially now that Julian has slightly changed his story, right after Vera whispered a lengthy message into his ear no less…
Verdict
The strength of The Sinner is that it creates a complex story, with layer upon layer of mysteries. What begins as an obvious crime, turns out to be anything but. Season one was brilliant in its slow revelation of the reasons Cora committed her crime, and the second season has met that bar if not even exceeded it. Bill Pullman is brilliant in this role, as is the cast of supporting characters around him, especially Carrie Coon. Even though a few questions were somewhat answered, so many more haven't, and new ones have been posed. The writing is brilliant, and I can't wait to see how this plays out, especially when it comes to explaining why the man with the pony-tail was at the hotel…