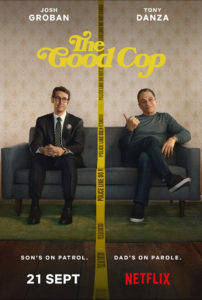 THE GOOD COP
Season 1, Episodes 1-2
Starring: Tony Danza, Josh Groban, Monica Barbaro, Isiah Whitlock, Jr., Bill Bottkamp
Directed by: Randy Zisk
Created* and Written by: Andy Breckman
*Based on an Israeli show The Good Cop created by Erez and Tomer Aviram.
Review by Cory Webber
The Good Cop, a Netflix Original, is a show about Tony Sr., a "bad cop" father, (Tony Danza) who lives with his "good cop" son, Tony Jr. (Josh Groban). Tony Jr. is a very by-the-books detective who has a distinct knack for solving crime. Tony Sr. works Brooklyn's toughest cases with his soon-to-be-retired partner, Detective Lumas (Isiah Whitlock Jr.), who is counting down the days (474 to be exact!) until he can retire.
First things first, and in the interest of full disclosure, I haven't really liked Groban as an actor. I'm mostly referring to his role in Crazy Stupid Love, where he played a real jerk. However, I think they perfectly cast him here as the straight-laced detective with an odd sense of humor. They also perfectly cast Danza, who also produces (so maybe he cast himself?), and maybe also sings the theme song, as the smooth-talking, morally dubious ex-cop/ex-con.
All around, the casting is pretty solid. Although, the jury is still out on Bill Bottkamp, who plays a lab assistant. I can't tell if he's trying to do a perfect Napoleon Dynamite impersonation or not. But, if he is, then it is spot on. One concern I have is that Breckman doesn't give some of the supporting players enough to do in these first two episodes. Admittedly, this is definitely something that possibly has improved past these first two episodes, but I digress.
One of the side characters that does get a good dose of screen time is Inspector Cora (Monica Barbaro), who is tasked with keeping tabs on Tony Sr. She plays an aspiring detective who pairs up with Tony Jr. in the first episode and proves to be a nice counter, at least humor- and personality-wise, to him. She delivers one of the better lines in which she references "Professor X and the other mutants."
Moreover, there is something about this show that reminds me of Pushing Daisies. Now, before you get ready to rage at me with digital pitchforks. Please know I am not saying this show is at the same level as Bryan Fuller's brilliant masterpiece. However, certain aspects brought the comparison to mind, so much so, that my wife said it just as I was thinking it. Now, I've had some time to let it bounce around my brain a little. It's something about the show's combination of the smooth jazz-infused music, quirky characters, and a charming, wholesome-ish lead character. I can't quite articulate it, but there is something.
We can attribute most of the show's charm to its writer and creator Andy Breckman. He's the creator of the beloved cult-favorite Monk. While Tony Jr. doesn't have as unique a personality as Monk, he does have his quirks that are somewhat endearing. Regardless, I think the real strength is the juxtaposition between Tony Jr. and Sr. Tony Danza plays the morally grey ex-cop who might have a little more heart than they want us to believe.
While I did enjoy the first two episodes, I didn't like the one-and-done type of storytelling. I'm hoping there is more of a thematic thread throughout the season, beyond the obvious relationship issues of the two leads. However, there were some genuinely funny moments, including a bit about a watch that tells you when you're thirsty. Also, the first two episodes establish the core group of characters as a strong unit comically, as well as, and to a slightly lesser extent, dramatically.
Verdict: Watch it.
Despite the one-and-done storytelling, The Good Cop offers an entertaining odd couple premise bolstered by perfect casting. And even though it's episodic, at least for the first two, each one has its own unique flair. It has plenty of laughs, with just enough heart, to get me emotionally invested enough to watch the rest of the series.