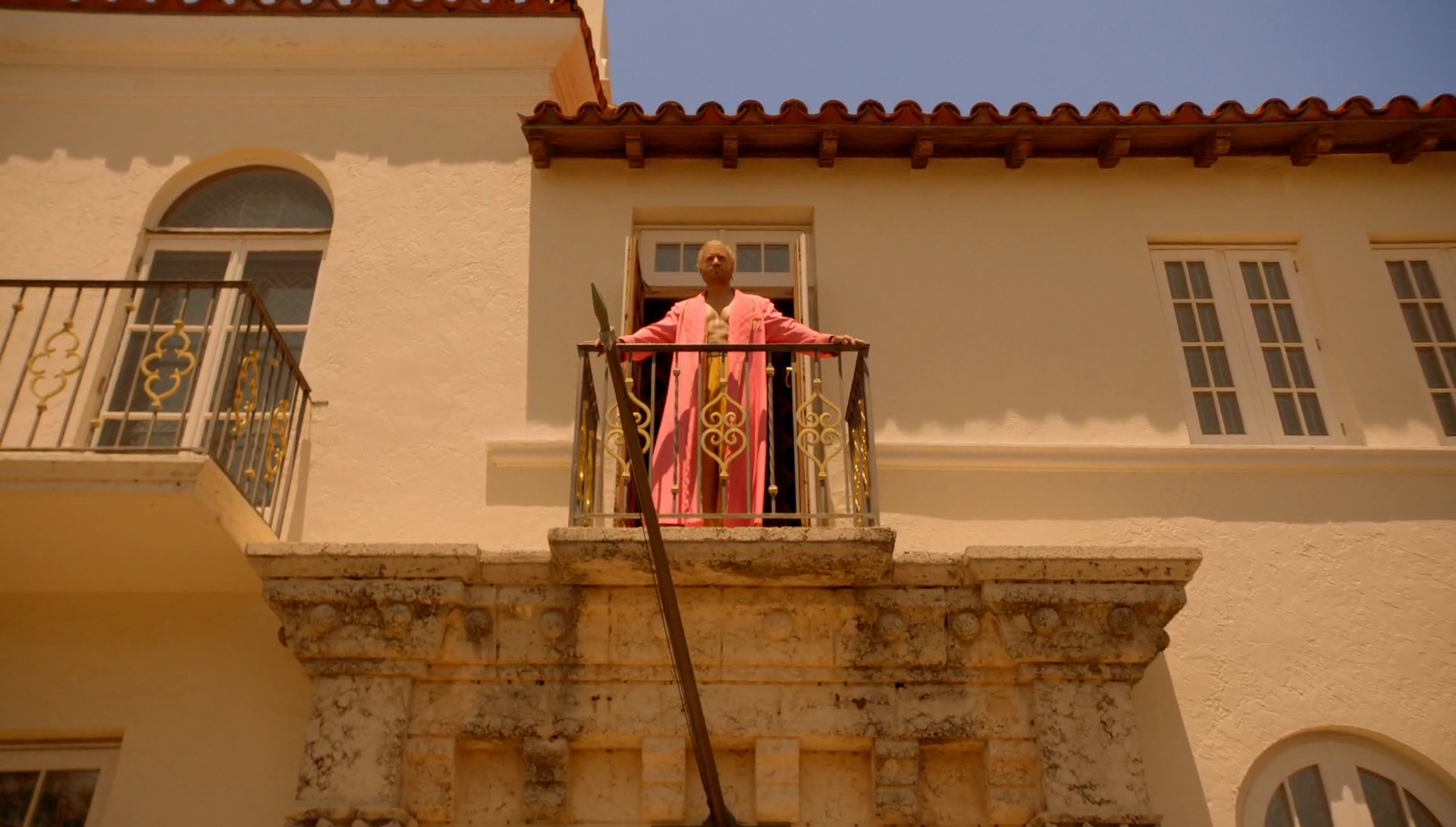 The Assassination of Gianni Versace: American Crime Story "The Man Who Would Be Vogue" Review
Director: Ryan Murphy
Starring: Darren Criss, Edgar Ramirez, Ricky Martin, Penelope Cruz
Writer: Tom Rob Smith
Review by Michael Walls-Kelly
"I tell people what they need to hear."
The Assassination of Gianni Versace: American Crime Story
opens in dramatic fashion. The titular Gianni Versace (Edgar Ramirez) wakes up and eats breakfast in his palatial home before leaving to pick up some magazines, politely rebuffing some autograph seekers. Meanwhile, Andrew Cunanan (Darren Criss) contemplates on a beach, pukes in a public bathroom and drinks a soda. Their paths come together, in a swirling mix of music, pleasant bliss and sweaty desperation, when Cunanan walks up to Versace and shoots him.
It's a hell of an opening and sets this season apart from the previous, impressive season. Presumably, this 9-episode season will show the manhunt for Cunanan after he killed Versace and his life leading up to the event.
And it is absolutely an event. When news of Versace's death quickly spreads people pop out of the woodwork to become part of the story. A man quickly runs to his car, grabs his Polaroid and snaps a pic of Versace's body being taken to the hospital. A couple that tried to get Versace's signature earlier drenches a magazine ad in his blood and seal it in a bag to sell later. A woman walks through the throngs of news cameras wearing a Versace bathing suit. Post-O.J. Simpson every crime involving a celebrity could bring money or fame.
Is that why Cunanan did it?
We don't really know. We don't even get a hint of why the murder happened during "The Man Who Would Be Vogue." In any other show, it would be easy to follow the breadcrumbs. Cunanan mets Versace at a club, then invited to the Opera with him and went on a date. They had some falling out, and Cunanan snapped and killed him. Except… I'm pretty sure most of that didn't happen.
Cunanan definitely shot Versace. He maybe, possibly, ran into him in a club. Everything else we see from his perspective is pretty comfortably a fiction. Criss's performance is fantastic. He's a proto-Patrick Bateman, pretending and striving to be the perfect "whatever" he has to be. When he's spinning the yarn about meeting Versace to his friends he pretends he isn't gay. When he "meets" Versace, he pretends to be born with a silver spoon in his mouth. He's whatever anyone needs him to be, and whatever makes it easier for him to get by. It seems like his ability to blend in will become a major aspect of the series. The FBI even had fliers made up — that they didn't distribute until way too late — which showed his ability to transform his look with ease.
It will be interesting to see the Versace family drama alongside the actual crime stuff. As much as this seems centered around Cunanan, and rightfully so, it's hard to deny the pull of the Versace empire. We get a bit of Edgar Ramirez's performance as the titular assassinee, and he's great if nebulous, but the other members of the family make just as strong an impression. Donatella Versace (Penelope Cruz) stomps into the show from a private jet and completely takes over, caring only for her brother's legacy and the legacy of the company.
The true surprise of the episode is Ricky Martin as Versace's live-in partner, Antonio D'Amico. He gets a few scenes in this episode that are packed full of drama. He discovers Versace's body. D'Amico has to deal with an interview from a cop who has no idea how to handle a gay relationship. He has to come face-to-face with Donatella. Martin easily wins the "David Schwimmer Award" for Most Impressive American Crime Story Performance, and I'm excited to see him in the weeks to come.
As the episode ends, we get a clear picture of how easily Cunanan was able to avoid detection and how incompetent the FBI was during the manhunt. They had fliers with his picture on it and knew he had killed before but didn't distribute them. A pawnshop owner sent in forms that had his exact name and address. They were never flagged. He was able to evade detection and head back to his hotel after killing Versace.
The scene that sticks with me is Cunanan in the hotel bar, watching the news. The woman in front of him learns about Versace's death and holds her hand over her mouth in shock. Cunanan examines her, like a lizard or a Terminator, and copies her body language. It's a creepy little performance by Criss, and it's a big part of the reason I'll continue tuning in.
Verdict: Keep watching. It's a very solid opening that promises some great and surprising performances. It seems to be a departure from the first season, which makes it way more interesting than if they had just done another popular trial. I plan to keep watching for a few reasons: the development of the Versace family, to keep seeing what Ricky Martin has to offer and Darren Criss's star-making performance.