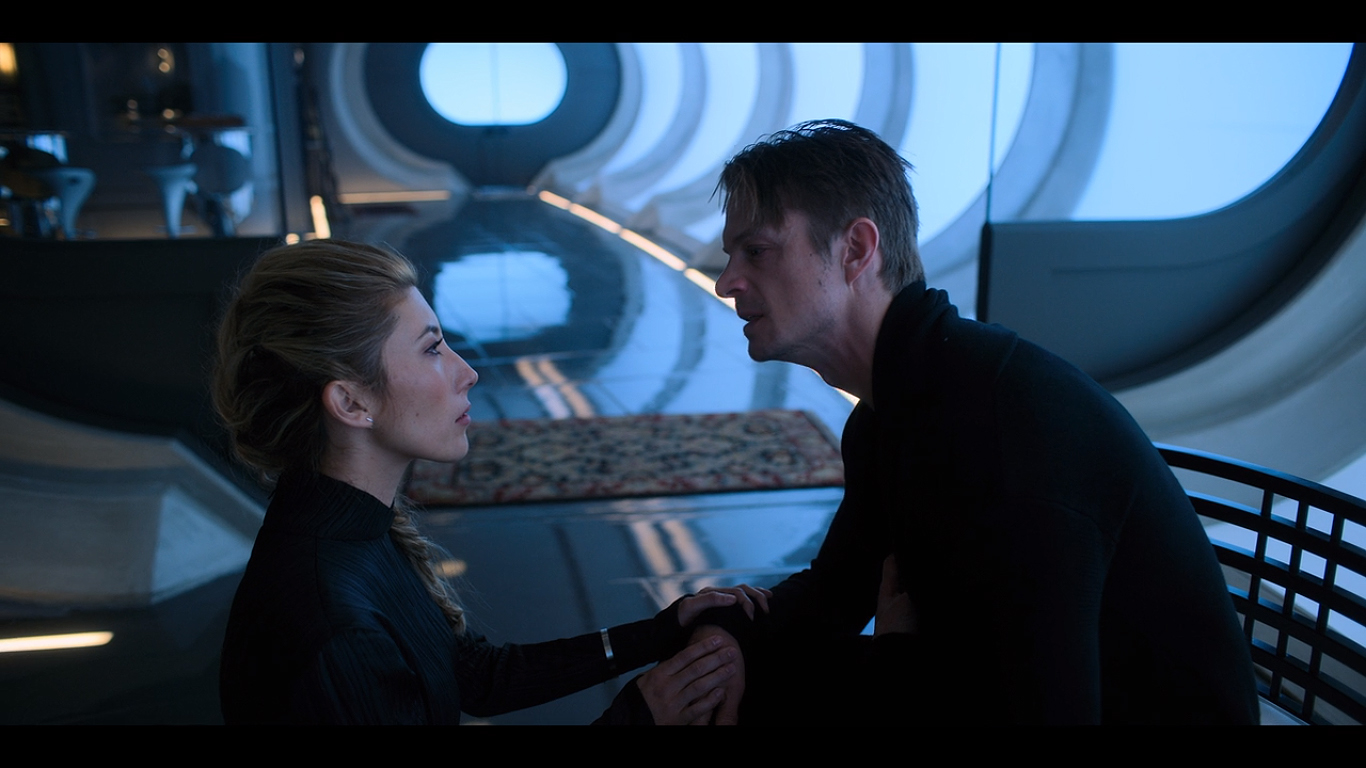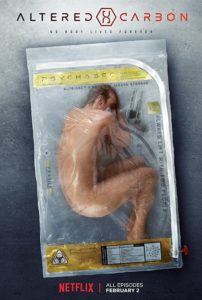 Altered Carbon – Episode 8: Clash By Night
Starring: Joel Kinnaman, Dichen Lachman, Martha Higareda, James Purefoy, Tamara Taylor, Renée Elise Goldsberry, Ato Essandoh and Chris Conner
Director: Uta Briesewitz
Writers: Brian Nelson
Reviewed by Sidney Morgan
This review CONTAINS MINOR SPOILERS.
How many times can a man be crushed before he becomes an emotionless, cold hard shell? Kovacs witnessed his mother's murder. He was twice separated from his sister. The second time believing her to be dead. In that same Envoy exterminating attack, he lost Quell. The woman who took him and Rei into the Envoy family, the woman who gave him purpose, the woman he loved. He's come close to losing Ortega which was only avoided because of his access to Bancroft's money. However, nothing is worse than the crushing blow of a loved one's betrayal. At the end of the last episode, Kovacs finds out that the Envoy and Quell all died because of Reileen's betrayal. It's not surprising this man avoids any kind of relationship. History has taught and continues to teach him well. Can he ever trust her again?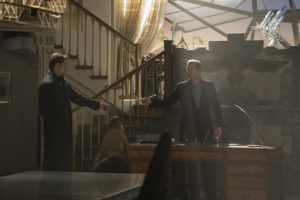 Is Rei a new (new being contextually framed by this world) Meth? While waiting for a way to get her brother back, which took 250 years, she built up quite a fortune, though she had help to start. In exchange for betraying Quell and the Envoys, she received cloned sleeves, money, and a backup. That's a great handout. And her Yakuza and Envoy training ensured she wasn't defenseless. So when Kovacs, angry about her actions, threatens to kill her, she simply tells him that she'll be back again, and again, and again. Aware of the futility of trying to kill her, Kovacs comes to grips with the events that now weigh him down even more so than before. But what follows isn't what he expects, and the reveals only escalate from here.
Kovacs believes he was taken off ice for the sole purpose of solving Bancroft's attempted murder. But now, in an odd turn of events, the whole situation might just have been a set up to get Kovacs out. If that's the case, how does he deal with Bancroft? Telling him the truth will only guarantee he's put back on ice. A man as powerful as Bancroft will never accept that he was used. And Kovacs needs to get him to sign the pardon. The only option is to convince Bancroft there was an attempted murder. But this will require a patsy and the reprogramming of memories via a stack hack. Not an easy task, especially without a dipper.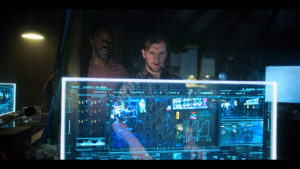 A dipper is a hacker with a special set of skills. They can access needle cast transmissions and steal fragments of memories from them. They can also insert memory fragments in stacks, essentially creating false memories. In Clash By Night, Kovacs uses Rei's influence to get a particularly skilled dipper named Ava. Her skills earned her thirty years on ice, but she was an excellent dipper. Oh, and she's Vernon's wife / Lizzie's mother. It's a touching, but odd and funny family reunion as Ava is re-sleeved into the body of a man. Remember that you don't always get re-sleeved in your original body (unless you have cloned ones).
Kovacs' wolfpack (minus Ortega, who's still looking for information on Rei) finally gets more screen time. Vernon and Eva get to 'visit' Lizzie in the construct. Thanks to Poe's therapy, she's doing remarkably well, training to become an excellent fighter. She's strong enough to interact with her parents without breaking down. After the touching reunion, Vernon and Eva are put to work to prepare the 'lie' for Bancroft. And to Poe's utter elation, he's given a task as well.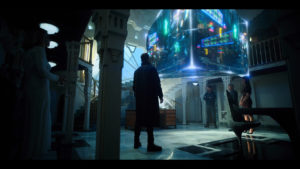 If past episodes are any indication, there is meaning behind this title as well. Clash By Night, a 1952 film noir by Fritz Lang (though he'd argue it isn't one), is about a woman who's been gone for ten years when she returns to her family. Her brother isn't particularly happy to see her but still welcomes her into the family home. Similarly, Kovacs isn't particularly happy to see Reileen given her role in the extinction of the Envoys. Clash By Night, the movie, involved confrontations between family members and lovers. Is this foreshadowing something that is to happen? Perhaps Ortega and Kovacs will clash? Rei and Kovacs? Vernon and Eva? Who knows, though we won't have to wait too long to find out. Only two episodes remain!
Verdict: A strong watch!
Altered Carbon is set in a rich and complex world, and it feels as though a few seasons have already aired, rather than just the eight episodes so far. In every episode, we learn something new about this world. And with only two episodes remaining, this hasn't changed. But at its core, it's still a who- and why- dunit. Lose ends are starting to be tied up. Kovacs is beginning to make sense of the bigger picture, realizing the answers were in front of him all along. Will he continue to be a pawn or will the Envoy Quell trained finally take control of his own path?