Absentia – Episode 3: The Emily Show
Starring: Stana Katic, Patrick Heusinger, Cara Theobold
Director: Oded Ruskin
Writers: Matthew Cirulnik, Gaia Violo
Review by: Sidney Morgan
This review contains minor spoilers.
At the end of the last episode, Boston PD had found our friend Harlow, dead in his own pool. Cue the opening scene of episode three, where Tommy (Angel Bonanni), the BPD detective, is on site, investigating. But so is Nic (Patrick Heusinger), who incidentally, has no jurisdiction there. A quick chat between the two men and it becomes evident that Tommy sees Emily (Stana Katic) as a strong person of interest. Still wanting to give her the benefit of the doubt, Nic asks Tommy to wait before bringing her in so he can look into the 'crooked FBI agent' theory.
To help Emily's relationship with her son Flynn (Patrick McAuley), Nic and Alice (Cara Theobold) agree to let her spend the afternoon with him, as long as Nic accompanies them. However, Harlow's death complicates things. Needing to find a suspect other than Emily, Nic stays at work and tells her she'll have to go on without him. Anxious about being alone, she takes him go-karting. And, for the first time, we see Emily smile and laugh! But, it's all short-lived, as the universe seems to have other plans for this woman.
Things aren't much better between Emily and her brother Jack (Neil Jackson). It turns out that he's not too happy with her, frustrated that she's created such an upheaval in his, and her father's lives. Drinking again (he'd been a recovering alcoholic), presumably because of her, their conversation quickly escalates into an argument during which there's quite a nugget dropped… she's adopted! Woah! Cue another potential abduction and murder suspect (or suspects)!
Another fallout of Emily's return? Rising tension between Alice and Nic (didn't see that one coming, nope, at all…). Alice, you know, Nic's present wife, in case he's forgotten, is beginning to lose patience. She questions his obsession with Emily, who now, may or may not have killed Harlow. And sending Emily, this potentially violent criminal, off alone with Flynn, without saying anything, isn't sitting too well with her either. And you can't blame her, can you? Nic isn't offering any answers, too busy looking for Semerov's murderer and for this apparent 'crooked agent'. Heck, even Adam (Ralph Ineson) tells him that it's a dead end. Nic has his work cut out for him as quite a few fingers are pointing at Emily, with very little evidence supporting alternative theories.
Stana Katic is given ample opportunities in this episode to showcase her acting versatility. She's the anxious, but also happy mother. She's the angry victim of a horrendous crime, exhibited most clearly in the presence of her psychologist who's trying to get her to recall her trauma. She's also a determined agent in search for answers. And finally, she's a loving ex-wife who realizes what she's lost. As she comes to grips with the effect she's having on everyone since her return, she compares her situation to that of George Bailey (James Stewart) in It's a Wonderful Life. Sadly, she admits that instead of everyone being worse off with her absence, she thinks everyone is better off. She plays the role so well, you can't help but sympathize with her.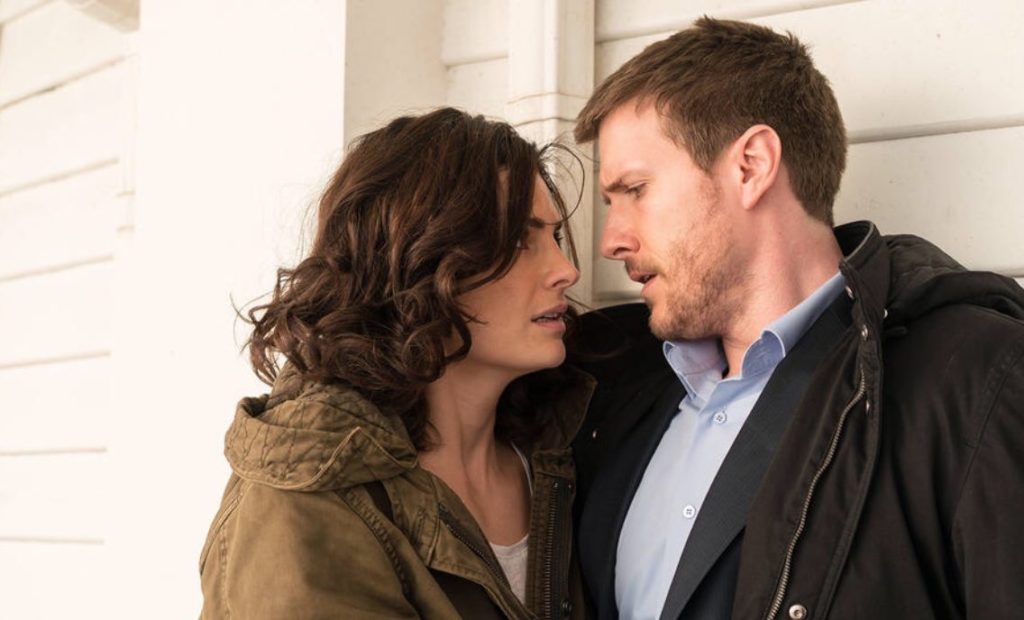 Though there wasn't much not to like in this episode, that Adam, the head of the FBI department, who used to be Emily's boss, without blinking admits to believing Emily could be a murderer, is frustrating. Really? No compassion? No need for concrete evidence? And the results of that little 'mishap' with Flynn I mentioned earlier? Not so sure it would have played out like that. But, it's all good. There's a 'what the…' moment at the end that will likely make you forget these and simply want to watch the next episode. And that is partly what makes Absentia work so well.
A good whodunit is like a good magic trick: you deceive people into seeing something that isn't necessarily there. Viewers are awed, and curious how the trick is done, they come up with various theories to explain it. A great mystery isn't all that different. A crime, or the trick, is committed and viewers try to solve it. The more invested they are in the outcome, the greater the story's success. This is partly achieved by providing clues, red herrings, questions and answers. However, the balance between posing questions and providing answers is tricky. And so far, Absentia has done a remarkable job of this. Who abducted Emily? Was it Harlow? Oh but, red herring alert, Harlow is now dead!!! So, who killed him? Was it Emily? Why was Emily put up for adoption? Does it even matter? And so on. The questions, along with the characters and their story lines, make Absentia a compelling mystery, and just when you think you may have an idea of what's going on, something happens and points you in a different direction. It's great!
Verdict: Watch it! It's still a great whodunit. The main question about what happened to Emily is still powerfully driving this story. Although one major question was answered (Harlow), a few more were raised and with plenty of clues and possibilities, it's riveting to watch.