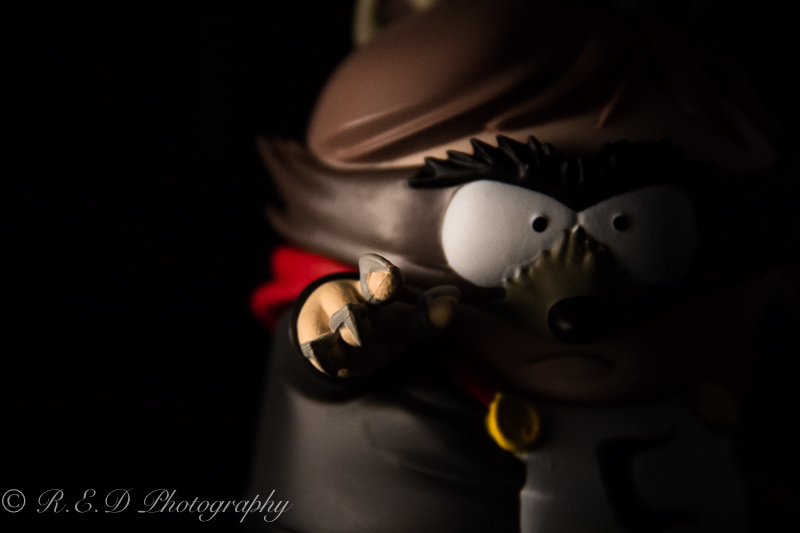 For this weeks Toy Photography Thursday I took images of an iconic cartoon character from South Park!
Donning one of his most famous costume, I managed to find myself a figure of 'The Coon' which is one of Eric Cartman's characters. The figure comes out when everyone thought the new South Park would be released South Park: The Fractured but Whole. However the video game has been delayed until next year, with many people receiving refunds on pre-orders of the game.
The Fractured but Whole takes place after the events of South Park: The Stick of Truth. The children of South Park begin a new adventure, becoming role-playing superheroes. However, a falling-out over Cartman's planned film franchise splinters the boys into two groups. Those who side with Cartman join Coon and Friends, while rival group Freedom Pals call for their own franchise, starting a civil war between the two groups. The player again controls The New Kid, though now has the option of choosing the gender of The New Kid, which, let's be honest, is pretty cool.
Character Background
Donning a disguise modelled after a raccoon, Cartman becomes a vigilante dubbed "The Coon", who attempts to wipe out crime in South Park. Though Cartman tries to raise awareness about The Coon through word of mouth, nobody pays much attention to the Coon's efforts. When he reports "crimes" (such as mistaking a man innocently trying to kiss his date for a rapist) to the police department, he is threatened with jail time and snubbed off.
Opinion
I decided to use the black backdrop for this figure since it suited the subject matter more, The Coon hides in the darkness, attempting to fight crime. Since I've taken these images I've invested in proper lighting equipment! So no more orange glow in my images! I cannot wait to try them out! As you can see, the orange tint is still present but from now on, hopefully the quality of the lighting in my photography images will improve! I did use a tiny white light which was okay in parts. Since I only had one, I could experiment with shadow.
There are one or two images I believe capture the character perfectly, while others are too overexposed and fall flat. Of course I've only put the best images up, but with some that didn't make the cut, you could see the creases in the background. However this is a chance for me to improve my lightroom skills and to remove the creases whilst editing.
Overall I'm happy with how the images turned out with the equipment I had at my disposal, however the quality of images should improve once I begin using my new equipment!