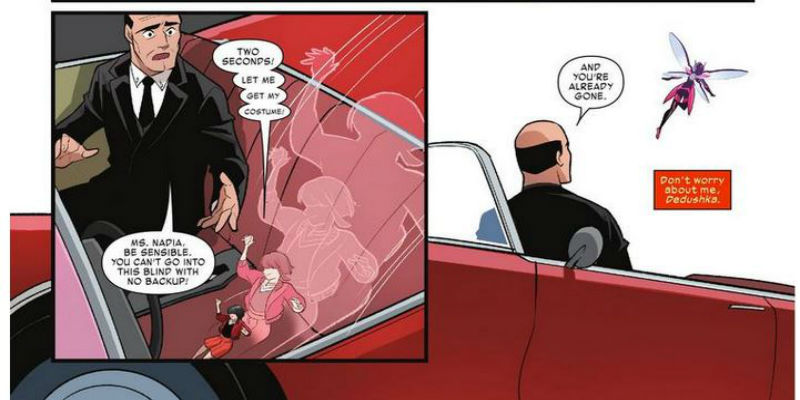 The Unstoppable Wasp #1

Written by Jeremy Whitley
Art by G Gurihiru
Letters by Joe Caramagna
Published by Marvel Comics

Review by Stacy Dooks
The sad truth is that sometimes an otherwise fun series just doesn't make it. The creators are right, the material is fun, and the hero is engaging and entertaining to watch. For whatever reason, the book just doesn't make it. Sometimes it's just timing, or sometimes it's the vagaries of the marketplace. Like a cult film, sometimes it takes a while for word of mouth to spread and the appreciation to build. And sometimes, not very often but every once in a while, a series canceled before its time gets another chance. So it is with The Unstoppable Wasp #1.
For those who came in late (yours truly included), the new Wasp is Nadia Pym, daughter of the original Ant-Man Hank Pym and his first wife, now heir to the mantle of the Wasp. A red-room trained agent (a la the Black Widow) she used her genius to reverse engineer her famous father's Pym particles and escape her captors to become a hero in her own right.
By day, she heads the scientific brain trust that is G.I.R.L – Genius In action Research Labs, a collective of young lady scientists who want to change the world for the better. A run-in with science villains has Nadia questioning some things about her late father and his legacy, not to mention the building pressure of G.I.R.L.'s first real exhibition to bring in new talent. Can our young hero step up and excel? Will she learn more about her father than she's prepared to know? And most importantly, will she pass her driver's test?
The Unstoppable Wasp #1 was a whole lot of fun. I confess I haven't read the previous volumes of The Unstoppable Wasp. After reading this issue, I intend to make that a priority. The writing by Whitley is fun and filled with optimism and energy, not to mention a sense of humor that had me snickering. Seeing familiar characters like Edwin Jarvis and Janet Van Dyne is always a pleasure. I was impressed by how quickly Whitley had me enjoying the dynamic of the current Wasp and her support team at G.I.R.L. (which is easily one of my favorite Marvel acronyms to date). The art by G. Gurihiru is outstanding, a nice mix of western superheroics and manga that has the best of both worlds in terms of visual aesthetic.
The Verdict:
Buy It. Comics like The Unstoppable Wasp #1 are great for your to-read pile, with fun characters, a sense of humor, cool art, and snappy dialogue. Recommended.