Sofia Coppola has carved herself a fantastic place in cinema. She has not only produced an awesome filmography, but she has become one of the best female directors in recent history. Daughter of Francis Ford Coppola and Eleanor Coppola, she has stepped out of her famous father's shadow, creating her own cinematic identity and can be closely associated to indie films. Films that are filled with isolation, longing, sad depressive dream girls (thank you for the phrase Billy!) and finding an identity.
Recently, Sofia has become the second woman to win Best Director at the Cannes Film Festival. Yuliya Solntseva won the award in 1961 for The Story of the Flaming Years, but with Sofia's win for The Beguiled, it derails the 56 year run of men winning the award and that is HUGE. So, I wanted to bring you some of the best Sofia Coppola movies to put on your watch list!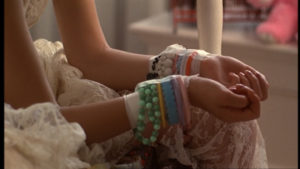 The Virgin Suicides (1999)
Starring: Kirsten Dunst, Josh Hartnett, James Woods, Kathleen Turner A. J Cook, Hanna R. Hall, Leslie Hayman, and Chelse Swain

Based on the book The Virgin Suicides by Jeffrey Eugenides, it tells the story of five teenage sisters who live in Grosse Pointe, Michigan. When one of the sisters try to commit suicide, the sisters are held under the watchful eye of their parents so they don't go through the same thing. The pressure of the watch gets to be overwhelming as the girls becoming increasingly isolated from their community, but try to rebel in different ways, especially the second youngest sister Lux.
The Virgin Suicides is a beautiful film. One of Sofia's breakout triumphs and, starting her recurring theme of isolation, the film really captures what's inside the mind of a teenage girl that you may not know. Also, the soundtrack is absolutely breathtaking.
Somewhere (2010)
Starring: Stephen Dorff, Elle Fanning, and Michelle Monaghan
This film is personally one of my favorite Sofia Coppola movies. Somewhere focuses on the life of Johnny Marco, a famous actor who has a arm injury and is recovering at Chateau Marmont. Marco suffers from his own sense of isolation with money and fame, but feels kinda… just inside of his own head with the day to day basis of meaningless sh*t that floats around in. One day, his ex-wife sends Cleo, his 11 year old daughter over to stay with him until she goes to camp for the summer, helping Johnny learn more about himself as a man and as a parent.
Somewhere does an amazing job in showing and not telling, especially with the amazing acting skills of Stephen Dorff and Elle Fanning as father and daughter. It's so much about a film of growing into your maturity and responsibility, especially when a child is involved. It often is reflected back to what Sofia's life must have been like with her famous father. It's one of Sofia's finest works, and even though I know some people don't like it much, I love it a lot. Somewhere also has a great little indie soundtrack, especially with the track "I'll Try Anything Once" by The Strokes.
Marie Antoinette (2006)
Starring: Kirsten Dunst, Jason Schwartzman, Judy Davis, Rose Byrne, Marianne Faithfull, Asia Argento, Rip Torn, and Jamie Dornan
In Sofia's second collaboration with Kirsten Dunst, Marie Antoinette is loosely-based on the life of the infamous Last Queen of France. The reason why I say loosely-based is because this version of Marie Antoinette is obviously modernly styled in a way that you would argue with if you were a historian. However, you can't deny the fact that this movie is one of the most beautifully styled movies for someone taking artistic liberties over the material. Marie Antoinette follows the Queen from when she was fourteen years old, married to Louis XVI, their lives in Versailles and then her affair with Axel Fersen and before her death as the French Revolution truly starts to rise. It's a wonderful tribute to the late queen because of its over the top beauty and even has a brief scene of the famous line that she never said. Again, artistic liberties, loosely based, you get the memo.
Lost in Translation (2003)
Starring: Bill Murray, Scarlett Johansson, Giovanni Ribisi, Anna Faris, and Fumihiro Hayashi
We can't end this list without talking about Lost in Translation. One of Sofia's crowning achievements as a filmmaker and screenwriter was this movie. Lost in Translation centers around Bob Harris, an actor who arrives in Japan to star in a commercial for whiskey, and Charlotte, a woman who is left by her husband John in a hotel room as he does a job. Bob and Charlotte form a tight friendship throughout the movie met with longing and personal revelations about their perspective situations.
Lost in Translation is still one of the best movies from Sofia Coppola's filmography because of how real and true it feels. It has the same grounded realism as Somewhere that Coppola captures so well and makes you feel like you're apart of something instead of being lost in nothing. (But you still feel that way, honestly, double edge sword guys.)
Honorable Mentions:
The Beguiled (2017) (the only reason why this is here is because I haven't seen it yet, but I will… I deff will.) Lick the Star (1998) and The Bling Ring (2013).