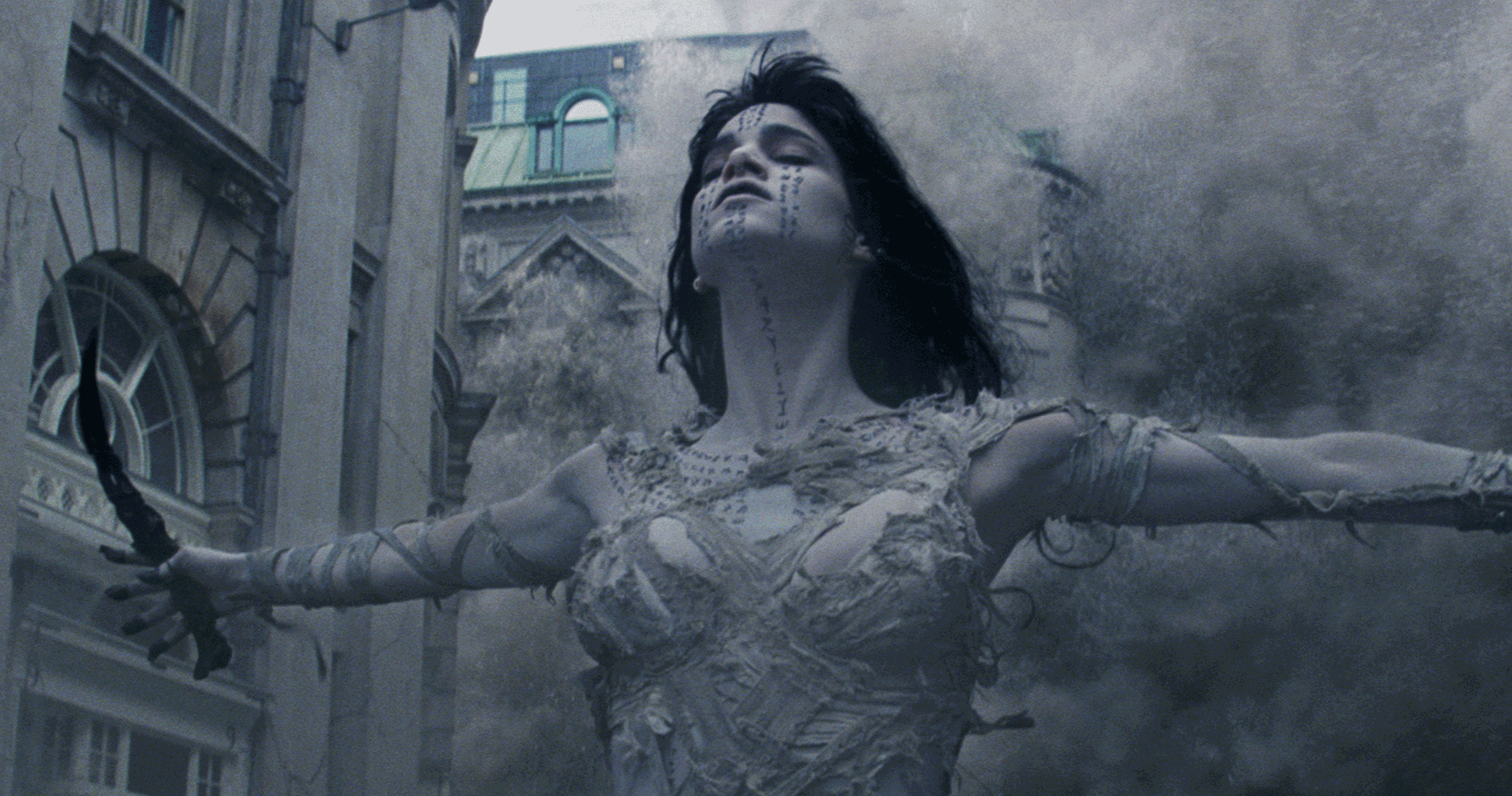 The Mummy
Director: Alex Kurtzman
Starring: Tom Cruise, Sofia Boutella, Russell Crowe, Annabelle Wallis and Jake Johnson
Writers: David Koepp, Christopher McQuarrie, Dylan Kussman, Alex Kurtzman (story), Jon Spaihts (story), and Jenny Lumet (story)

A review by Insha Fitzpatrick
I've always been a huge fan of the Universal Monsters. Ever since watching Frankenstein and The Invisible Man at a young age, they have always had a loving spot in my heart. Diving headfirst into the classic monsters are no easy feet. It takes a lot of guts to remake (and reboot) these films because the reception can either turn out good, bad, or downright terrible. That brings us to the first in the new reboot of the classic Universal Monster reboots: The Mummy.
The Mummy kicks off the first installment of the Universal Studios' Dark Universe and dedicates itself to bringing the classic monsters straight into our modern world. If you haven't heard, the Dark Universe is set to bring back classic monsters such as, Frankenstein, Bride of Frankenstein, Jekyll and Hyde, The Wolf Man, Creature of the Black Lagoon, The Invisible Man and, recently announced, Phantom of the Opera and The Hunchback of Notre Dame. The Mummy was the first though, and will have to hold us until the rest are made.
The Mummy takes us on a journey with Nick Morton (Tom Cruise), a thief (and not very good one) whose selfish and bold, but lands on his feet whenever he gets in a jam. After trying to steal a map from Jenny Halsey (Annabelle Wallis), he and his friend Chris Vail (Jake Johnson) are recruited to help her in her research. They discover an ancient tomb that has been hidden for thousands of years. The tomb contains an ancient princess, Ahmanet (Sofia Boutella), who was erased from the history books because of her pure evil. As soon as she awakens, she does everything in her power to make the world hers, bringing her vengeance over the years to lace chaos throughout the streets and making Nick her Chosen (a power that will give him power over life and death).
The Mummy reads as a completely disjointed film from beginning to end, leading to scenes that should be in different places, expanded or completely cut. I found myself wanting to take the film home with me to cut and paste different scenes together or extend them greatly (mainly anything to deal with Jake Johnson's character). One of the many scenes that takes you out (but drops you back in) is the beginning of the movie. The story of Ahmanet is played before the title credits begin. You get her story from start to finish before we even see her, before she's even really known to the audience. It's then spilled a little throughout the story as well, reminding you of who she is, what she did and how she got here. It was the classic "explanation scene" that would benefit in the middle of the story, when you have her with you in the story, not before you see what she can do.
The dialogue is wavy, short, and very much seems to dictate where you should be looking and going, rather than shift the story and having you follow along with it naturally. However, when the jokes land, they're very good in their execution because of how small, realistic, and rewarding they are between the action of the story. A simple look, word, and phrase works within this movie because of the ridiculous atmosphere it lends itself too. It takes itself too seriously on a number of levels, but when it needs to bring the action and get serious (while being a bit laughable), that's where the good stuff comes into play.
Tom Cruise as Nick Morton was the dashingly handsome, selfish a**hole and confused hero of the story. Most of the time, he wandered around not knowing what to say, do, or feel because he was wrapped into Ahmanet's spell. It leaves you to wonder why they picked Tom Cruise for the role, but knowing that no one else could have played something that handsome and confused at the same time. As said before about the jokes, Cruise knows how to land them, especially in his characters selfish and "wtf" state he found himself in throughout the movie. Annabelle Wallis as Jenny Halsey, the beautiful archaeologist, was a welcomed, but very underwhelming character in the movie. Jenny deserved a lot better than was delivered. The generic beautiful woman only goes so far! I love that Jenny was thrown into the action full force, but it takes you out when she's just a catalyst and sacrifice to show Nick that he isn't the selfish a**hole that he was.  

The outstanding performances throughout the movie have to go Sofia Boutella, Jake Johnson and Russell Crowe (I know right? Stick with me.) Jake Johnson plays Nick's "sorta" best friend and sidekick, but after an incident he gets brought back as "dead guy who comes back to life to haunt friend." I found myself wanting much more of Jake Johnson throughout the movie, but was ultimately happy with what I got. He brings such a comedic and witty atmosphere.
Sofia Boutella absolutely SLAYED Ahmanet with everything she had. She's the saving grace of the 107 minutes sitting down to watch this film. Not only is she absolutely beautiful, but she brings such a powerful performance that I wanted her to succeed so badly. She delivers just enough to make you swoon and leave you wanting more and I'm not talking about in just ONE scene, I'm talking about ALL the scenes.
Then there's Russell Crowe. There have been many actors that have played Dr. Henry Jekyll throughout the years, but it just looks so good on Russell Crowe. It was so unexpected and dynamic that I hope they take the time out to focus a full movie on Jekyll/Hyde, especially after introducing us to what Crowe can do in the role.  
The Verdict
See It. I didn't think I would say this, but if you want a generic movie that you can have fun with that combines a bit of Stephen Sommer's The Mummy, Tobe Hooper's Lifeforce and Indiana Jones, you've come to the right place with 2017's The Mummy. It gives itself to being exactly the kind of generic action movie with some horror elements pushed inside, but it's the kind of trash-tastic film that you could just sit down and enjoy.