The Magnificent Ms Marvel #1
Writer: Saladin Ahmed
Artist: Minkyu Jung
Inker: Juan Vlasco
Colorist: Ian Herring
Letterer: VC's Joe Caramagna
Editors: Alanna Smith, Santa Amanat
Publisher: Marvel Comics
Review by Cameron Kieffer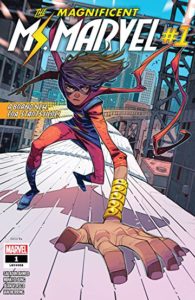 Everyone's favorite teenage shapeshifter is back in a brand new series. Taking the wheel from co-creator G. Willow Wilson, writer Saladin Ahmed begins this new volume (Ms Marvel's first ongoing not penned by Wilson) by taking a fun, back-to-basics approach, while making sure to include plenty of heart.
If you're not familiar with Kamala Khan, well you should be. But fear not because this first issue is both a natural continuation of the previous run, and a perfect jumping-on point for new readers. Ahmed's script moves along at a brisk pace. He makes the intriguing choice of narrating Kamala's story from the POV of an alien family sometime in the future. He also manages to summarize her "secret origin" with some expository, yet natural-sounding dialogue between Kamala and best friend Nakia. The two have always had a great dynamic, and Nakia is particularly fun, acting as the Jane to Kamala's Daria. Kamala has always been depicted as a unique, yet relatable teenager, not unlike Peter Parker. Ahmed identifies the comparison and runs with it, comically depicting the balance of superheroics and how battle damage can affect the community.
As lighthearted as the opening is, the emotional weight is carried by Kamala and her parents. Ahmed explores another traditional superhero aspect: the secret identity and its impact on family. The art by Minkyu Jung, Juan Vlasco, and Ian Herring really shines here as the team demonstrates a wide range of emotion from all the characters. The facial work is simple, yet brilliantly rendered, with expressions ranging from fear and rage to heartbreak. Herring's clever use of colors helps intensify their emotions even more.
It's clear this creative team has both passion and understanding when it comes to Kamala and her world, both as a Muslim teenager and a superhero. The fight scenes make great use of her personality and her abilities with a frenetic pace that keeps the excitement going from panel to panel. Her powers include shrinking and "embiggenging" which are highlighted during those scenes, not unlike sequences from the recent film Ant-Man and the Wasp. While the true protagonist of this initial story arc remains a mystery, the designs of the villains Kamala fights are just fantastic! From the intentionally lame Deathbringer, in his stereotypical 90's garb, to the weird animal-like mutants that would not look out of place in a Masters of the Universe comic, these guys are just fun to look at. I need Hasbro to make toys of all of them ASAP.
The Verdict: Buy it!
Whether you're a new fan or a veteran, this new number one serves as a solid introduction to Kamala and her world. Despite being somewhat by-the-book, this first issue is a lot of fun and may already be worth adding to your pull-list.