The Best Laid Plans by Terry Fallis, 2007, 314 pages
First, we have some things to clear up. We thought it was pronounced "phallus." We were wrong. It's "fall-us" (like flawless without the first L).
DISAPPOINTING.
"A burnt-out political aide quits just before an election — but is forced to run a hopeless campaign on the way out. He makes a deal with a crusty old Scot, Angus McLintock — an engineering professor who will do anything, anything, to avoid teaching English to engineers — to let his name stand in the election. No need to campaign, certain to lose – or is he?"
Terry couldn't find a publisher for BLP (that's The Best Laid Plans, my buds), so he decided to make a podcast instead. Thanks to the popularity of the podcast, he decided to self-publish, then won a Stephen Leacock Medal for Humour and The Best Laid Plans got picked up by some publishers. The podcast is still available ad-free iTunes though, so we can all enjoy The Best Laid Plans without paying a dime, and without having to open our eyes to do any actual reading. What a gem.
---
THOUGHTS:
Kathleen:
OH HI SORRY DID I JUST CALL TERRY PHALLUS A GEM? HE IS NOT. Put your space suits on, kids, cuz it's time for a .gif storm.
By the time I got to the middle of the prologue, I was done with The Best Laid Plans. I rage-read the whole thing. The prologue contains the worst sex scene ever written, and you can tell that Terry just thinks it's so CLEVER. Get ready for some shitty political sex puns! Below is one small part of a two page sex scene between the House Leader and this guy's girlfriend.
How many pages is this thing again? 314? Cool cool cool cool cool. Alright, well, let us delve into the Worst Piece of Garbage Ever To Be Written.
---
I don't think I've read a book in a long time with such an unintentionally dislikeable main character. He's the smuggest, most elitist little shitbag I've encountered in ages. The book was written in the first person, which is so detrimental to the story I can't even tell you. I think we're supposed to think this man is charming, but check this out:
This man is 32 years old and we're supposed to think it's cute that he doesn't know how to use a FRIDGE.
The other character, Angus, is a brash Scottish man who's accidentally got a job in government now! Because he was running for office, and then he won! Terry seems to think that "drinking whiskey" and "having stinky farts" are character traits. Get it? This man is Scottish!
Both these men are obsessed with grammar, which is just a vehicle for Terry to get preachy as HECK.
I don't know how he manages to squeeze so much ableism into each chapter, but does he ever. Every 3 pages or so, they have a line about how a character needs to up their medication. Yep. Like that's just a fun joke we can make! You know how people have health concerns? Mental health things going on? Isn't that just the FUNNIEST?
Terry also wants us to think he's good at feminism! He does that by having the main character remind us all that time that "I'm a feminist, but…" followed by him saying or doing something shitty. But that's okay! He told us he was a feminist! He's allowed to say shitty things about women after that!
He:
Tells us he is a feminist, then describes a woman's appearance and her outfit for a full fucking page. This is the same woman he later describes as being like a sister, but one that you bang!

Tells us that he is a feminist, but then can't listen to a word a woman is saying because she has a hat on! Silly women, don't you know we literally can't hear you because your outfits are so distracting!

Tells us he's a feminist, but then tells us that he dislikes the head of the Alliance for Canadian Women (aka the ACW)

because she's too angry! You know those feminists! So mad!
He's basically into the idea of being a feminist, as long as all women are smiling and docile. Also, Daniel, the main character, doesn't get along well with the woman in charge of the ACW, for reasons mentioned above. But Angus does! He walks in on the two of them hugging and assumes for some reason it's a literal brawl.
And then this happened. Terry compares winning a seat in Parliament, a job that people willingly apply for, is very similar to being a "sad-sack" person during the Holocaust:
THAT'S RIGHT, HE MADE A JOKE ABOUT FUCKING GAS CHAMBERS. "LOOK AT ME, I APPLIED FOR A JOB, I GOT A JOB, I MAKE LOTS OF MONEY NOW, THAT'S TOTALLY THE SAME THING AS THE FUCKING HOLOCAUST!"
Me rn: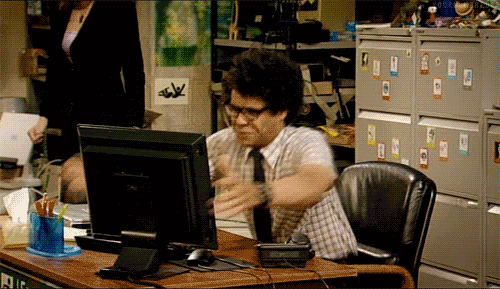 This book is literally a dumpster fire.
Róisín: The Best Laid Plans is the first book on the list I haven't finished. And I feel like that in itself is enough of a review from me.
Kathleen: Side note: On the podcast, at the beginning of each episode, it says "And here's author Terry Fallis, coming to you from his home in Toronto"
….it's fucking Toronto, buddy. Are you trying to brag about how you own a home? This is a quote from when he won Canada Reads in 2011: "If I'm sounding a bit muffled, it's because I'm curled on the floor of my third-floor library in the fetal position breathing into a paper bag,"
Don't mind me, just in my library! My home has three floors! I am fancy!
…god I hate Terrence.
---
VERDICT: Should it be on the 30 before 30?
Róisín: Hard pass.
Kathleen:
Roisin: Katy, I'd like to thank you for doing all the heavy lifting this week.
Kathleen: I'm going to write a strongly worded letter to the CBC.