Teddy Bomb
Written/Directed: Justin Decloux
Starring: Peter Kuplowsky, Jenny Lemberg, Christian Murdoch
Review by Rhian Dixon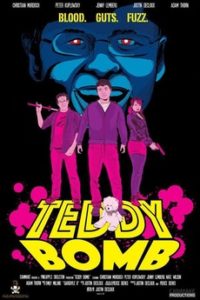 I was recently given the chance to review an indie film from 2014 titled Teddy Bomb, created by Justin Decloux. Described as a coming-of-age sci-fi, Teddy Bomb follows a beer delivery guy named Christian who finds himself in possession of an ultra-violence loving teddy bear that also happens to be a ticking time bomb. To make matters worse, Teddy Bomb's original owner wants his property back and will kill anyone who gets in their way. Christian has twenty-four hours to diffuse the teddy. Will he make it in time?
If you love ultra-violence, blood splats, and gore then Teddy Bomb is definitely the film for you. The plot is clever and interesting throughout and I was consistently desperate to know what was going to happen next. With fast paced action sequences that are wildly enjoyable, Teddy Bomb captured my attention like few indie films do. I could count on one hand the number of indie films that actually stuck with me after I watched them, but Teddy Bomb was truly something unique. I was left stunned with some of the plot twists. I didn't predict any of them and it kept me glued to the screen.
The gore in Teddy Bomb was on par with Kill Bill and Ichi the Killer. I'll be honest, I did not expect that much blood and gore from an indie film so I was pleasantly, pleasantly surprised. It was, undoubtedly, the selling point of this picture for me. Our villain was a complete and utter sadist and I loved his character, didn't really click with me that he was a cyborg.
The acting was superb. Peter Kuplowsky as The Man in the Hat was terrifying, although didn't he look a lot like Seth McFarland in that hat, or was it just me? Jenny Lemberg was a complete and utter bad ass as our heroine. It was nice to see a reversal of genders for the damsel in distress. Lemberg just slayed as the kick ass girlfriend Jenny and I would love to see her in more films! And of course, our furry, evil friend: Teddy Bomb himself. He is the wittiest, sassiest bear I've ever seen on screen!
I don't want to ruin the end for anybody but I questioned what the ending was about. Maybe I'm being really thick but I found it to have an Inception-esque ending that stuck with me and had me thinking about it long after the credits rolled. I cannot wait to discuss it further with the Rogues Portal team.
The Verdict
See It! Teddy Bomb has everything I want in a film! A bad ass female protagonist, blood and guts and even more guts, a evil blood stained bear, and so much nerdiness! I loved it!