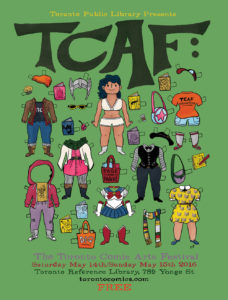 The Toronto Comic Arts Festival, or TCAF as it's more widely known, took place over the weekend at the Toronto Reference Library. I've been attending TCAF for many years now and I love how it's one of the last remaining conventions that is focused solely to comic books. There is a very small section that features indie video game developers showcasing their work but realistically, the convention is about 95% comics focused.
I love conventions and I typically love the crap out of TCAF, but this year felt different for me… overwhelmingly so. In the Reference Library itself, there were not two but THREE floors of creators this year. On the second floor there was still the separate room of booths (forgive me for not knowing the real name of that showcase room) as well as two other rooms spinning off from it. The panels mostly took place in the conference room portion of the Marriott Hotel and additionally, "big name creators" were segregated from the main show up Yonge Street at the Masonic Temple.
It felt a bit like TCAF was trying to capture the vibe of a show like Angouleme where the whole town gets taken over by the convention. Angouleme has banners up and a series of different venues that house different exhibits and focuses so that you are spread throughout the town and despite the fact that there are hundreds of thousands of people present, it never feels too overwhelming because of the way it's set up.
Toronto is not like that. We do not have banners all over the place that celebrate the presence of the convention. The city does not embrace the hoards of people all clamoring to be a part of the event. And TCAF is not spread out enough to fully give off the vibe of being a big walkabout show. The Toronto Library works with TCAF but the City of Toronto does not. Not really. I believe that there's funding and all that but again, it's not fully embraced in a warm, loving hug.
I've run a convention. The convention that I ran was significantly smaller than TCAF so I don't want to compare on that scale, but it's a lot of work. I'm not out to crap all over the hard work that the staff, volunteers and everyone involved put into the show because it is a LOT of seriously hard work. Without even touching on anything else, coordinating a bunch of artist types is a pain in the butt.
That being said, this year was too big for the venue of choice. TCAF being in the Reference Library brings in public funding and such. It's probably too good of a deal to pass up when you think of how much a venue like the Metro Toronto Convention Center must charge. If TCAF was the main floor and the room upstairs on the second floor, all would be a-ok, but now you have booths circling the entire level alongside library bookshelves that cannot be moved to accommodate bigger aisles.
Libraries are not meant to house crowds of the TCAF magnitude and trying to navigate through them is one of the most anxiety filled experiences that I have ever had. Booths are crammed. Aisles are crammed. Space around the library shelves are crammed. There's barely enough room to go somewhere in ONE direction, let alone trying to make walkable space for multiple directions. People stop, you're stuck. You're not seeing cosplayers and having people stop them for photos so that's one small thing that keeps the crowds moving but it's honestly not worth much here.
The Masonic Temple up the street, which housed "big name creators" like Brian K. Vaughan and the RAID Studio was virtually empty and it was glorious. I wanted to hide away in that room all weekend and just peruse the works of the artists there, not bombarded by thousands of other people literally everywhere. The Masonic Temple was a pretty silly addition, I think, but it was where I spent almost all of my time mostly out of needing a calm space. It's a super weird situation… several of the artists there are too big to be a regular part of TCAF but they've been a part of the show for so long and have supported it that they just get in as exhibitors automatically. They also draw in crowds that don't want to just come see the small press folk. However, the way they did it this year felt very much like "Well, you're too big as creators to be with the main crowd audience but we don't want to say no to you but we also don't want to give you the space that small press people could be using SO, we'll get another venue and stick you there…" I don't know, I just felt weird about how this all went down.
It was also pointed out to be recently that the title of the convention implies that it's a spotlight of artists in the Toronto area and yet, we don't have a specific area where local artists are showcased. I had never thought about TCAF like this before as I had always known artists coming from all over the place to be a part of it, but now that it's in my mind, it does strike me as a bit odd. The Masonic Temple could've served as a placeholder for Toronto creators, like Canada Creators HQ as opposed to Too Big To Technically Be A Part of TCAF HQ.
I wish I had more good things to say about the show this year… I really, really do, but the truth is that I felt like I barely attended despite having spent most of Saturday and a couple hours on Sunday there. I didn't attend any of the after party stuff, which suffers from the same thing that the TCAF show itself does: too small of a venue to house the number of people in attendance. Traditions are great but sometimes they need to be updated to make things better.
I didn't purchase anything at all. My usual method is to do my first round and then make note of the things I want to pick up and do so after I see the things offered everywhere. After I completed my first round, I was so overwhelmed and riddled with crippling anxiety that I went to get food and didn't return to the show for the day. It's the first time at a convention that I didn't even purchase ONE thing. I didn't get any sketches and I didn't get anything signed, even.
I hope in the coming years that TCAF can curate the creators for the show down a bit so that the setup can be a bit more manageable again or find another venue to do the same thing at. I love this show because in previous years, it acts as a way for people who are curious about comics to come in and attend with no strings attached. They don't need to pay admission and all of their hard earned moolah can go to the creators.
This is no longer a welcoming environment to fresh faces: it's daunting and overwhelming. It genuinely pains me to say that because we need environments like TCAF to cultivate and grow new audiences and to breed new creators. Seeing these amazing artists and writers can be so inspiring to those aspiring to tell their stories and I really hope that in the coming years, something can be done to make the show a bit more level entry for everyone.