Tattoo Tuesday: SAGA Ink
by Anelise Farris
It's tattoo Tuesday, so I'm here to fuel your geek-ink addiction! With the recent news that the beloved Image comic series Saga is taking a break, let's console each other with some Saga-inspired ink. Here are ten of my favorite pieces inspired by this incredible fantasy series, because they deserve more than just a spot on my Pinterest board.
Iconic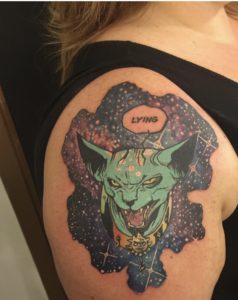 Both of these tattoos are iconic in the sense that they are very faithful to the art in the comic. From Lying Cat's expression to Marco, Alana, and Hazel's pose, they are nods to the series that are immediately recognizable. In both of these I love the background choices: the galaxy scene for Lying Cat, and the star-filled frame for this amazing family. Both add a a unique twist to a conventional take on these characters.
Realist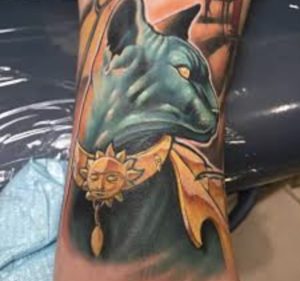 Although Lying Cat (left) is clearly more in the realist vein than Sweet Boy, both of them have remarkable detail in their shading and linework. This series has such great animals in it, and these two tattoos bring them to life!
Simple
Ghüs (left) and The Stalk (right) are both depicted here in simpler, though no less sophisticated designs. Ghüs's signature posture, sharp linework, and adorable yellow overalls (complete with a reaffirming message!), and The Stalk's detailed linework and sharp use of only black make both of these super attractive.
Neo-Traditional
These tattoo's take a neo-traditional approach to Saga. Although Ghüs's pose is familiar, his design is slightly altered, and the addition of the tropical flower is gorgeous. And the flowers in the Lying Cat tattoo are equally beautiful and bring Saga into a more familiar world. And I love the details on this Lying Cat; it feels classic, yet modern.
Artsy
I typically save my favorite for last, and this is no exception. Lying Cat and Izabel are probably my two favorite characters in the series, and I was so happy to come across these tattoos. From the stunning headpiece on Lying Cat, the bright floral work, and the whimsical lettering, there is so much to love here. And Izabel! Smirking, cross-armed, and the lovable bad-ass/amazing nanny that she is–all rendered in those beautiful shades of pink and red.
So, what are you waiting for? This year-long hiatus is the perfect time to show your commitment to the series.
---
Have any geek ink? Looking for a specific gallery to inspire your next one? Hit me up @AneliseFarris on Twitter, and go support your local artist(s)!