Tattoo Tuesday: DOCTOR WHO Ink
by Anelise Farris
It's tattoo Tuesday, so I'm here to fuel your geek-ink addiction! As I sit here, drinking coffee from my Tardis mug, excited for the consult I have later this week about a Whovian-style wedding band tattoo, I feel inspired. So, here are ten of my favorite pieces inspired by Doctor Who, because they deserve more than just a spot on my Pinterest board.
Space Sleeves
Both of these Tardis-hurling-through-space sleeves are gorgeous. The spirals, the planets, the stars — all done in a range of vibrant colors. And I love the way that each of them has a unique finish: a soft, splatter style on the left, and the sharp, pixelated border on the right.
Neo-Traditional
That Weeping Angel on the left is stunning. And one of the cool things about it is that it is not Doctor-Who specific, with the religious iconography and soft colors. I love the frame approach and the general aesthetic of this piece. And the Ood one on the right is so clever and so cool, and I want it right now. HOW OOD! HOW PERFECT!
Simple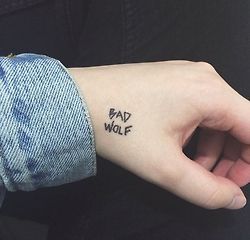 Both of these are simple, iconic, and perfect for a number of places on your body: the back of the neck, ankle, or wrist are all places that I would put them. So, even if you're not ready to get that full-sleeve space scene, these are equally rad, albeit more subtler ways, to declare your Whovian citizenship.
Traditional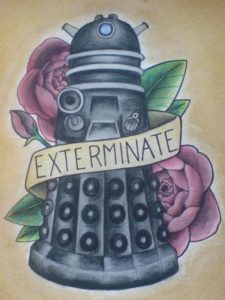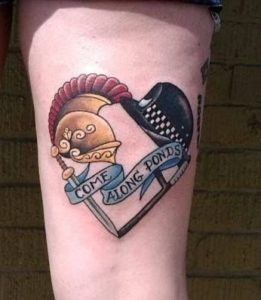 The Daleks, in my opinion, are one of the most fascinating groups in the show. They raise a number of philosophical questions, and honestly the "Asylum of the Daleks" episode still haunts me. And that's why this tattoo is so wonderful! It combines their signature "EXTERMINATE" line with softer linework and roses, perfectly capturing my complicated love for these creatures. Concerning the ink on the right, I'm not a huge Amy and Rory fan, but I do love this tattoo. I like the heart shape, the detail of the hats, and of course the lettering. It makes me smile.
Bad Wolf
The Rose Tyler-Tenth Doctor relationship is my all-time favorite in popular culture. So, I'm determined to ink myself with several incarnations of my love for these two. The tattoo on the left is playful and more in the neo-traditional vein, whereas the one on the right is more subtle in its Doctor Who nod and also more realistic in its depiction of Rose. I really want to combine the two styles into a stellar thigh piece. Sigh. Go fund me.
---
Have any geek ink? Looking for a specific gallery to inspire your next one? Hit me up @AneliseFarris on Twitter, and go support your local artist(s)!