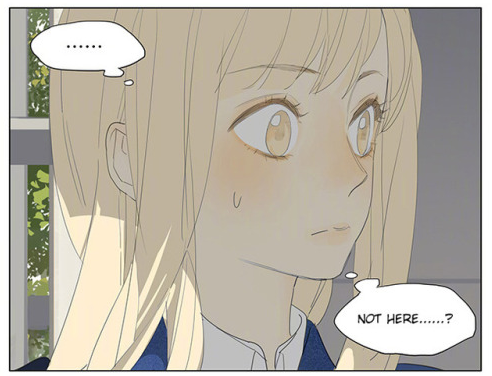 Tamen De Gushi has been an absolute joy to read lately and the last chapter was brilliant with such a strong message Qiu Fang began to become a creep whilst a drunk girl was sleeping however he stopped himself and called Sun Jing to pick her up. So what is going to happen next? Let's find out…
Plot
Qiu Tong has just arrived home and feeling slightly embarrased about the kiss. Sun Jing is texting her to tell her she's gone to pick up some drunk girl and that she'll see Qiu Tong Monday to pick up her coat. When Monday arrives, Qiu Tong wait for Sun Jing…
Opinion
First Half – Sun Jing cannot get any sweeter!!! This first part is soo cute!! Qiu Tong is very relatable in this chapter since I'm pretty sure we've all been in her position. It's obvious in this chapter that she does have feelings for Sun Jing however she is trying to supress them slightly, because this is all new to her too and she's nervous, I mean she did just kiss a girl who she did reject!!
Second Half – I new we were going to get some angst soon. A lot believe it has something to do with young drunk girl but I'm not entirely convinced. For her not to ring or text. I feel something bad has happened. The last panel was heartbreaking. Poor Qiu Tong, she must be feeling very confused. The last panel really took the tone of the chapter down another route and it's amazing how artwork can do such a thing. I went from feeling all warm and fuzzy to complete dread in less than few seconds. It's impressive how artists can achieve such a thing without even knowing.
Next Chapter: I honestly have no idea. I wouldn't be surprised if we end focusing on another character soon so we have a break from this. Tan Jiu will try and keep us on our toes. If not that then the focus will definitely be on Qui Tong and how she's feeling. For some reason I don't think we'll be seeing Sun Jing in any chapters soon.
You can read Tamen De Gushi here