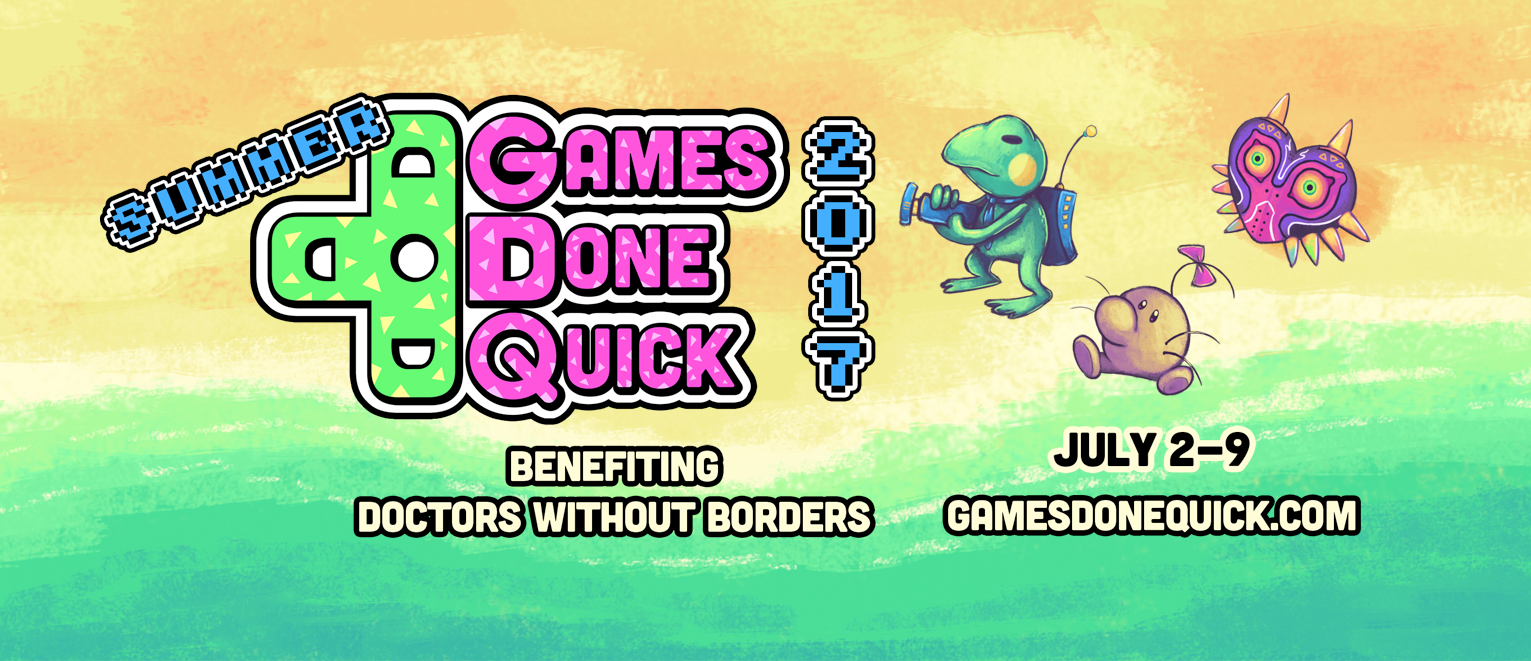 Today is the third day of Summer Games Done Quick 2017! We are rounding up to the half way point and over $250,000 has been raised for Doctor's Without Borders. Everyone is settling into their groove for the marathon, and there have even been some world records broken during the marathon! Shout out to Dr4gonBlitz who beat his own world record for Castlevania: Symphony of the Night twice in one day! Unfortunately the practice run in which he beat his time wasn't recorded, but that didn't stop him from beating his time yet again during while he was on stage.
I highly recommend watching the Pokémon Puzzle League run, as Pokémon Puzzle League an adaptation of one of the greatest puzzle games ever made, Tetris Attack. The night closes out with a great PC Gaming Block too!
Here's the game schedule for Tuesday, July 4th. All times are in EST and I bolded some of my personal favorites. Don't forget to check back here for your daily SGDQ updates! And remember, save the animals.
| | | | | |
| --- | --- | --- | --- | --- |
| Start Time (EST) | Game | Runner | Est. Completion Time (H:MM:SS) | Run Qualification |
| 12:50 AM | Castlevania: Legacy of Darkness | SluckySeven | 0:45:00 | Carrie Any% |
| 2:02 AM | JSRF: Jet Set Radio Future | FingerQuick | 2:00:00 | Any% |
| 4:12 AM | Astal | Gyra | 0:30:00 | Any% |
| 4:47 AM | Tryrush Reppy | EggmaniMN | 0:35:00 | Any% |
| 5:27 AM | Clustertruck | 097Aceofspades | 0:25:00 | Any% |
| 5:57 AM | Defunct | Grimelios, Celestics | 0:21:00 | All Collectibles Race |
| 6:23 AM | OmniBus | Konasumi | 0:35:00 | Any% |
| 7:03 AM | Poi | 097Aceofspades | 0:35:00 | Any% |
| 8:08 AM | Tony Hawk's Pro Skater 2 | guished | 0:19:00 | All Goals and Golds |
| 8:32 AM | Tony Hawks Pro Skater 4 | TkMala | 0:45:00 | Any% |
| 9:22 AM | I Am Bread | Blood_Thunder | 0:15:00 | Any% |
| 9:42 AM | Hollow Knight | Qurolen | 0:55:00 | Any% Glitchless |
| 10:47 AM | Shovel Knight: Specter of Torment | MunchaKoopas | 0:58:00 | Any% |
| 11:55 AM | The Wheel of Time | Shaddex | 0:20:00 | Any% |
| 12:20 PM | Brothers: A Tale of Two Sons | otdq | 1:20:00 | Any% |
| 1:50 PM | Banjo-Kazooie | Stivitybobo | 2:20:00 | 100% |
| 4:15 PM | Pokémon Puzzle League | FFR Pro 21 | 0:40:00 | 1P Stadium (Super Hard) |
| 5:05 PM | Pokémon HeartGold/SoulSilver | Keizaron | 2:40:00 | Any% |
| 7:50 PM | Half-Life | alexh0we | 0:50:00 | Any% |
| 8:45 PM | Dishonored 2 | Blood_Thunder | 0:35:00 | Any% (Emily or Corvo) |
| 9:25 PM | Doom (2016) | TheFuncannon | 1:27:00 | All Secrets |
| 10:57 PM | Half-Life 2 | Woobly | 1:45:00 | Any% (no scripts, new engine) |