Star Wars: Thrawn #3
Writer: Jody Houser
Artist: Luke Ross
Colorist: Nolan Woodard
Letterer: Clayton Cowles
Publisher: Marvel
Review by Michael Farris, Jr.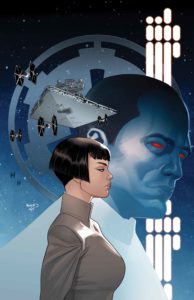 Star Wars: Thrawn #3 gives us a change of pace as we spend this issue getting to know the origin of Lothal's eventual governor Arihnda Pryce. We follow her journey from senatorial errand-girl to mining consultant to Moff Deep Throat. Along the way, we get to see the beginning of her relationship with Thrawn and how that plays into their advancement within the Empire.
While this one is a little low on action compared to previous issues, Star Wars: Thrawn #3 is definitely high on political intrigue, double-crossing, backstabbing, and all those fun things that come when powerful people spend a lot of time with each other. And the low-action, high-politics angle makes sense for this one too, as, at one point, Pryce offers a quid-pro-quo relationship with Thrawn saying he can offer the military expertise while she can offer the political.
And seeing how she goes about it is a lot of fun. I remember her just generally being a cranky, Rebel-hating governor is the Rebels show, but in Star Wars: Thrawn #3 we definitely get better insight to her character. And the storytellers in this book present her in a way that, strangely, allows you to empathize with her a lot more.
As for the art, please just keep it coming. I'm always impressed with the creative panel layout, the attention to detail, and the way you can sense the emotions of the players involved.
Verdict: Buy it.
I've said it before, but this is better than other Star Wars adaptations Marvel has put out in the past. It's been a fun ride, and honestly, knowing there's an end is a little depressing.