Star Wars: The Last Jedi Trailer
Director: Rian Johnson
Starring: Mark Hamil, Carrie Fisher, Adam Driver, Daisy Ridley
Writer: Rian Johnson
A review by Josh Rose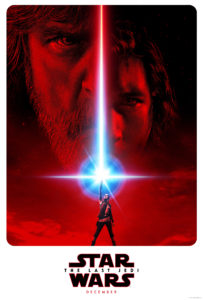 There aren't many film trailers that give me chills, but the trailer for Star Wars: The Last Jedi is certainly one of them. Coming out this December, Episode 8 is the latest addition to the space opera series that has garnered over $7 billion worldwide.
Rey has begun her training with Luke Skywalker. He tells her to breathe, reach out and tell him what she sees. "Light. Darkness. A balance." she says with scenes of General Organa, Kylo Ren's shattered helmet, and an ancient symbol of the Jedi. The trailer is full of starfighters and dogfights, scenic views of Luke's island home, and our favourite characters from The Force Awakens. We see Luke and R2-D2 kneeling in front of fires set by First Order Stormtroopers and Poe Dameron's X-Wing blown up.
Listening to the music you can tell that the stakes are high as it gives you a sense of anticipation. The music in the trailer is similar to the classic Star Wars theme telling us we can expect a classic star wars movie but given a fresh new twist. The music gives us feelings of fear and hope depending on the images shown. Fear whenever we see Kylo Ren, excitement when we see the Millennium Falcon and other fighters, and hope when we see Rey and General Organa. The voiceovers confirm the tone and atmosphere for each scene, and if you listen closely you can hear Darth Vader breathing during the shot of Kylo Ren's shattered helmet.
The trailer gives away just enough to make you want to go see it and have an idea of what they might touch on, but unlike most trailers The Last Jedi gives away very little of the plot.
See it! The trailer for Star Wars: The Last Jedi has given me so much to feel. This is the first time we have heard Luke Skywalker speak new words in over 30 years, but they aren't hopeful.