Star Wars: Age of Republic – Darth Maul #1
Writer: Jody Houser
Artist: Luke Ross
Letterer: VC's Travis Lanham
Colorist: Javier Tartaglia
Editor: Mark Paniccia
Publisher: Marvel Comics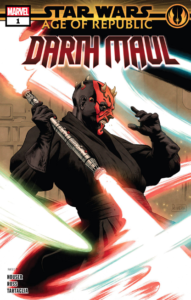 The current STAR WARS: AGE OF REPUBLIC series continues with this week's DARTH MAUL one-shot. Taking place prior to the events of "The Phantom Menace", this story trades the bright and shiny look from that film for a darker, grittier atmosphere. This setting also means that our titular character is still standing on his own two feet, so fans of Cyber-Maul may be disappointed.
The story itself is a bit of a mixed bag. The first act has a very noir-feel as the Sith Apprentice goes undercover with a Force-sensitive operative for the STAR WARS-equivalent of a drug bust. What follows is an intense interaction between Maul and his master Darth Sidious that ultimately leads to Maul experiencing a nightmarish hallucination. Could it be some spectre of the past or a strange vision of the future? The answer is not really made clear, and that's kinda the point. If the story sounds familiar, it has the exact same beats as last week's QUI-GON JINN one-shot but from a much different point-of-view.
Writer Jody Houser, who also penned the Qui-Gon story, cleverly juxtaposes the basic formula for that story to bring some depth to Maul and his relationship to Sidious. Whereas the previous story delved into Qui-Gon's apparent fear of the Dark Side, this tale is in sharp contrast. Exploring Maul's own fear of the Light and the rage building within. The revelations here create an interesting parallel between the Sith Lord and Ben Solo so it will be interesting to see if that pays off further down the line.
Luke Ross handles the art duties this issue, and he absolutely kills it. He was also the artist on last year's DARTH MAUL mini-series, and his work has only gotten better since. The sketchy line art in the early pages gives the book a very dark and gritty feel. Java Tartaglia employs some clever techniques in the coloring throughout, including a nice shift in tone between the flashbacks to the current timeframe that is both subtle and effective. It's a very nice-looking comic overall, and Maul looks great in every panel.
The Verdict: Check it out.
For fans of continuity, this seemingly one-and-done story acts as a follow-up to last year's mini-series, right down to the art. Unfortunately, much like that series, this particular tale doesn't do much to justify its own existence. Hopefully, the whole of this maxi-series will be better than the sum of its parts. For now, it may be best to wait for the trade.