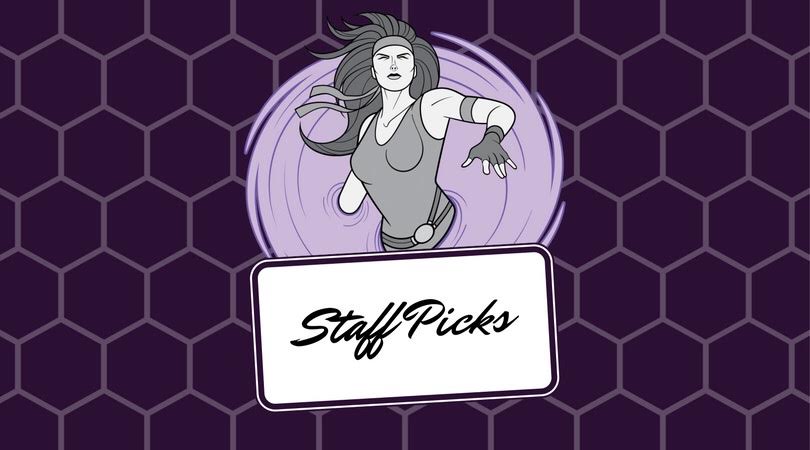 Staff Picks of the Week – June 2nd, 2017
It's Friday, June 2nd! Wonder Woman is here! I'm sure a bunch of you caught early screenings last night! As much as I wanted to, I will have to wait for the weekend. Also don't forget that June 3rd is Wonder Woman Day! <—Click the link to get all the info! As I said, it is Friday, this means it is time for the Staff Picks of the Week! You know how this works. Each week a select few our staff share with you what has been keeping them entertained. But before we get to the picks, let me catch you up on what has been going on at Rogues Portal this week! Check out comic reviews for Josie and the Pussycats Vol. 1, Little Nightmares #1, Bitch Planet Vol.2, Deadman:Dark Mansion of Forbidden Love, Star Trek: Waypoint #5, and our own Sunny and Owl Girl. Movies and TV is up next! Check out our reviews for Rough Night, Pirates of the Caribbean: Dead Men Tell No Tales, Doctor Who: The Pyramid at the End of the World and Insha shares her Must Watch List: Sofia Coppola. You know we love playing games! Check out our review for Prey, our look at the Destiny 2 reveal, E3 2017's full schedule, and a retro review of Star Wars: The Force Unleashed. Also make sure to listen to all the latest episodes of our podcasts including Scooby Dos or Scooby Don'ts, The Comics Agenda, and Not Enough Resources. Plus a ton more for the low low price of $19.95! No… but we do have a lot of content! And now it is time for the Staff Picks of the Week!
---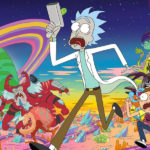 Rhian's Pick of the Week – My pick of the week is the ever so popular Rick and Morty. With the third season slowly approaching I decided to binge watch the entire first two seasons. I haven't watched them in a while and I'd forgotten how clever each episode is! I cannot believe how fast the plot has developed from each series! The most amazing thing about the Rick and Morty series is how much emotion it has. It can have you laughing out loud one moment then having you sitting at the edge of your seat the next. I do love their sad and poignant moments, it makes it stand out against the crowd. I honestly cannot wait for the third season to begin. The first episode of the third season was definitely worth the wait!
---
Josh Canales' Pick of the Week – My pick of the week this week is nothing new really, it's the mobile game Power Rangers: Legacy Wars. It's a superhero fighting game not entirely unlike Injustice or Contest of Champions, but has its own unique and interesting mechanics, such as being purely PvP and the "rock/paper/scissors" type fighting style rather than mostly taps and swipes. The game just got a new highly anticipated patch (1.3) that revamped the entire game from the fighting system to the addition of daily missions, nWay continues to outdo itself. With dozens of classic and recent Rangers characters and the long-awaited introduction of fan-favorite ranger, Mighty Morphin's White Ranger, the game is a Power Rangers fan's dream. It's definitely become my favorite mobile game to play in my spare time, it's not just for fans but anyone who enjoys these fighting games; I cannot recommend it more!
---
Michael's Pick of the Week – My pick this week is John Wick: Chapter 2, available to purchase online now and in stores in two weeks. The film picks up almost exactly where John Wick left off, with Keanu Reeves tearing his way through the Russian mob. This entry differs from the first in a few ways (no dogs die, thankfully) by delving  deeper into the underground assassin society just hinted at in the first film. Ian McShane, John Leguizamo and Lance Reddick return while Laurence Fishburne, Common, Ruby Rose and Franco Nero join in on the action. While Chapter 2 isn't quite as good as the sleek, surprising first entry it make up for it by being an interesting and expanded experience of its own.
---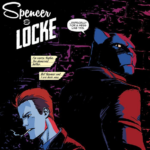 Stephanie Pouliotte's Pick of the Week – My pick this week is Spencer & Locke, an ode to comic legends Bill Watterson and Frank Miller that punctures our childhood nostalgia with a much grimmer reality. The relationship between the title characters, grown up reflections of the lovable duo Calvin and Hobbes, works on every level and reveals a fierce boyhood friendship that allowed detective Locke to survive in an abusive household. But when his grade school sweetheart Sophie Jenkins is murdered, Locke is forced to face his past demons, and he couldn't do it without his lovable stuffed panther, and loyal partner, Spencer at his side. The comic channels the few strips Watterson penned featuring Calvin's private eye, alter-ego Tracer Bullet and really taps into Miller's stylistic, noir atmosphere. Check out my review for issue #1 and issue #2, it's really worth the read, if only to see what it would be like if Calvin and Hobbes grew up in Sin City.