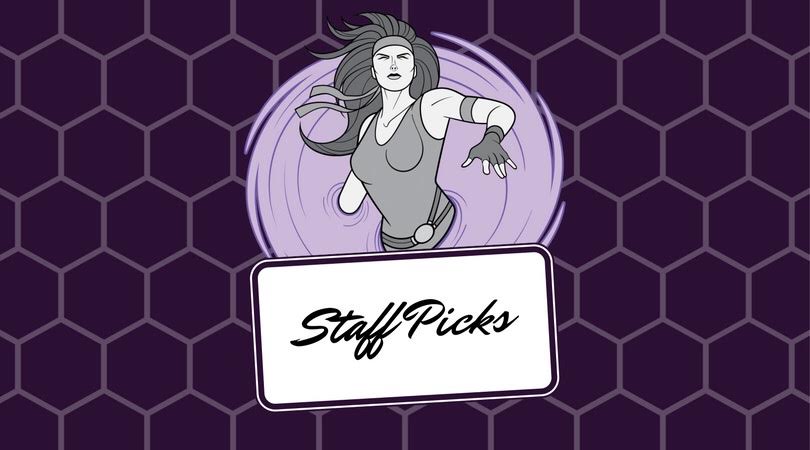 Staff Picks of the Week – April 28th, 2017
Friday is here! It is time to kickoff the weekend right with the Staff Picks of the Week! Each week a select few of our staff share with you what has been keeping them entertained. But before we get to the picks, I'm going to share what is new at Rogues Portal this week! Check out our comic book reviews for There's Nothing There #1, Striker and Slayer Chapter 1, Underwinter #2, Night Owl Society #1, and Batman/The Shadow #1, and that's just a few of what we have to offer! You dig TV and movies and so do we! Check out reviews for Netflix's latest series Dear White People, BBC's Doctor Who: Smile, The Leftovers and the feature film Free Fall. Stephanie Cooke has a heart to heart with Marvel and I talked with Matt Hawkins and Bryan Edward Hill about their Kickstarter project, Golgotha. Also don't forget to check out the latest episodes of our podcasts: Comicsbound, Scooby Dos or Scooby Don'ts, and The Comics Agenda. Enjoy the Staff Picks of the Week, I'm going to get back to watching these NHL playoffs.
---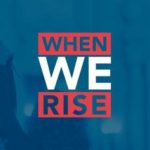 Foosa's Pick of the Week –  My pick is When We Rise. Ever felt that marches and protests do not change the world? What's the point of walking for an hour once to four times a month? Will that make a change, especially with this political climate? Well, the LGBTQ+ community are one of the greatest examples of how they took their protests and marches and changed their lives. When We Rise is a show that runs through around 50 years of struggles the LGBTQ+ had to face from decriminalization all the way to marriage equality. The Docudrama follows the true story of many people, especially of Diane Jones, Cleve Jones, Roma Guy, and Ken Jones. It is reinforced by actual news coverage and the support of the real-life counterparts. The show is an eye-opening for me, for I knew the gist of the history, but not the individual problems. It shows the experience of the community that many do not know the details of. This piece of history is important to know because knowing the past helps us, as a nation, to be able to face future problems.
Beyond the history, the cinematography and the writing are beautiful and engaging. The director may have gotten hate because of the subject matter and the current political climate, however, it is a master piece! The experience of the show is mind-blowing. It is the perfect balance of narration, close ups, and bridging shots. It is also diverse for it shows many different experiences like those of People of Color or the Trans community. The only problem with the show is finding the episodes because of the order of the episode are confusing (at least it was on many online TV Show tracking apps). It is an eight-part mini-series, each tackling a different era chronologically so it becomes easier to recognize which episodes to watch before the others. One Struggle. One Fight.
---
Anelise's Pick of the Week – Over spring break I received Bait: Off-Color Stories for You to Color by Chuck Palahniuk, and it has taken me an embarrassingly long time to finish it. I am happy to report that I finished it this weekend, and the time it took me to get through it is simply due to the fact that it is both a coloring book and a short story anthology. I am a fan of the adult coloring book trend, but Palahniuk's book takes this to a whole new level, not only in terms of the label adult (as anyone familiar with Palahniuk's work should expect) but also in the sense that this is actually a book of short stories. I thoroughly enjoyed each of the short stories, though some are certainly better than others, and I have to say that coloring Palahniuk's stories added a whole new level to experiencing his skill as a storyteller. If you are a fan of Palahniuk and coloring, Bait is a must!
---
Ryan's Pick of the Week – My pick this week is ​Star Wars Thrawn. I haven't been able to put the book down since I got it. Timothy Zahn returns to the character that brought the original Star Wars Expanded Universe into the spotlight, and he does so in style. The book is really interesting because it shows how Thrawn became the Grand Admiral that we all know and hate. Instead of having him be an already established threat, we get to see him work his way up through the Imperial ranks. Spoilers: The Empire is incredibly racist! Having a Chiss move through the ranks presents Thrawn with a huge swath of problems starting pretty much right as he is introduced. It is a great way to start going down the rabbit hole of Rebels Season 3, and I can't wait to see where it all goes.
---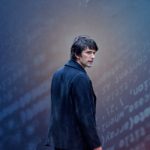 Christoph's Pick of the Week – A few weeks ago I read an article about Ben Wishaw and his new movie London Spy, which should then come out in the near future. The article said, that he would be playing a gay character and it would be a crime-thriller. I like Ben Wishaw, he is a great actor, very charismatic and it seemed like a nice new touch to an old story. I was surprised as I learned, that London Spy was actually a five-part mini-series on Netflix. After I watched the first two episodes, I was blown away by its style, storytelling, and the way the writer introduces us into this strange world. I try to be as vague as possible as I talk further about the series, because everything that happens after the first 30 minutes could be a major spoiler. The way London Spy tells its story is very unique in many ways. First we experience everything that's happening from Ben Wishaw's character's (Danny Hoult) point of view. He is a lowlife, former drug addict and just does things he wants to do. He has a certain morale and is happy with his life. The mistakes he made in his past taught him a lot and he is eager not to make them again. This makes the character very likeable and relatable.
The world of spies is a world of mysteries, intrigues and lies. Therefore you can't believe everything that is shown to you. This is another point which makes London Spy so good. Is this scene staged for Danny? Can he trust this person? Nothing can be taken for granted. And everything is performed perfectly by the actors and actresses. They show us a world, which we don't get to see very often. Because the show consists of just five episodes it really feels like a five hour movie and not like a TV show. After finishing it, I kind of wished they would make a second season, but as I learned that the creator Tom Rob Smith doesn't think that the show needs a second season (and thinking about it for a view days) – I agree with him. For this show it's a perfect ending. So, watch London Spy. You get a calm, suspenseful, and well performed crime-thriller, with a 2 nuanced soundtrack, that stays hidden in the background and adds to a great viewing experience.