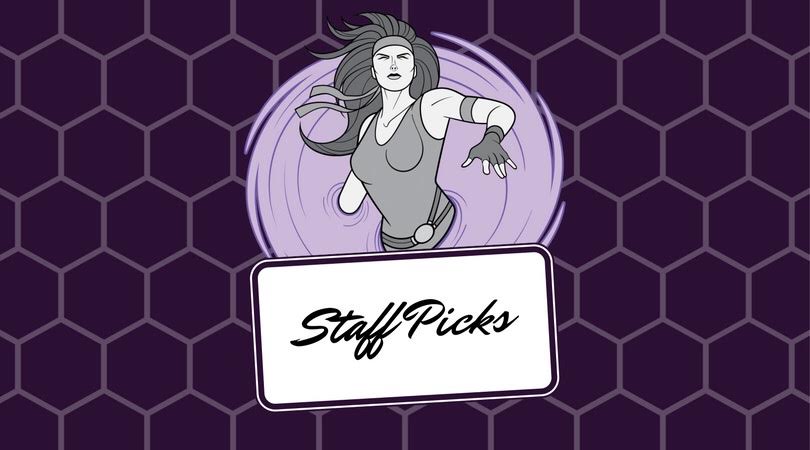 Happy Friday! We packed this week with fresh content to start your September off right! Now it's time for the best part of the week: Staff Picks! We asked staff writers and editors to tell us about something that brought them joy this week. Before we dive into their recommendations, let's do a quick recap!
We're hosting a giveaway! Enter to win an advanced, Ramón Pérez autographed copy of Jane! Details are in this post. Ahhh! Stephanie Cooke gave an advanced review here.
Interviews: Stephanie interviewed actress Kristin Kreuk at Fan Expo 2017 about Shuyan SAGA! Samantha chatted with artist Daisy Ein about developing indie game Tiny Bird Garden, a mobile game that launches later this month.
Podcasts: Check out new episodes from Not Enough Resources, Film Runners, The Comics Agenda, and Comicsbound.
Comics: Like lady knights? Christoph thinks you'll love The Order of Belfry. He also gave Contact High a glowing review. Samantha gave us an advanced review of Kyle Starks' Rock Candy Mountain Vol. 1, out September 27 from Image, and a sneak peek at Art of Over the Garden Wall. Mike dove deep into Beautiful Canvas and reviewed its first four issues.
Anelise reviewed Shade the Changing Girl #12. She also gave us her thoughts on Made Men #1. Greg gave us his thoughts on all-ages book Whiz Bang and Amelia the Adventure Bear: The Jade Dragon. He also reviewed Star Wars Adventure #1, Motor Crush #6, and 4 Kids Walk into a Bank #5. Plus, he introduced us to the first issue of Dastardly and Muttley. Nico reviewed Thor Vs. Hulk: Champions of the Universe #1, and Josh Rose tackled the new Kingsmen: The Red Diamond series.
Manga: Rhian recapped 19 Days Days 208 and 209!
Books: The Rogues Portal Book Club has its first guest host in September. Read Harry Potter and the Prisoner of Azkaban and join us for a Twitter chat! If that doesn't make you cry enough, Samantha recommends Michael Ausiello's memoir of his late husband, Spoiler Alert: The Hero Dies. If you're behind on Amelia Goosebumps analysis, now is the perfect time to catch up!
TV & Movies: Danielle waxed nostalgic about My So-Called Life and Michael gave us his thoughts on the new season of True Detective. Samantha recapped the Will finale (then mourned its early cancellation). Then she speculated some more on The 100 season five based on Bob Morley's Fan Expo 2017 panel. Meanwhile, Christoph watched Inhumans (and liked it!). Plus, Shanicka and Samantha had another Shadowhunters buzz session… wherein the show literally became an alternate universe. Stacy wrote a retro review of Robocop.
Video Games: Ryan reviewed the indie game Phantom Trigger and Amelia gave us her thoughts on the mobile game I Am Innocent.
Other Stuff: Heather put a Kickstarter spotlight on Amelia Sky #2! Support if you can before the clock runs out! Stephanie highlighted some of her favorite cosplayers from Fan Expo 2017. Plus, check out Christoph's first crush… a certain Disney character whose friends include a monkey, a genie, and a flying carpet.
Oh, yeah. Now, let's see what our staff picked for September 8th!
---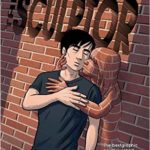 Anelise's Pick of the Week: I have a dog-eared copy of Scott McCloud's Understand Comics that I use quite often when I am teaching comics. However, I have never read any comics that he has produced. That changed this weekend when I found a copy of The Sculptor at my local library.
The Sculptor is a story about an aspiring sculptor who makes a deal with Death: he will live only 200 more days, but he will have the most skilled hands in the world. This is more than just a story about the pursuit of fame and the struggling artist. It is primarily about love and contentment. And, as I was hoping, the ending is anything but cliche. With compelling writing and art drawn by someone who clearly knows the comics medium, The Sculptor is a fantastic, affecting read.
---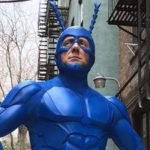 Josh's Pick of the Week: This time around my pick of the week is without a doubt, The Tick. Amazon is finally jumping into the superhero game with one of my favorite super-duos and they came out swinging! The Tick is everything I remember, with a few disappointing exceptions (where is Batmanuel?!), but with a modern touch.
The new series looks at superheroes in a (somewhat) realistic world in the same manner as the classic show, but they take a really intriguing look at Arthur; the brains of the duo is not only dealing with a heartbreaking childhood, but is also struggling with wavering mental health. Underneath the hilarious comedic exterior is really relatable subtext that made me love the characters even more. The Tick might just be the best superhero show in recent years. If you haven't watched it yet, that needs to change ASAP.
---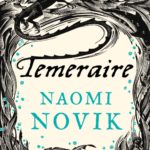 Robert's Pick of the Week: The Temeraire novels by Naomi Novik is a series I have fallen in love with. My friends lovingly make fun of me for being "snobbish" and having "pretentious" taste. I accept this and embrace it. When I first heard of these novels, I thought they were silly. The premise is Napoleonic era warfare with dragons.
I must admit, I am a huge fan of colonial era European history. Writing this out, I see how incongruous and problematic it is. This era of history is largely responsible for slavery, white supremacy and really a lot of what's wrong with the world now. However, despite these issues I have with history at that point in time, I am fascinated by it. I read most of the Sharpe series in college and the same with the Horatio Hornblower series. Also, I am not particularly fond of domesticated animals. I say all that to say, despite myself, I love the Temeraire series.
The relationship between Captain William Lawrence and his dragon is key to the series. Lawrence is a Navy captain and the third son of a noble. Temeraire is a dragon — still in his egg — that Lawrence happens upon through his travels. Lawrence's whole world is dramatically changed because of Temeraire choosing him as his rider. This is the vehicle through which we (the reader) are introduced to this alternate history. Lawrence is an experienced sea captain who has made his life on the sea. After Temeraire, he is thrust into the aerial corps of the UK and serves the crown that way.
One thing that I find fascinating is, for all the violence and harshness of the world, Lawrence refers to Temeraire as "my dear" and it absolutely melts my heart. This world-weary sea Captain has killed enemies of the crown and had his own men whipped for dereliction of duty. Yet, he calls this multi-ton dragon "my dear". It might be laughable if it wasn't so earnest. This character who previously might have been portrayed in a hyper masculine fashion, says "my dear". This flies in the face of toxic masculinity which is often portrayed in adventure novels based on this era. Temeraire is worth picking up because it flies in the face of all conceptions one might have about a fantasy novel in this era of history. It even addresses slavery and China, which I wasn't expecting at all.
---
Ryan's Pick of the Week: Star Wars Battlefront II: Inferno Squad by Christie Golden. It is great to get back into reading, and this book is helping fuel my need for Star Wars until Battlefront II comes out for Xbox One, PS4 and PC in November.
The book follows Inferno Squad, an elite Empire tactical squad, as they infiltrate the Dreamers, what remains of Saw Gerrea's partisans following the destruction of Jheda City in Rogue One. These characters will carry through into the campaign mode for Battlefront II, with the player taking care of the main character of the novel, Iden Versio. The book is well written. However, the first couple chapters left a pit in my stomach for being so focused on being pro-Empire. Even previous Empire-focused books like Thrawn and Tarkin didn't make me feel so uneasy, but Golden threads the needle close enough to get her point across without making you feel like you are rooting for the wrong side.
---
Stacy's Pick of the Week: My pick this week is Rise of the Dungeon Master: Gary Gygax and the Creation of D&D by David Kushner and Koren Shadmi. This book is a fun and informative look at the development of the tabletop RPG that started it all, from its humble beginnings as a series of modified rules for conventional miniature gaming to the multimedia juggernaut it would eventually become.
It's the story of not only Gygax himself, but the effects his creation would have on popular culture and society as a whole, from computer gaming to the satanic scare of Dungeons & Dragons in the early 1980s. If you've ever been curious about the origins of tabletop roleplaying games, Rise of the Dungeon Master presents an accessible and entertaining second-person journey that serves as a fun introduction to the history of the genre. Recommended.
---
Want to tell us what you're loving this week? Sound off in the comments or let us know on Twitter and Facebook! Your responses might be featured on our social networks! Have a great weekend, everyone!