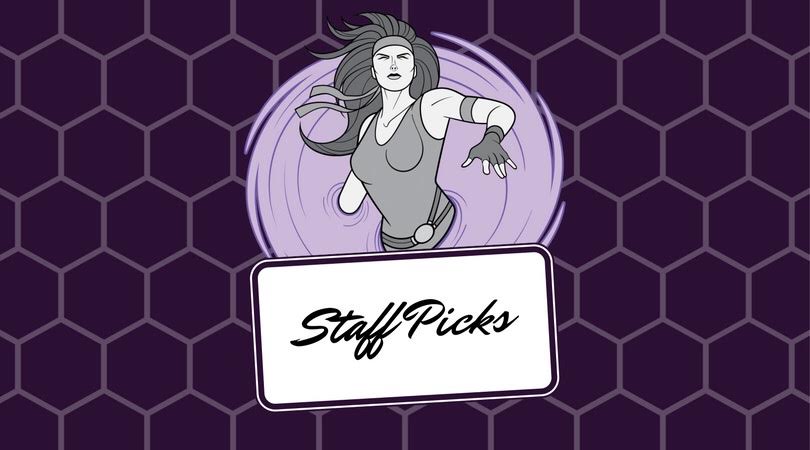 Happy Friday! We're wrapping up September and moving into October on Sunday! That's bonkers. We worked hard to pack this month with super fresh content for you! Now it's time for the best part of the week: Staff Picks! We asked staff writers and editors to tell us about something that brought them joy this week. Before we dive into their recommendations, let's do a quick recap!
Site Events: In honor of DC Comics' annual Batman Day, we participated in the Harley Quinn 25th Anniversary Takeover with a mini site event. Catch up here!
Interviews: Ashley caught up with Past the Last Mountain writer Paul Allor. Greg interviewed Coyotes creators Sean Lewis and Caitlin Yarsky about their upcoming series with Image Comics.
Podcasts: Catch new episodes of Film Runners and The Comics Agenda!
Comics: Alien Toilet Monsters #1? Yes, please, says Josh. Anelise interviewed Hi-Fi Fight Club #2 and Lifeformed: Cleo Makes Contact. Samantha gave us her thoughts on the latest Sex Criminals TPB and Kyle Starks' Kill Them All. Mike reviewed Freight #1. And in the world of DC, Nico reviewed Wonder Woman #31 and Stacy dove into Batman: The Murder Machine #1. Stephanie P. also gave us her thoughts on Black Magick #8.
Books: Stephanie read (and loved) Leigh Bardugo's Wonder Woman: Warbringer. We had our third Rogues Portal Book Club chat about Harry Potter and the Prisoner of Azkaban on Twitter, and Christoph wrote a letter to the book and film. Samantha gave us an advanced review of Ian Doescher's The Force Doth Awaken, a Shakespearean adaptation of Star Wars Episode VII.
Movies & TV: Cameron reviewed Kingsman: The Golden Circle and the two newest episodes of DuckTales! He also dove into Star Trek: Discovery. Andrew previewed 2017 Oscars picks and Rhian dreamcast a live action adaptation of Rick and Morty.
Video Games: Ryan gave us his thoughts on Metroid: Samus Returns and wrote a personal piece for the 10th anniversary of Halo 3.
Other Stuff: Josh spotlighted the Is'nana The Were-Spider: The Hornet's Web Kickstarter! New contributor Alice told us about crushing on fictionalized emo boys for My First Crush.
So much awesome stuff! Now let's see what our staff recommends for September 29th!
---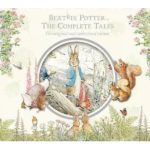 Hafsa's Pick of the Week: Beatrix Potter's Tales. These stories are the cutest and sometime the most disturbing narratives ever. They are obviously made and written for kids. The Tales are small lessons and adventures of anthropomorphic animals. There are still hierarchies between the animals and there are heroes and villains. However, the beauty of these stories is that Potter takes stereotypes and turns them on their heads. The stories are not perfect since the contemporary morality has changed since the early 20th century. They are still amazing for the family to read together, for all ages (maybe not young adults or teens). Older children could ask about the more complicated themes introduced and younger children will enjoy the illustrations.
---
Josh's Pick of the Week: I've been volunteering at the Calgary International Film Festival this weekend and there have been a ton of fantastic films being shown. One of the hottest films is When They Awake, which is a documentary about how the indigenous music scene in Canada is experiencing a renaissance of sorts. Several groups and musicians are being noticed in mainstream media. It kicked off the festival as the Red Carpet Opening Gala Film. It's pretty rare to see a documentary selected as the Opening Gala film. Unfortunately I haven't been able to watch this film yet, but I have been listening to musicians like Iskwé, A Tribe Called Red, JB the First Lady, and Logan Staats. I've heard nothing but fantastic music and amazing reviews. I need to watch When They Awake before the festival ends.
https://youtu.be/Vacl607K2sY
---
Samantha's Pick of the Week: I recently watched the entire first season of NBC's The Good Place on Netflix, in preparation for an interview I did with one of its actors (Luke Guldan). This series is genuinely hilarious. It stars Kristen Bell as a dead woman who's been sent to "the good place" after a mix-up wherein The Powers That Be think she's someone who shares the same name but is a significantly better person. The series explores Sartre's proclamation that "Hell is other people" and does so in a funny, unique way that feels really fresh for primetime comedy. I have yet to dive into the second season, which kicked off last week, but I'm really looking forward to catching up.
---
Scout's Pick of the Week: I'm recommending another podcast this week! I'm highlighting Disney Philharpodcast, a podcast by Andrew, Laura, and Alison, 'three Disney-obsessed former Cast Members reliving the magic and learning facts they should already know'.
These guys have been working on the show for almost two years now — I've been listening since their early episodes, and it's really exciting to hear them grow — both in their sound quality/editing abilities and their knowledge. The show selects one topic per week to give history and overviews of – they do a nice mix of Disney film history and Parks stuff as well, which is what got me really interesting. My favorite part, as a craft beer fan, is their opening segment, where each host selects a beer to drink that night themed around the episode's topic. I've found a few awesome brews through them!
Disney Philharpodcast is released weekly and available on iTunes and Soundcloud.
---
Want to tell us what you're loving this week? Sound off in the comments or let us know on Twitter and Facebook! Your responses might be featured on our social networks! Have a great weekend, everyone!