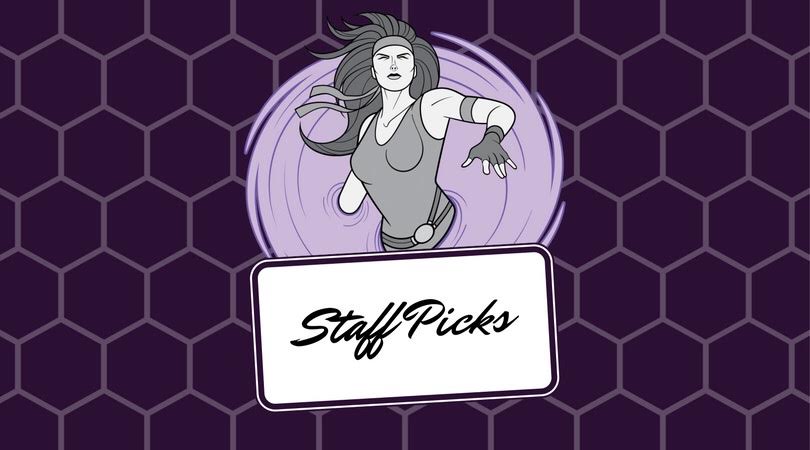 Happy Friday! There's been a lot of exciting stuff this week — new comics, a trailer for The Punisher, and tons of cool podcast content. Now it's time for the best part of the week: Staff Picks! We asked staff writers and editors to tell us about something that brought them joy this week. Before we dive into their recommendations, let's do a quick recap!
News: Netflix released the first official trailer for The Punisher, but still no word on its release date. Or is there?
Podcasts: Check out new episodes of Not Enough Resources, Film Runners, Babes of Wonderland, The Comics Agenda (interviewing Pamela Ribon), and The Fordcast Podcast!
Comics: Samantha adored the Over the Garden Wall 2017 Special! Anelise reviewed Glitterbomb #1 and Greg reviewed Star Wars Adventures #2 and Angelic #1. Nico gave us his thoughts on Bloodshot Salvation #1. Stacy dove into Batman: The Red Death #1 and Half Past Danger 2: Dead to Reichs #1. Stephanie continued reviewing Grrl Scouts: Magic Socks with issue #5. Last but not least, John jumped into Wonder Woman/Conan #1 and Mike reviewed Days of Dark Fire's first three issues!
Manga: Rhian recapped Tamen De Gushi's new chapter!
Books: Amelia's magnum opus, Give Yourself Goosebumps, continues! Now's your chance to catch up!
TV & Movies: Rhian gave us some films to look forward to this fall, while Samantha listed five of her favorite fall-themed movies to watch in September. Scout reviewed The Worst Witch, and Insha presented the Brie Larson Must-Watch List. Samantha talked about Clarke Griffin's bisexuality and she and Shanicka finished Shadowhunters season one! Plus, Bee reviewed My Hero Academia S02E23 and Mike wrote about the latest episode of Rick and Morty.
Video Games: Matt reviewed Hakuoki: Kyoto Winds and thinks you should definitely play.
Other Stuff: Scout spotlighted Wonderful: An Enthusiast Podcast by Griffin and Rachel McElroy. Amanda made her Rogues Portal debut with a My First Crush piece about Captain Kathryn Janeway. And Rhian gave us some stunning photos of the Street Fighter Ken Funko Pop!
Now let's dive into what our staff recommends for September 22nd!
---
Josh's Pick of the Week: Thanks to Talk Like a Pirate Day on Tuesday, I did some pretty piratey things. Including drinking rum. And now the rum is gone. Don't ask me why. Anyways, I found myself designing a new pirate themed tattoo, downloading the Treasure Island ebook to read on the train, and adding the novel On Stranger Tides by Tim Powers to my reading list. I even told some bad pirate jokes. To finish off TLPD, I watched Pirates of the Caribbean: The Curse of the Black Pearl and Dead Man's Chest. Black Pearl was the better of the two in my opinion. So my Staff Pick for the week is Talk Like a Pirate Day. Any excuse to reconnect with my roots.
---
Kylee's Pick of the Week: Brace yourselves, I have a confession to make: I've never played Dungeons & Dragons. There weren't any opportunities growing up for me to get exposed to tabletop gaming and now that I'm older, wiser, and itching to play, my friends are further spread out and we're all much busier. It makes for a challenging landscape for gameplay, so I've turned to the next best thing: actual play podcasts.
My pick for this week is the Podcasts of Annihilation event, which brings together some of the most popular Dungeons & Dragons actual play podcasts. Every day this week, two new podcasts have taken on the Tomb of Annihilation. It's been inspiring listening to so many different takes on the same adventure, especially from some of my favorite podcasts. The premise that they all loosely follow is the mysteries of the death curse and the island of Chult. Of the episodes I've listened to so far, not too many have dug into the death curse, but all of them have eagerly explored the dinosaurs roaming around Chult. That's right, I said dinosaurs.
Nerd Poker folded Chult into their ongoing campaign, while Sneak Attack recorded a one-shot episode (a must-listen for the Jurassic Park references), and The Dungeon Rats are actually planning to play through and post the entire campaign. If Dungeons & Dragons hadn't already reeled me in, dinosaur racing would've definitely done it. This event has only deepened my interest and introduced me to some new actual play podcasts I'll have to add to my list.
---
Robert's Pick of the Week: It's been seven years since Scott Pilgrim vs. The World came out. That number, to me, is absolutely absurd. I remember reading the graphic novels as they were coming out. I went to see this movie in theaters but it never resonated with me. Sure, I liked it and bought the collector's edition, but it never inspired any passionate love. However, I watched it this past Saturday with a group of friends and it blew my mind.
First, I don't think this movie could be made today because of all the "A" listers in the cast. You have the likes of: Brie Larson, Anna Kendrick, Chris Evans and Aubrey Plaza all in the same film as supporting cast. That's not to mention Michael Cera as the lead, and Thomas Jane in a weird cameo as the vegan police. Oh, and Brandon Routh.
When I was younger, I didn't think anything of the Knives/Scott relationship. Now, older and wiser, I see it completely as Scott as the predator. In fact, I know Scott is the eponymous protagonist of the film, but I think a compelling argument can be made that the movie is actually about Ramona and her trying to get over the baggage of several bad relationships. Hell, in the movie, I don't even think Scott and Ramona wind up living happily ever after. They both go through the door leading through Scott's brain for the interdimensional highway. They could have gone separate ways.
I actually think the jokes are better now than they were when Scott Pilgrim vs. The World first premiered. I will quote "bread makes you fat??" until I die. I feel that this film is almost required watching for people who are into nerdy things. It is a real gem of a movie that I cannot recommend highly enough.
---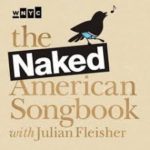 Scout's Pick of the Week: This week I want to spotlight The Naked American Songbook! This is a radio show/podcast from WNYC, WQXR, and The Jonathan Channel hosted by musician Julian Fleisher and a rotating cast of guest stars. One of my bigger areas of interest is musical theatre and the Great American Songbook, particularly Frank Sinatra, so listening to the second season was a real treat. It's a quick listen – the show has two seasons right now – and fast paced, with smooth editing and lots of laughs.
Each episode features Fleisher and his guest sharing the songs and stories that made them who they are. Even if you're not a fan or new to this type of music, it's really interesting to hear Julian and the guests take a deep dive into back catalogs. For first timers, it's a good 'crash course' into a formative American style of music.
My favorite moments include: Lea DeLaria (Orange is the New Black)'s jazzy takes on David Bowie; Zachary Quinto (Heroes, Star Trek)'s banjo performance; Rachel Dratch (Saturday Night Live)'s story of playing Snoopy in You're A Good Man, Charlie Brown; Rachel Bloom (Crazy Ex-Girlfriend) recounting the entire plot of Space Jam; and pretty much anything Alan Cumming (Cabaret) says.
---
Stephanie's Pick of the Week: My pick this week is the new manga serialization of Cardcaptor Sakura! I absolutely fell in love with this anime when it aired in North America when I was a kid and have since read the original manga and watched the Japanese sub a ridiculous number of times… I'm actually in the middle of re-watching it again! Why? Because after 20 years, the manga group Clamp has decided to write a sequel to the beloved magical girl series — in which Kinomoto Sakura stumbles onto an ancient book and accidentally releases the powerful set of Clow Cards that scatter to the winds. The cards each have unique abilities, and Sakura is tasked with sealing of them back into cards and mastering her own magical powers — all while being her cute, infectiously optimistic self!
Cardcaptor Sakura: Clear Card picks up exactly (and I mean exactly) where the manga ended, starting as Sakura heads off to the first day of junior high school and runs into her beloved Syaoran, who had briefly moved back to Hong Kong. Unfortunately (or in my mind, fortunately, for you), this means you're better off reading the original manga or watching the anime first. It is worth it! In more exciting news, today they announced the release date for the Cardcaptor Sakura: Clear Card anime: January 7, 2018. This means you have plenty of time to binge watch the original Japanese series!
Though the North American dub will always have a special place in my heart, most dubs you'll find online use different voice actors and they are… really bad unfortunately. So do yourself a favor and stick to the Japanese sub!
---
Want to tell us what you're loving this week? Sound off in the comments or let us know on Twitter and Facebook! Your responses might be featured on our social networks! Have a great weekend, everyone!