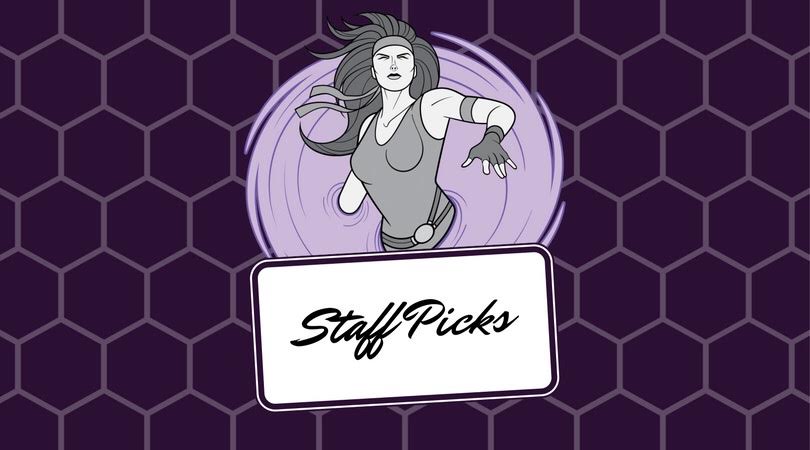 Happy Friday! We packed this week with fresh content to start your September off right! Now it's time for the best part of the week: Staff Picks! We asked staff writers and editors to tell us about something that brought them joy this week. Before we dive into their recommendations, let's do a quick recap!
News: J.J. Abrams is officially directing Star Wars: Episode IX, which has a new release date. Read about it here. Marvel teased a new character version of Voyager, so Greg gave us some history on the character.
Conventions: Our managing editor went to the inaugural HASCON last weekend and gave us all the highlights. Check out her coverage of the event! Stephanie also gave us her final thoughts on Fan Expo 2017.
Interviews: Samantha chatted with artist/writer Steve Skroce, whose new series Maestros premieres via Image Comics in October. Anelise also chatted with writer Seth Peck and artist Jeremy Haun, whose comic series The Realm premiered this week.
Podcasts: Check out the latest episode of Filmrunners, all about The Philadelphia Story. The Comics Agenda covers a lot of fun stuff in its latest episode, including Patty Jenkins directing the Wonder Woman sequel!
Comics: Check out Anelise's review of The Realm #1! Christoph wrote a spotlight on Christof Bogacs' web comics and Stephanie gave us her thoughts on Birds of Prey Vol. 1: Who is Oracle?. Plus, Greg reviewed The Archies #1, Curse Words #8, and Runaways #1. Anelise reviewed Dead of Winter #2 and Winnebago Graveyard #4, and Stacy dove into Hellboy and the B.P.R.D.: 1955–Occult Intelligence #1 and Dark Nights: Metal #2. Josh gave us his thoughts on Ninjak #0, Robert reviewed Mister Miracle #2, and Nico reviewed Retcon #1.
Manga: Rhian recapped 19 Days Day 210!
Books: Have you been following Amelia's Give Yourself Goosebumps series? Now's your chance to catch up!
TV & Movies: Michael gave us his thoughts on the American Horror Story: Cult premiere and reviewed The Deuce. Rhian told us about badass women in Hollywood who opted to do their own stunts. Samantha wrote about the use of pop music on The 100 and she and Shanicka finally got to the "Malec" episode in their sixth session of Shadowhunters Buzz Sessions. Bee recapped My Hero Academia S02E22.
Video Games: Ever designed your character after someone in real life? Samantha played Mass Effect: Andromeda as Kesha and had a great time. She also got a demo of Magic: The Gathering Puzzle Quest at HASCON, then downloaded it for a review. Plus, Matthew reviewed Masquerada: Songs and Shadows.
Other Stuff: Stacy told us about how he fell in love with Jennifer Walters. Christoph wrote a letter to the Wonder Woman franchise and what it's come to mean to him.
Nice. Now let's see what our staff picked for September 15th!
---
Greg's Pick of the Week: Slam! The Next Jam. I do not remember how I found this series, but what I can tell you is that I am glad that I did. The first arc was done extremely well as Knockout and CanCan went from being Roller Derby rookies to veterans. Slam! The Next Jam picks right back up where the first arc ended. CanCan is on the mend from the shoulder injury in the last issue. Meanwhile Knockout is on the outs with her team for going to her friend's side when she sustained the injury.
All the things that drew me to this series to begin with are here again. You have some great interactions between all the characters as they still are trying to find their way. Both CanCan and Knockout are dealing with their own limitations, while leaning on each other to get through at times. The introductions of some of the new rookies provides the change to introduce even more ideas and interactions. There is a new artist: Marina Julia. At first I missed Veronica Fish on the art, but Julia's art grew on me as the issue continued on. The Derby rules are still present. Bright colors and a variety of character designs are present as always, as is the great character development. Go check it out now!
---
Hafsa's Pick of the Week: You by Caroline Kepnes. Welcome to the creepiest book I have ever read, especially if you are a woman! The book's premise is male entitlement that manifests in the most traumatizing way possible. The story follows a bookstore owner as he falls in love. This is not a romance, but a horror story that addresses the reader. That is what sold the story to me. The book addresses you. He is talking to you, looking at you, speaking to you, touching you, and controlling your life.
You is meant to be a horrifying. The best way to consume this horror story is to listen to it. Santino Fontana is the audiobook reader. He has the creepiest voice that matches the writing and narrative style and is frightening. So, I would highly You as an audiobook. It is just an extremely amazing experience. Just beware of bookstore staff until you are done!
---
Michael's Pick of the Week: My staff pick this week is It Comes at Night, which is out on Blu-ray, DVD and digital. A large chunk of the the people who saw this movie in theatres were turned off, and that has a lot to do with the marketing. It seemed to be sold as a supernatural, scare-a-minute horror film when it's really a tense, slow-paced rumination on fear, paranoia and the breakdown of society.
It's a small cast but they all do fantastic work. Every character is sympathetic without being wholly trustworthy. I'm also a sucker for Joel Edgerton, and his very human performance helps sell everything that happens. If you're looking for a movie with a build-up similar to The Witch and an ending that might piss you off, then check out It Comes at Night.
---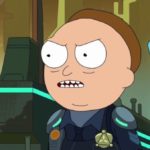 Rhian's Pick of the Week: My pick of the week is once again everyone's favorite grandfather and grandson duo, Rick and Morty. This week's episode was so good that I wrote an entire article about it! Even though the episode isn't as funny as previous episodes, the storyline was solid! It kept me hooked from start to finish. I've never watched a cartoon show and been left speechless at the end. Thus far this has been the best episode of the entire series. I highly recommend you check it out, but if you want to remain unspoiled, don't read my article until after you've watched!
---
Shanicka's Pick of the Week: It's been a bit of a hell week for me, so unfortunately I haven't had much time to unwind and relax in front of my usual self-care shows. That being said, I discovered a new podcast this week that has been a bit of a godsend. It's an NPR podcast called Snap Judgment Presents: Spooked and it's gotten me through two pretty miserable work shifts.
From now until Halloween, Spooked will release a new episode in which different people chat about totally eerie real life shit they've experienced. There are only three new episodes so far, but they are three really great episodes. Needless to say, while listening to each one, I spent a lot of time biting down on my tongue in order to stop myself from yelling "What the actual hell?" across my office.
---
Want to tell us what you're loving this week? Sound off in the comments or let us know on Twitter and Facebook! Your responses might be featured on our social networks! Have a great weekend, everyone!