Staff Picks of the Week – March 16th, 2017
It's Friday! The Staff Picks of the Week are back after taking last week off for our Buffy takeover event! We hope you enjoyed all the Buffy content as much as we enjoyed producing it. The way the Staff Picks of the Week works is each week a select few of our staff share with you what has been keeping them amused and entertained. Before we move on to the picks, let's recap what is new at Rogues Portal this week!
This week we have comic book reviews for Quince #3, American Gods #1, Riverdale #1, Batwoman #1, and Angel City #6. In case you missed our Buffy takeover, here is a taste of what you missed: Death of a Mother: Analysis of the Body, Where Are They Now? Behind the Scenes of the Buffyverse, Feminine But Fearless: Exploring the Buffy/Daphne Connection, Death is Your Gift: The Worst Deaths in Buffy the Vampire Slayer, and Rebel Grrrl: Faith and Bad Ass Feminism. There are many more Buffy articles, check them out! Amelia has you covered if you missed the 7th episode of Riverdale (like I did) and Ryan reviews The Legend of Zelda: Breath of the Wild. The latest episodes from our stable of podcasts are up to listen as well! Listen to the latest episodes of Comicsbound, Scooby Dos or Scooby Don'ts, The Comics Agenda, and The Missfits! And now it is time for the Staff Picks of the Week! Enjoy!
---
Anelise's Pick of the Week – I was hesitant to pick up another zombie/outbreak-style series, but after reading Cannibal Volume 1, which collects issues #1-4, I am definitely glad I did! This is a southern horror series about a mosquito-borne virus that causes people to crave human flesh. While this might sound like an all too familiar idea, the team behind Cannibal has given the story a unique twist: first, they focus entirely on this one Florida town and one family in particular, and second, they make the infected completely self-aware and human looking, which adds to the horror. If you're tired of the same old human-eat-human stories, Cannibal might be just what you are looking for.
---
Heather's Pick of the Week – Logan. Logan. LOGAN. Go see it, take it all in, soak up the feels. If it was not already abundantly apparent, my staff pick this week is Logan. Let me be the first to admit that I have ever really been invested in the X-Men franchise (if you're really curious about my thoughts on literally all of the movies, tune into Episode 98 of The Missfits). I could take them or leave them – some of them I would really prefer the latter, just to scrub that horrible experience from my brain. You can never unsee laser eye Deadpool. Logan is different. Logan is not the campy comic book movie produced by a studio that is greedily holding onto a title simply because they can instead of turning it back over to those that maybe would do it some justice.
The final instalment in the X-Men Wolverine line of films gave me everything I never knew I wanted for a character that I've never really cared about. That is perhaps the most important thing about this movie. It can take a fair weather fan (like myself) and really stoke the flames of interest. After seeing the movie, I wanted to pick up every Wolverine comic title I could get my hands on. That is what a good movie should do. It should leave you thinking about it long after the credits roll. I want to avoid being too spoilery, but to offer some mental incentive for those still on the fence about seeing it, it offers more than just a pretty bow on a very deadly package. The cinematography is great; it has a more "real" feel than any of the films in the franchise. The characters feel like they could be your neighbors (ignoring the fact that they are mutants). I really could go on and on, but you should just go see it, and I humbly invite your protests if you did not love it as much as I did.
---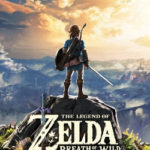 Ryan's Pick of the Week – My pick this week is The Legend of Zelda: Breath of the Wild. As the penultimate sandbox experience Breath of the Wild should make any other developer making an open-world game sweat bullets. While it's story is riddled with magic and heroism, it's detailed physics and chemistry engine make every little thing you do a truly magical experience.
In order to illustrate this, let me explain of how I climbed one of the towers in the game. It was covered in patches of bramble and I was halfway to the top. Climbing the first half of the tower was easy, as I just lit all of the bramble on fire using my torch and began to climb. In order to get past the bramble on the higher levels of the tower I dropped my unlit torch, dropped a piece of flint, hit it with my axe, pulled out my bow, lit my arrow on fire by dragging it through the torch, and then shot the remaining bramble. None of this was explained in any tutorial or through a hint system. I just figured it out, and did it. The game constantly rewards you for this kind of problem solving.
---
Hafsa's Pick of the Week – I recommend Becoming Unbecoming by Una. This is a story about sexual assault. It both recounts a personal story as well as a case that was solved accidentally by the police. The idea portrayed is not just an expression of hurt and recovery. It is an expression of confusion about what happened, how it happened, her reaction, other people's reaction, and the social implication. The comic is sometimes word heavy and is sometimes silent. The balance exists in a space where the reader can explore the meaning of her words and understand their reaction to what she says. It makes the reader culpable of their part in ableism, intolerance, and rape culture, whether they ignore, embrace, or protest it.
The art varies from meticulous to simplistic. The imagery includes an actual word that has been used as an image. Beyond that, there are actual footnotes and historical facts as well as references helping the reader expand on the subject of the police case mentioned. Moreover, the creator was very creative in the way Una depicted her experience. She was explicit or implicit when needed, was factual or personal when needed, and was beautiful or ugly when needed. The narrative is perfectly balanced for the reader to be engaged without getting attached.
---
David's Pick of the Week – Well, well, well….I went back on my word and picked up Tom Clancy's Ghost Recon: Wildlands. I wasn't going to do it! I played the beta and was not too impressed. But then a couple of my buddies picked it up and I was starting to feel the peer pressure, so I bought it! I am very happy to say that I haven't regretted my purchase so far. Wildlands takes place in Boliva in the near future. Boliva has become a narco-state and the world's largest producer of cocaine. The US Government finally says enough is enough when a DEA agent is tortured and killed. The elite unit of "Ghosts" are then sent to Boliva to destroy the cartel.
The game gives you the option of playing solo with three other team members controlled by the AI or you can play co-op with friends. Usually games like this are lacking in the solo experience but it has been a nice surprise that I have enjoyed playing solo as much as I have playing with my friends. That's a big plus in my book. The customization is nice, you can dress your solider up in all kinds of gear, choose between male and female, and customize your arsenal as well. There are many side missions that compliment the main story missions such as stopping supply convoys, killing minor players in the cartel, and flying supplies from one end of the map to the other. And this is one big ass map! So if you like tactical games and co-op, then I suggest giving Wildlands a shot.