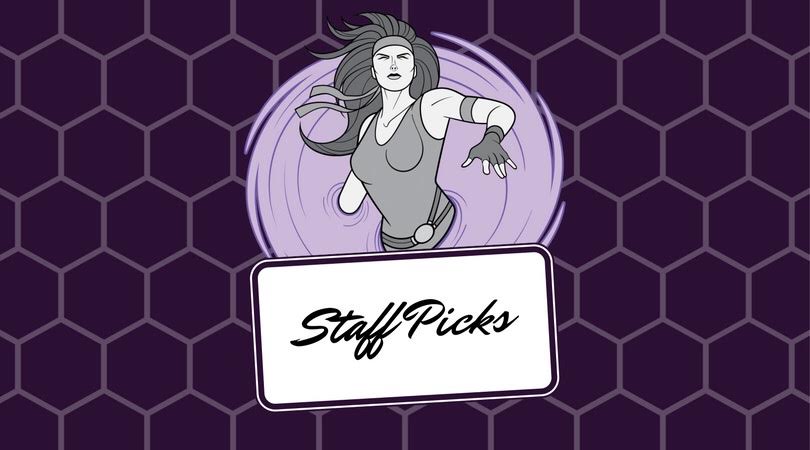 Staff Picks of the Week – July 28th, 2017
Friday is here and it is time for the Staff Picks of the Week! We all know how this works but I like beating it in your head repeatedly, so I'll tell you again! Each week a select few of our staff shares with you what has been keeping them entertained. But before we get to the Staff Picks, I'm gonna take a moment and recap what is new at Rogues Portal this week! We have comic reviews for Elsewhere #1, Astonishing X-Men #1, Go Go Power Rangers #1, Immortal Iron Fists #1, and Plastic #4, plus many more! Stephanie Cooke interviews Adam P Knave about his book Amelia Cole. Christoph writes a letter to Harry Potter and the Philosopher's Stone. In movies and TV this week, Reed reviews Dunkirk, Rhian recaps 19 Days: 207, and Samantha reviews episode 4 of Will. Amelia has a couple things going on in gaming this week. Check out her review of the mobile game Picross Luna and her latest retrospective on Tomb Raider: The Last Revelation. Our podcasts have new episodes this week! Listen to the latest from Scooby Dos or Scooby Don'ts, The Comics Agenda, Not Enough Resources, and Babes of Wonderland. And now I give you the Staff Picks of the Week!
---
Amelia's Pick of the Week – My staff pick of the week is The Crow, by James O'Barr. Years before Brandon Lee died on the set of The Crow, O'Barr penned a bitterly sweet graphic novel about Eric and Shelly, a young couple just starting to make their life together that are needlessly killed by a group of street thugs. Shelly dies at the scene of their attack; Eric dies some thirty hours later in the ICU. Eric however, doesn't stay dead. With the mystic, otherworldly powers of the Crow (believed by some ancient civilizations to be Death and the keeper of the underworld), Eric comes back to avenge his and Shelly's death in the most brutal ways he can imagine. This being said, The Crow isn't just about brutal revenge, it's also really touching. O'Barr wrote The Crow when he found the grief from his own girlfriend's death to be too much. He translates his emotions perfectly into the story and makes it hard for the readers not to empathize with Eric's brutal – but justified – killing spree. If you've seen the movie but not the comic book, I really can't recommend reading The Crow enough!
---
Hafsa's Pick of the Week – My pick this week is Born A Crime by Trevor Noah. According to Trevor Noah, Apartheid affected his life before he was even born. His parents under that rule are criminals and hence have had to hide and struggle accordingly. However, there is only companionship between them. The question the book explores through Noah's life is how can the majority become the oppressed when it is usually the minority who is usually oppressed? The answer is to divide and conquer. Noah explores the differences between Being White, Black, and Coloured and how he struggled between all of them. Despite the underlying theme of division, both before and after apartheid, the story is one of hope and how one can grow past their under-privilege by adapting to his environment, learning different languages, and using what he has or what he is given to his advantage. At least, that was Noah's experience when it came to his success. He took advantage of an opportunity that helped him build himself from scratch and learn from the mistakes his success gave him. What I found fascinating is that this is not a "rags to riches" narrative, but an insight to growing up in South Africa as a someone of mixed race in an all-black community. Noah's experience to me was unique and it opened up a world was not familiar with in a funny and real narrative. I especially recommend hearing this book as an audiobook because Noah adds nuanced emphasis that makes it that much more enjoyable.
---
Greg's Pick of the Week – My pick this week is Redneck #4. Over the last few months Donny Cates went from being totally off my radar of comic book writers to someone who when I see his name appear in the credits I grab the book no matter the genre. Redneck started with throwing the reader right into the middle of the story as a long festering family feud boils over. The end of Redneck #3 teased that we would be taking a trip to the past.
In Redneck #4 we follow as Barrett shares his story, although not by his free will, of how the night that he became a vampire unfolded. The spark that started this circular feud is shown and explained although in the end not all is what it has been believed to be.
If you are a fan of Cates you MUST pick up this series. If you are not a fan of Cates, then what the heck is wrong with you? Redneck so far has been a unique and interesting take on vampires as it combines them with a classic hillbilly feud. The art is violent and gory. The writing is compelling and effecting and keeps you on your toes throughout.
Do yourself a favor and grab this series now.
---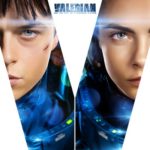 Christoph's Pick of the Week – My pick this week is Valerian. My expectations of this movie were very high. One of the reasons for that is the trailer, which looked great and another reason is the different designs for the species. They felt fresh and new. In an interview, director Luc Besson talked about the creation process of the aliens. They reached out to dozens of artists and each one of them worked on a bunch of species. It was not only about the looks, but also about their background. In a city like Alpha, where thousands of species live side by side, each single one of them has to have a purpose, a reason to be there. And as in the movie you really get this feeling. Especially as the protagonists Valerian and Laureline interacted with them.
Apropos different species: the CGI looks gorgeous. You can tell that a lot of the scenes were shot in front of a green screen (at least I think so), but it doesn't feel like it. It feels authentic and that's one of the main things a movie has to be.
Another one are the actors. And though the chemistry between Cara Delevingne and Dane DeHaan is not always convincing, the development of their relationship is. I like both actors very much and they fit well into those roles. I have one question though: Why is Rhianna in this movie?
Anyway, I want to return to this world and hope, this movie makes enough money for a second instalment. We need new movies and ideas. Not necessarily franchises, but new impressions and sensations. Valerian can definitely deliver that. It's funny, serious, dramatic, epic, love and so much more. It is not a perfect movie, but it has the potential to be something special.
And on another note: Can we please have all the data and drawings and information and sketches and everything else there is about the aliens! I want this encyclopedia they handed out to the actors!
---
David's Pick of the Week – I'm going back to 1986 for my pick this week. The movie Terror Vision is a cheesy 80's sci-fi, comedy, horror. The premise is simple, a family's new satellite system starts receiving signals from another planet and eventually it becomes a gateway to alien world. The alien is super goofy looking but has that charm that most 80's horror flicks contain. Add in an Elvira wannabe named Medusa and a heavy metal dude named OD and you have yourself gold! The movie isn't for everyone but if you are into 80's trash and B-rate flicks like I am, then you are surely to enjoy Terror Vision!