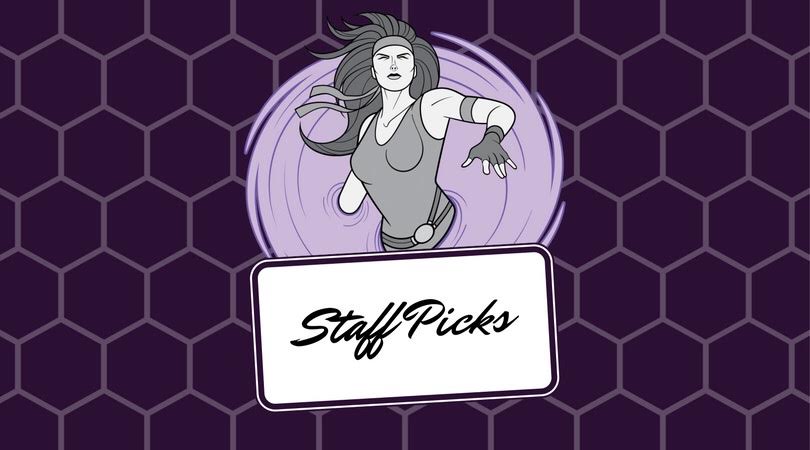 Staff Picks of the Week – April 7th, 2017
Grab yourself a Pepsi because it is time for the Staff Picks of the Week! Each week a select few of our staff share what has been keeping them entertained. But before we get to the picks, I am going to show you what has been going on at Rogues Portal this week. First up, comics! Check out reviews for X-Men Prime #1, Jughead the Hunger, Kill Shakespeare Past is Prologue: Juliet #1, Shade the Changing Girl #7, and Kim Reaper #1. Psssst, we have more! Go check them out! We all love movies and TV! Check out reviews for the latest episodes of Riverdale and Feud: Bette and Joan, as well as movie reviews for Power Rangers, T2 Trainspotting, and Ghost in the Shell. Rich interviews Donny Cates and we have new episodes for our podcasts! Listen to new episodes of Comicsbound, Scooby Dos or Scooby Don'ts, The Comics Agenda, and Not Enough Resources. So hang out for awhile and see everything that Rogues Portal has to offer! We hope you enjoy reading our content as much as we enjoy creating it!
---
Anelise's Pick of the Week – The Girls by Emma Cline is a beautifully written book about the group of young girls that amassed around Charles Manson in the 1960s. The chapters alternate between the present day life of one of the girls and the past as she is remembering it.  Although this book is certainly disturbing, it is not horror or even the psychological thriller we might expect; it is very much a coming of age novel about girlhood, and that's what makes it so unique.  This is a book I could not put down, and it made for perfect spring break reading. If you are looking for a quick read that is also poetically written and brutally honest, I definitely recommend reading The Girls.
---
Hafsa's Pick of the Week – I recommend Tangles: A Story about Alzheimer's, My Mother, and Me by Sarah Leavitt. The beauty of this graphic novel is its ordinariness. Instead of expressing Alzheimer's overwhelming overtaking of the lives of the people dealing or suffering from it. Leavitt explores the everyday life of experiencing Alzheimer's from her perspective. She emphasizes that she is using her voice and not stealing her mother's away. She is giving her perspective of the struggle and how she sees her mother deteriorate, as well as her family reacting in different ways to what they are seeing. Their pains and struggles are palpable in the abstractness of the art and the thematic idea of tangles. The idea behind the name stems from how tangled curly hair can be as well as perhaps the theory that Alzheimer's manifest like tangles. It also shows how tangled life becomes when there is no completely clear understanding of how the disease could progress for every person. As with every struggle, the disease affects the person and their loved ones. This book is important to the understanding of love, life, disease, and death.
---
Ryan's Pick of the Week – I am so embarrassed by this: Iron Fist. It is great background noise when you are not actively paying attention, which is about the best thing I can say about it. Unlike the other Marvel shows that front load all of the best episodes in the front half of the season, all of the better episodes of Iron Fist take place in the last half of the season. Finn Jones really tries, but his writing is so inconsistent that there wasn't really much anyone could have done to make Danny Rand relatable. I found myself more drawn to the Mechams and Colleen Wing than I did Kung-Fu-White-Guy. The Hand stuff in the later half of the season was really good, but the lead up to get there is so bad. It does add some texture to the MCU and makes the 2nd Season of Daredevil better through these added elements, but Danny Rand is boring to watch and the kung fu is boring, especially compared to the brutality and how well the other Netflix shows handled combat.
I never thought I would regret being an MCU completionist, and while Iron Fist tested my patience, the details and payoff about the Hand made me stomach through the bland acting of Finn Jones and the crappy fight scenes. It will take a lot to get me to watch a second season of this, but it was filling enough to get me excited for The Defenders.
---
Heather's Pick of the Week
– "Out here where the world begins and ends, it's like nothing ever stops happening." While doing some spring cleaning, I stumbled upon Bryan Lee O'Malley's (Scott Pilgrim, Seconds)  
Lost At Sea
. The Oni Press graphic novel is a quick read. I knew this when I pulled it from my library, and I knew it when I sat down cross-legged on the floor to read it for what might have been the twentieth time. Despite having read it over and over, it hits me like the first time every time. It is the story of Raleigh, a girl that thinks a cat stole her soul that ventures on this road trip with children (because that's what they are) that have no business taking a road trip.
Lost At Sea
is my recommendation this week because of its ability to pull me back in. The plot might seem less than intricate, but in those uncomplicated words and arguably simple drawings is a nostalgic sense of peace of what it is like to be young and question the direction of your life. We remember those vital stages of our lives, and how they shaped the people we have become. At some point, we are all Raleigh remembering what is is like to be eleven, sixteen, or a newborn – and how it can feel to be lost at sea. With any hope, by the time you turn the last page you will have found your way.
---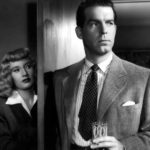 David's Pick of the Week
– My pick is going to go all the way back to 1944! A couple of weeks ago Turner Classic Movies aired a lot of classic noir movies including one of my favorites,
Double Indemnity
. The film is a simple tale of an insurance man,Walter Neff, who meets the seductive wife of one of his clients, Phyllis Dietrichson, and they have an affair. Phyllis wants to kill her husband to receive the proceeds of an insurance policy and Walter conjures up a scheme to receive twice the amount based on a double indemnity clause. When Phyllis's husband is found dead on some train tracks, the police accept the outcome of accidental death. However, the insurance analyst and Walter's best friend Barton Keyes does not buy the story and suspects that Phyllis has murdered her husband with the help of another man.
Double Indemnity
is a suspenseful narrative that proves you don't need million dollar special effects to make a great film. It is story telling at its finest with brilliant directing and acting. Go watch it!