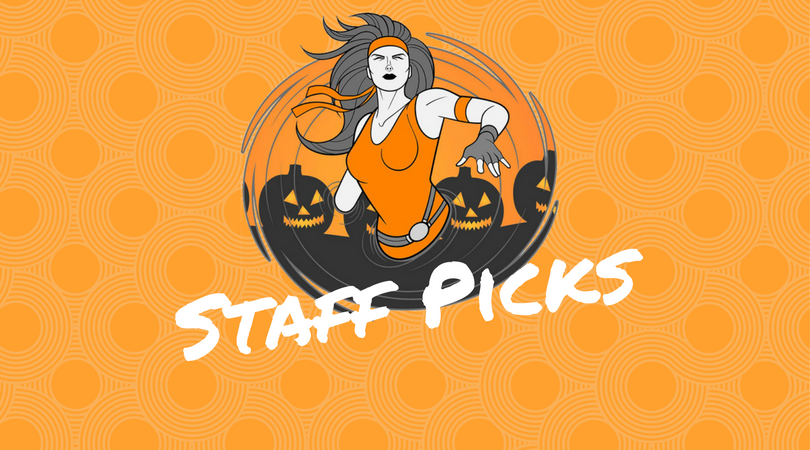 It's the last Friday before Halloween! AHHHHHH! If you're in last minute costume mode (or party mode, or hole up in the dark and watch horror movies mode), we get you. We won't take up too much of your time. But we've got one last round of Spooky Staff Picks just for you! We asked staff writers and editors to tell us about something spooky that they love. Before we dive into their recommendations, let's do a quick recap!
Contests: Are you a Canadian resident? Do you love Assassin's Creed? Enter here to win a FREE COPY of Assassin's Creed Origins for PS4!
News: Congrats, Xbox fans! Take advantage of that new backwards compatibility!
Interviews: Samantha chatted with comic artist and illustrator Jen Bartel about her artistic process. Plus, Anelise talked about the Regression series with its creative team: Cullen Bunn, Danny Luckert, and Marie Enger.
Podcasts: Did you catch newest episode of The Comics Agenda?
Comics: Excited for the Best Wishes graphic novel? Check out Anelise's review! Samantha fell head over heels for Steven Universe Vol. 1: Warp Tour and highly recommends Paradiso. Mike reviewed the "silent" comic MORTE and Nico reviewed the highly-anticipated Eternity #1. Anelise gave us her thoughts on Hi-Fi Fight Club #3 and DC House of Horror #1 (just in time for Halloween!). Speaking of horror, Josh braved Jughead: The Hunger #1 and gave a glowing review. Plus, Stacy reviewed Batman: The Merciless #1 and Greg checked out Ghostbusters: Answer the Call #1.
Manga: 19 Days: Day 215 is live, and Rhian is stoked!
Books: Jameson gives us their in-depth thoughts on Star Wars: From a Certain Point of View and Ryan reviewed The Art of Overwatch.
Movies & TV: Anelise gave us a review of the chilling Defarious and Rhian attended the Iris Prize Festival! Here are some reviews from the latter. Michael recapped and reviewed Riverdale Chapters 14 and 15. In Revisiting Ghibli, Stephanie reviewed My Neighbor Totoro. Christoph wrote out his feelings about The Flash and Samantha and Shanicka experienced some intense anger in the latest Shadowhunters buzz session.
If you're looking for a good Halloween special, Rhian gave us her thoughts on the newest one from Bob's Burgers. But who are we kidding? We know you'll be binge-watching Stranger Things 2 all weekend. Why not check out Ryan's review while you're at it?
Video Games: Ryan gave us his thoughts on A Mortician's Tale, which deals with uncomfortable subject matter in a unique way.
Other Stuff: Remember Danny Phantom? Abigail does, and she talks about it in the My First Crush series. Plus, don't miss Scout's in-depth analysis of agency in Westworld and Neon Genesis Evangelion.
Now onto our spooky staff picks for October 27th!
---
Reed's Spooky Pick of the Week: This Halloween season, I'm digging back into the full and complex backlog of Punisher comics I've been meaning to read in prep for the new Netflix series coming next month. There's plenty of good ones to choose from (looking at you, Ennis runs), but the best Halloween reading has to be Jonathan Maberry's Marvel Universe vs. The Punisher 4-issue run from 2010.
Frank Castle's the last living man in New York – maybe even the world – after a zombie apocalypse comes for everyone. Even costumed superheroes. This book is creepy, a little weird, and does all the things a good Punisher book does: give Frank a good supporting cast of everyday people, a priest and a little girl. I love it when Frank interacts with children. The fact that he was once a good dad shines through in those moments and puts the tragedy of being Frank Castle into stark relief.
Marvel Universe vs. The Punisher isn't just fun because it's Frank Castle killing zombies, though! Maberry does a really good job of playing with the Marvel Universe. Deadpool's a zombie Frank can't seem to keep dead, Peter Parker's love for MJ lingers across the pages, and Daredevil's catholicism takes a gruesome turn after he's bitten.
It's scary, it's fun, and it's a quick read. Happy monster hunting.
---
Samantha's Spooky Pick of the Week: My spooky Halloween pick is Diablo Cody's satiric horror film, Jennifer's Body. This film is so, so underrated. "Hell is a teenage girl" is a line that's widely quoted from the movie but honestly pretty misunderstood. Megan Fox plays a popular cheerleader who convinces a crappy emo band who are moonlighting as cultists to take her to an afterparty when they play at a bar in her tiny town… after the bar literally burns down, killing dozens. The band (featuring Adam Brody on lead vocals, because of course) takes her into the woods and sacrifices her for fame and fortune, not realizing that if they do the ritual with someone who isn't a virgin, it'll go really wrong.
I love Jennifer's Body because it's about a girl who's been told since she hit puberty that her worth is determined by her desirability literally devouring the men who hit on her. Jennifer has been taken advantage of by lots of guys — but when she's murdered for the advancement of a group of dudes who only have one goddamn song, the universe turns her into what amounts to a revenge demon. It's incredible. And funny. And did I mention underrated? Guh.
---
Scout's Spooky Pick of the Week: My spooky Staff Pick for this week is the Twilight Zone Tower of Terror! This attraction (now US-based at Disney's Hollywood Studios in Orlando, FL) is one of Imagineering's premier thrill rides. Featuring a story inspired by The Twilight Zone, this drop-tower style ride takes guests through an abandoned hotel in the heyday of Old Hollywood. Guests enter a sit-down elevator car, where they learn that one night when lightning struck the tower, hotel guests and a bellhop were sent to the Twilight Zone.
I have some motion sickness issues so I've only ridden this attraction twice, but I'm picking it this week because I'm obsessed with the level of detail involved in this attraction. When I visit the park, I love to explore the lobby area and check out all the period-accurate props and set pieces. Everything from the Cast Member bellhop costumes to the Pepper's Ghost technical effect used in the attraction fascinate me – and I especially love marketing's effort to use 'drop' puns as much as humanly possible in copy. It's a must-visit for me on every trip. Watch a 4K ride-through video here!
---
Stephanie's Spooky Pick of the Week: Ginger Snaps is one of my favourite horror movies and probably the first one that ever resonated with me and made me appreciate the genre. It has so much to say about the mythos of the werewolf and about women and feminism. Plus, it's Canadian!
---
Want to tell us what you're loving this week? Sound off in the comments or let us know on Twitter and Facebook! Your responses might be featured on our social networks! Have a great weekend, everyone!