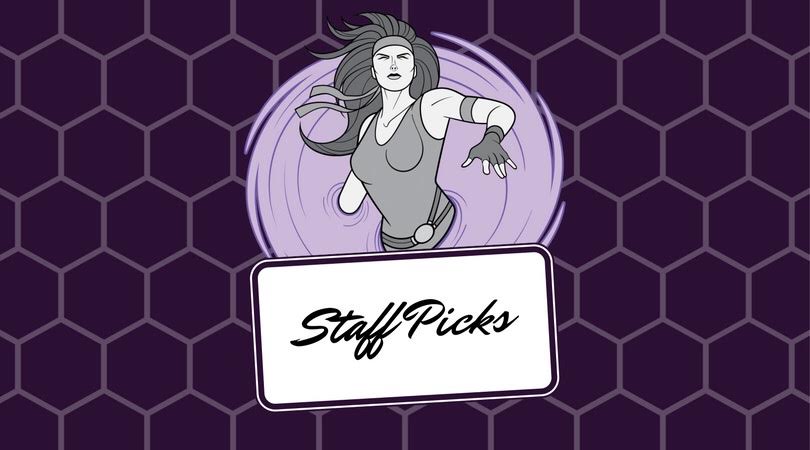 Happy Friday! October's over, and so begins another countdown to next year's Halloween. We worked hard to pack October with super fresh, super spooky content for you! Now it's time for the best part of the week: Staff Picks! We asked staff writers and editors to tell us about something that brought them joy this week. Before we dive into their recommendations, let's do a quick recap!
Interviews: Anelise interviewed Paul Tobin and Arjuna Susini, the writer and artist (respectively) behind Oni Press' Made Men. She also interviewed the Void Trip creative team, writer Ryan O'Sullivan and artist Plaid Klaus. Samantha chatted with Molly Ostertag about her debut graphic novel, The Witch Boy. Plus, Anelise and Stephanie interviewed Shade the Changing Girl's writer Cecil Castellucci and artist Marley Zarcone!
Podcasts: Catch up on new episodes of Not Enough Resources, The Missfits, The Comics Agenda
Comics: Foosa gave us an advanced look at The Once and Future Queen Volume 1! Samantha also gave us an advanced look at Rock Candy Mountain #5 and she reviewed BOO! Halloween Stories 2017 and Harley & Ivy Meet Betty & Veronica #2. Greg reviewed Jean Grey #8 and No. 1 with a Bullet #1. Josh wrote about Hellblazer: Original Sins, Wytches Volume 1, and Is'nana the Were-Spider: Forgotten Stories.
Anelise gave us another advanced review of Regression Volume 1: Way Deep Down and she reviewed Maze Runner: The Death Cure. Nico offered his thoughts on Deadman #1. And Stacy reviewed Batman: The Devastator #1, Black Lightning: Cold Dead Hands #1, and Captain America #695.
Manga: Rhian recapped the latest Tamen De Gushi and two new chapters of 19 Days.
Movies & TV: What did you watch on Halloween? Did you trick, treat, or binge with Netflix? In revisiting Ghibli, Stephanie reviewed Princess Mononoke. Louis D'Arcy Reed reviewed Bladerunner 2049 and Rhian dove into another day of reviews from the Iris film festival. Christine explored the melancholic absurdity of Over the Garden Wall and Samantha wrote a love letter to Morticia Addams.
Plus, Michael & Insha conducted a Horror Oscars and Cameron reviewed The Big Sick on blu-ray. Samantha and Shanicka had mixed feelings about new ships on Shadowhunters, and Mike wrote about The Good Place S02E06.
Wrestling: CK Stewart joins Rogues Portal with a new area of coverage! Check it out!
Video Games: Stephanie is on a new adventure in The Overwatch Sessions.
Other Stuff: In case you missed it, we did a full-day site takeover for Halloween featuring lots of amazing guest writers! Emily from Bitches Be Witches wrote about their first witches: the Wicked Witch of the West and the witches from The Craft! Regular contributor Scout also gave us an in-depth look at the concept art for Disney Parks' Haunted Mansion.
Heather spotlighted the Circadia #1 Kickstarter and Stephanie spotlighted the Kickstarter for the Goblins Animated Series!
Wowza. Now, let's see what our staff wanted to feature on November 3rd!
---
Heather's Pick of the Week: Usually my staff picks involve a comic, a movie, or a podcast. I will disclose right now that this week I am recommending none of those things – but hear me out. Have you ever been curious about that feeling you get when reading something? When you're going through the pages of a book, or the panels of a comic, and you just become immersed in the world those words and illustrations create for you? I refer to it as aesthetic. Yes, there are proper literary terms that your English teacher in high school drilled into your head. This is the way I put this week's recommendation into context: my recommendation this week is the aesthetic of rice.
Rice. You've seen it, you've most likely eaten it. It is a staple for the world at large. For me, I never paid much attention to rice until I came across an episode of The Mind of a Chef. The PBS show narrated by Anthony Bourdain focuses on different aspects of the culinary world. S02E03 follows chef Sean Brock as he explains the lineage and preservation of Carolina Gold rice.
If all of this sounds silly (like, who cares about rice?), it is because the idea in our overly mechanised world seems out of place. This particular episode is what introduced me to that idea of an 'aesthetic'. The feeling I get when watching Sean Brock explain how grains of Carolina Gold rice are carefully preserved in only a certain region of the country and are so highly coveted by families for generations is almost indescribable. It's inspiring and beautiful in its simplicity.
The entire series is just wonderful. We all (presumably) eat food, and to have insight as to where our food comes from and the painstaking care that goes into upholding older methods of making food is important. Listening to the narration of this series is almost ethereal, and the series as a whole is wonderfully produced. For my pick this week, let me suggest The Mind of a Chef — and a good bowl of rice.
---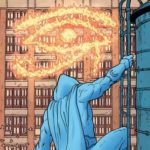 Josh's Pick of the Week: My pick of the week has to be Moon Knight #188, written by Max Bemis. While I have never picked up a Moon Knight comic before, I will read literally anything Max Bemis puts out. I've been a major fan of him following his music career and was pumped to learn of his growing career in comics.
Bemis has been writing smaller stories for Marvel (The Worst X-Man Ever is my favorite X-Men side-story) and his own creations over at Boom! (Evil Empire and Oh, Killstrike are so worth the read) but this will be the biggest character he has gotten to work on. Artist Jacen Burrows teams up with Bemis on Moon Knight. While I don't have much experience with his work, just seeing a few pages of his art has me excited to see more from him. I truly believe this creative team will be making waves over at Marvel with Moon Knight! November 8th really can't come fast enough.
---
Michael's Pick of the Week: My pick this week is War for the Planet of the Apes, which is available now on Blu-ray, DVD and digital. The conclusion to this trilogy in the Planet of the Apes saga is just as worthy as the previous two entries. I mean, how can you go wrong with a movie that references Apocalypse Now, The Great Escape, The 10 Commandments and any western about revenge? Oh, and it stars apes. It's basically a perfect movie.
Andy Serkis puts in an Oscar-worthy mocap performance as the leader of the apes, Caesar, and Woody Harrelson and Steve Zahn are just as good as an evil human Colonel and a good ape named Bad Ape, respectively. If you've enjoyed Rise of the Planet of the Apes or Dawn of the Planet of the Apes then do not sleep on this one. It's a fitting conclusion to the Caesar Trilogy.
---
Ryan's Pick of the Week: Rainbow by Kesha. Ever since a friend recommended this album to me it has been on repeat. This is Kesha's first album following a lengthy legal battle against her former producer who sexually assaulted her. Because of this, this album is incredibly personal and proves that Kesha will be a celebrated artist for years to come.
The songs range from the somber and self-reaffirming power ballads "Bastards" and "Praying" to dancehall anthems like "Let 'Em Talk" and "Woman". My personal favorite though? A song Kesha's mom wrote for her titled "Godzilla", which chronicles the pain of dating — you guessed it — Godzilla.
---
Terry's Pick of the Week: I've read and reread Katie O'Neill's latest kid's comic, The Tea Dragon Society, since its initial October 18th release date in physical book form (published with Oni Press). The story follows a young blacksmith's apprentice, Greta, as she learns about the magical, tea-leaf bearing creatures called tea dragons. Befriending their dedicated keepers and learning more about them (and herself) is an endeavor that takes all year in this beautifully illustrated and uplifting comic.
O'Neill continues to provide LGBTQ+ content for children (though her work is charming enough for anyone) in the form of sweet, heartfelt stories about friendship and personal growth.
---
Want to tell us what you're loving this week? Sound off in the comments or let us know on Twitter and Facebook! Your responses might be featured on our social networks! Have a great weekend, everyone!