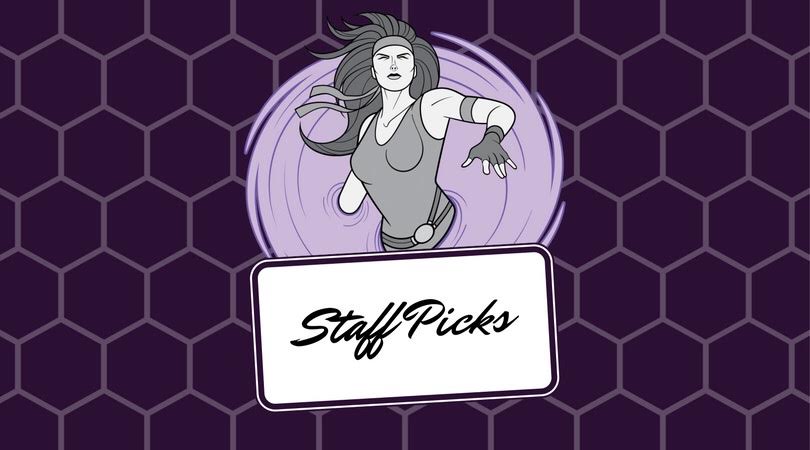 Friday has come once again and that means it's time for the Staff Picks of the Week! David's off gallivanting around somewhere, so it's down to me, Amelia, to get you up to speed on this week's goings-on at Rogues Portal! Before we get to what's been keeping our contributors busy and entertained this week, check out some of the other stuff we've produced just for you this week, dear reader!
We've got comic book for Secret Weapons #1, Bankshot #1, Kull Eternal #1, Clue #1, The Dregs #4, and many more! In TVs and movies, I finish up my #JurassicJune Retrospective series with Jurassic World (spoilers, I hated it!), Billy has an advanced review for War for the Planet of the Apes, Samantha has another critical look at The 100 and Sense8, and Heather takes a look at GLOW. For podcasts, Comicsbound returns after a month long hiatus, two new Scooby Dos or Scooby Don'ts are yours to enjoy, Babes of Wonderland talk about Atlantis, and The Comics Agenda have a new one they've titled as a mystery! We've even got a book review for any bookworms tuning in! I reviewed Meddling Kids, a book that any grown up Scooby-Doo fan should absolutely check out!
The site has been thoroughly pimped, let's launch into the Staff Picks of the Week!
---
Ryan's Pick of the Week – My pick of the week is Daredevil: Back in Black Vol 1. – Chinatown by Charles Soule with art by Ron Garney and colors by Mark Milla. You know what's really hard to do? Follow an iconic run on a superhero comic. You know what's even harder? Following Mark Waid and Chris Samnee's Eisner winning run on that same comic. While the jury is out on the overall strength of the run, the new creative team is off to a fantastic start with their own take on the Man Without Fear. The writing matches the artwork, giving Daredevil a new sidekick in the form of tech-ninja Blindspot, and a new enemy named Tenfingers. Blindspot is Samuel Chung, an illegal immigrant living in Chinatown who just wants to do what Daredevil does, protect his neighborhood. Tenfingers is a former member of the Hand trying to set up a Church in Chinatown, so naturally everything comes to a head. It is pretty entertaining, and there are some seeds planted about the future, and past of Matt Murdock, plus the art is a stellar example of effective color work.
---
Anelise's Pick of the Week – Because I am terrible at keeping up with tv shows when they actually air, I finally caught up with Supergirl season 2 (yay Netflix!). I am a sucker for all superhero tv shows, but, to be honest, with the first season of Supergirl I was concerned that it was a little too "PG" for my taste (Netflix's Daredevil is my favorite). Thankfully, this season really elevated the action, tension, and romance and did a fantastic job of balancing character development with plot progression. While Kara (aka Supergirl) is nice, she can be a bit bland for my taste, but I absolutely love the character of Alex, and I feel like she took a huge step forward in this season. If you are looking for a fun superhero show that has a whole lot of great characters, not just the lead figure, then I definitely recommend Supergirl!
---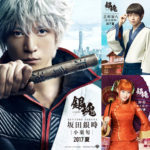 Rhian's Pick of the Week – Even though it's been my pick of the week a few times lately the live-action Gintama is on its way and therefore, it shall be my pick of the week… again! I've just seen all of the trailers and I honestly cannot wait for its release. They look like they've done an amazing job! Granted some of the CGI looks, well, crap to put nicely, but regardless it looks like it's sticking true to the anime and the manga! All of the actors seem to be enjoying their roles and giving a solid performance! Gintama is probably one of the most popular parody animes out there so there is a lot riding on this live-action. Sometimes I find when it comes to live-actions I get slightly anxious. Just like everyone I want the characters I love to be portrayed well, I feel as if this live-action will rekindle my love for the anime and will not disappoint me!
---
Samantha's Pick of the Week – My staff pick this week is the Sex Criminals comics by Matt Fraction and Chip Zdarsky. I recently picked up the third volume trade paperback (containing issues 11—15) and it prompted me to re-read the entire series thus far and put together an order for the newest issues. Sex Criminals is honestly my favorite comic. Suzy is a librarian whose library is being foreclosed on by the bank to which it owes payments; Johnny is an unhappy banker working at the very same bank. Individually, they can stop time when they orgasm. Together, they can stop time when they orgasm and use that skill to rob the bank to make the payments to save the library. Wild. If you like quirky, sexy, incredibly meta stories that combine elements of the absurd with real-life, relatable struggles, Sex Criminals is definitely worth your time.
---
David's Pick of the Week – My pick of the week is Hitman Season 1 for the XBOX One. Yes, I am behind on playing this game but only for the reason that I don't want to pay for games by episode! And seeing as the full game was on sale for $20 last week, I finally saw fit to pick it up. This latest installment of Hitman is leaps and bounds better than that monstrosity Hitman Absolution that was absolute shit fest. I haven't spent as much time as I would have liked with it so far, but I have played the training and a couple of online contracts and it's fun! For me, Hitman has always been the James Bond stealth game that I have been eagerly awaiting, but never receiving. Dressing up in various disguises, while making your way through a crowd of people, just to poison someone's drink so you can follow them into the bathroom to drown them in the toilet is savagely satisfying. There are always numerous ways to eliminate your target and that increases the replay value. You are rewarded when you act stealthy, which is a task in itself for me because I like kicking down doors and shooting everyone up. I had to learn to be patient again! There's 6 total episodes but there are plenty of community contracts and you have the ability to create your own contract to post online, which is pretty damn cool. So if you are like me and hate episodic games, it is now safe to pull the trigger and pick up Hitman Season 1!