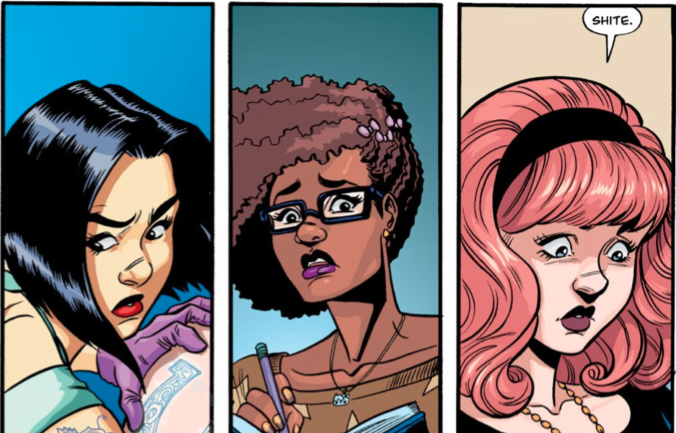 Spell on Wheels #1
Publisher: Dark Horse
Cover by: Ming Doyle
Writer: Kate Leth
Artist: Megan Levens
Colorist: Marissa Louise
Review by Insha Fitzpatrick
Spell on Wheels is a take on a familiar type of story with a super cool twist. When a stranger breaks into the house of three witches, things are about to get super crazy, but you can't wait to take the ride with them.
I have the biggest spot in my heart for witches. I love writing them, I love reading about them and I love them in general. We're introduced to some super cool witches right away in this comic. Claire, Jolene and Andy are a coven and friends living in a shared house together. They have different powers are just so very cool. Claire has psychic intuition and a clairvoyant, Jolene is a technopathic and has emotional manipulation and Andy, the newcomer to the witch world, is proficient in spells, charms and potions. When a stranger breaks into their home, the protection over their house is immediately felt, they travel back home to find some of their things missing and something important is gone most of all. A powerful tool that can give the wrong person powers. The girls must go on the road in their new ride (thanks to Jolene) to get their stuff back and to find the one thing that shouldn't be in the wrong hands.
Spell on Wheels is a really cool comic. It's perfect for the Halloween season and features some of the coolest and down to earth witches I'd love to be like. Kate Leth plays to her strengths and writes what she knows. Witches can be a bit complicated to write if you put them in the wrong context, but Kate really does well with this cast of characters. She writes each of them with their own personality, but keeps that "take no sh*t" approach with the girls as well. This has to be one of the best thing Kate has written for me personally because it can fit into any category of awesomeness.
Megan Levens art in this shines as well. She does beautiful line work within all of the settings and characters she draws. I was absolutely in awe of some of the things she's done in this comic including the small details on the girls and her drawing of the tarot cards. If you can draw beautiful tarot cards, you're ace in my book forever. Megan's art works so well with Marissa Louise's colors for this comic as well. It's vibrate and beautiful like draws your eye on every single detail that she colored. I found myself looking into the background of each of the girls' room when the break in happened, just to see if I saw something I didn't see before. The attention to detail from both of these ladies are outstanding and at it's best.
Verdict:
Buy It! This comic doesn't come out until Oct. 19th, but it's a great start to a comic that's sure to be a favorite. This comic puts you in the mind of Supernatural meets Wynonna Earp meets a bit of The Craft (not exactly The Craft, but witches… ya know?). I can't express how much this put me in the mind of Supernatural, especially when you see the car that they have at the end of the issue. I'm excited to see where this comic is headed. It's going to be a fun journey learning more about what these girls can do and the adventures they get into.