The Space Between Us
Director: Peter Chelsom
Starring: Britt Robertson, Asa Butterfield, Janet Montgomery
Writer: Allan Leob (screenplay), Stewart Schill (story)
A review by Stephanie Cooke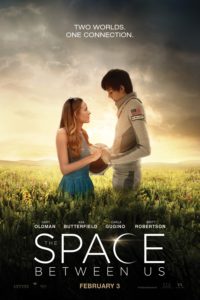 The Space Between Us is a boy meets girl story with a twist that's out of this world. Quite literally.
A group of astronauts, set to colonize Mars take off on their mission only to learn that their lead astronaut is pregnant. With it being too late in the mission to turn back, the crew carry on and not long after arriving on Mars, the astronaut gives birth to a baby boy. Due to the differences between growing up on Mars vs on Earth, they're unable to send the boy home to live and he ends up remaining on Mars, a secret covered up by the company funding the mission.
The story doesn't truly take place until the boy leaves to attempt a life on Earth and subsequently meets a girl in real life that he's been in contact with through chat rooms.
The boy, Gardner, is played by Asa Butterfield and I think it should be mentioned right off the bat that the young actor does an excellent job with the role. He's lanky and quirky looking, the perfect sort of person you could imagine growing up on another planet. His interactions as he learns about Earth and the way he conveys the emotions of his character feel genuine and were actually delightful to watch on screen. His mannerisms and behaviour were awkward in a delightful kind of way. He has an organic chemistry with his costar Britt Robertson and, while I didn't entirely love her performance, when they were on screen not being bogged down by romance and angst, they were very sweet together.
Carla Gugino also did a (inter)stellar job with her role in The Space Between Us. She doesn't seem to have been given a lot to work with but she rolls with it and gives it her all as Gardner's sort of temporary space mom. Honestly, I just love Carla Gugino so she could have played a sexy lamp and I would have been like "SHE'S SO GREAT!" but honestly, SHE'S SO GREAT.
Oldman felt a little bit like he was phoning it in here for the most part, but I hate to say it worked for the film but it did. He's not bad by any means but he doesn't feel like he's going out of his way to try either. It's like a job that us normal folks do… there are some jobs that you love and you put your all into. Then there are other jobs where you the pay is so-so and you don't really love what you're doing, so you do the bare minimum required of you. That's how it felt watching Oldman on the screen. It's like he didn't really give his character a ton of personal reflection and just showed up with something in mind and went with it. It's not bad but it's not particularly good either.
Thankfully the focus of the film is primarily on Gardner, who clearly had a lot of fun developing an original character here after roles in adapted material such as Hugo and Ender's Game.
I was surprised by how enjoyable I found The Space Between Us to be, aside from a couple minor plot holes that irked me. Specifically, there's a scene between the two young actors that I felt didn't need to be added into the film, and without going too heavily into spoilers, it basically entails the two young actors becoming physically romantic with each other. To me, it didn't really serve any purpose in progressing the story and took me out of the film as I watched. It didn't feel like something that happened organically for the characters and the chemistry at that level just wasn't there.
What I can say that's related to this is that the best parts of the film come from when the writers aren't trying to force the relationship between the characters. There's a very natural chemistry between the leads, and while I don't know if I felt it was really a romantic chemistry, I definitely bought that they cared for and were invested in each other. The moments that came from the organic bits where they're learning about each other and just having fun on the road were sweet and wonderful all on their own without trying to push a romantic agenda.
The Verdict
See it! The Space Between Us has a few groan worthy moments when the dialogue is painfully predictable and corny but it's charming and sweet, a type of film that we all need every now and again. The cast is great, with the standout performances coming from Asa Butterfield and Carla Gugino. Butterfield has that quirky charisma to him in a similar way that Grant Gustin has as Barry Allen in The Flash. You can't help but smile during his performance on screen. The target demographic for the film is much more geared towards teenage girls and young adults but don't let that dissuade you from seeing The Space Between Us; it may go over the BEST with that audience but it's a film that anyone can jump into and enjoy.