Snowblind Vol. 1

Creator/Writer: Ollie Masters
Artist: Tyler Jenkins
Letterer: Colin Bell
Publisher: BOOM! Studios

A review by Insha Fitzpatrick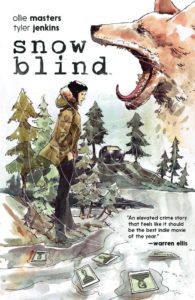 Never underestimate the power of a good mystery. Snowblind mixes in elements of a mystery, noir thriller, and family that leave you shocked and begging for more.
In Alaska, Teddy is a teenager who isn't your typical "teen guy." He breaks into libraries in order to be surrounded by dead authors and get some pieces. His father wants him to be a "man", his mother doesn't necessarily see his actions as being anything bad. Teddy is probably the most high functioning person in this household. After a party, Teddy's punishment for breaking into the library is that he has to be a participant in the party his parents decide to through. Drunk and in the snow, Teddy decided it's time for some small payback on his dad, taking a picture of him and someone posting it online.
However, this will turn to be fatal, not only for his father, but for the entire family. A man breaks into their home leading Teddy to find out the truth that his "normal" family is in the Witness Protection Program for a crime that his father committed a long time ago. This sends Teddy into being a regular Sherlock Holmes. Teddy's observations and knowledge leads him to a mystery that's like no other and at the center is his family.
I was absolutely blown away by this story, it's such a great thriller noir and could easily be a great indie movie. The best kind of indie thrillers are made with family secrets and this one is no different. Masters writes this with such an understand for family dynamics and what it's like to be an outsider. The thing I love most about his writing is how mature and honest it is. Teddy's a teenage boy, but he write Teddy as a grown man at time. He writes him making these very big adult decisions and that's the beauty of it. Masters takes Teddy's drive and really masterfully guides you into him being his own type of man, not the one that his father wanted him to be.
Jenkins' illustrations are to DIE for. They're not only gorgeous, but they're like watercolor art that's just so beautiful that you want a print out of every single single panel and hang it on your wall. It's always awesome to see this kind of art in comics because it's never really put to the front. Jenkins really gives you every single detail in his art that makes you examine the page a little harder to show you if you're missing anything. That with his earth toned colors makes Snowblind come to life.
I'm so in love with Bell's lettering in any comic he does and this one is no different. He adapts to whatever space he's given and that's brilliant for a letterer. Bell's letters are so unique to me. I can't say enough good things about them. What's interesting to me are that the letters reflect who Teddy is. Teddy has a typewriter in his desk and he types like that. His thoughts are connected to that piece of machinery in his room and it connects you more to the story and to him.
The Verdict
Buy it! If you want a beautifully illustrated, perfectly written, masterfully lettered comic to read, look no further than Snowblind. It takes you on a journey of a teenager becoming a man and doesn't hold back. It's a perfect mixture of family drama and noir mystery that will make you pick it up again and again.