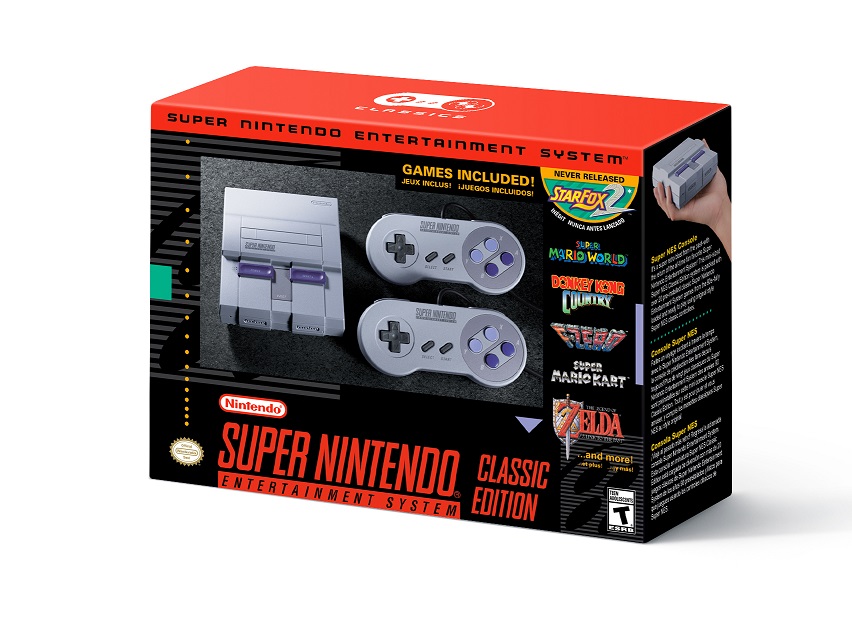 Following the success of the NES Classic released last year, Nintendo announced they will be releasing the often rumored SNES Classic this fall. While the NES Classic launched with 30 games, the updated version of the Super Nintendo will have 21 games, including the previously unreleased Star Fox 2. Here is the full list of games:
Contra III: The Alien Wars
Donkey Kong Country
EarthBound
Final Fantasy III
F-ZERO
Kirby Super Star
Kirby's Dream Course
The Legend of Zelda: A Link to the Past
Mega Man X
Secret of Mana
Star Fox
Star Fox 2
Street Fighter® II Turbo: Hyper Fighting
Super Castlevania IV
Super Ghouls 'n Ghosts
Super Mario Kart
Super Mario RPG: Legend of the Seven Stars
Super Mario World
Super Metroid
Super Punch-Out!!
Yoshi's Island
Nearly all of these games are considered classics by gamers and most of them have all aged extremely well. Since a large amount of these games are two player, the console will come with 2 controllers instead of 1. The only glaring omission from the list is the J-RPG juggernaut Chrono Trigger. The amount of RPG's on the system is pretty high, with the cult classic Earthbound leading the pack with Final Fantasy III and Super Mario RPG: Legend of the Seven Stars also included, not to mention the real-time combat multiplayer ready J-RPG Secret of Mana. It is important to remember that this list of games wasn't made with solely the hardcore gamers in mind, as the NES Classic was designed to capitalize on the nostalgia of nearly anyone who grew up in the 80s.
The SNES Classic will release on September 29th for $79.99. Expect them to sell out almost immediately. The NES Classic was discontinued by Nintendo after the NES Classic had only been out for 6 months, so the SNES Classic will be in high demand.