Smooth Criminals #1
Writer: Kiwi Smith & Kurt Lustgarten
Artist: Leisha Riddel
Colourist: Brittany Peer
Letterer: Ed Dukeshire
Publisher: BOOM! Box
Review by Melissa Prange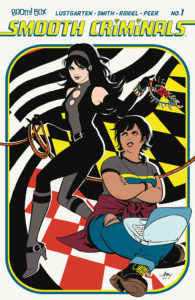 In Smooth Criminals #1, a slightly sloppy nerd and a Mrs. Peel-esque super thief join forces to (possibly) travel in time and (definitely) steal some jewels. Reminiscent of recent series like Nancy Drew, Goldie Vance, and Misfit City, Smooth Criminals is a fun romp with less than moral heroines and a whole lot of action.
The story begins by introducing Brenda, a young woman attending San Junipero Community College. She pays for tuition with the help of a less-than-glamorous work/study program at the computer lab. When Brenda's assigned to clean the old science lab, she stumbles across a mysterious machine. With her hacker skills, she opens a cryogenic chamber, releasing Mia, the best jewel thief in the world circa 1969. The two women join forces to figure out why Mia has been missing in action for 30 years (yes, Smooth Criminals is set in 1999) and how they can find the jewels she was hunting several decades earlier.
Smooth Criminals #1 is a blast to read. The story sets up the world of 1999 with a handful of pop culture references and a dig at Y2K. Nothing is done, however, in a heavy-handed way. You simply get the feeling that the writers and artists are having fun playing with the setting (especially in the last panel of the comic). Riddel's art is excellent throughout, and I particularly love that each character gets their own very distinctive look — even the random rollerblader at the beginning looks rad!
As for the two leads, Brenda shines with her mixture of bravado and awkwardness. She might not have the action-hero skills of Mia but her internet persona, Killa-B, is just as formidable. Mia, meanwhile, doesn't make her appearance until halfway through the story, but we already know that (1.) she's a loner and (2.) she's very nimble. Neither woman appears to work well with others so watching their team-up and inevitable friendship develop will be very entertaining.
The Verdict: Buy it.
Between Brenda's hacking skills and Mia's Catwoman-esque persona, the Smooth Criminals duo make a wonderful criminal team. The story is fast-paced and fun, and the art completely ties it all together. If you're a fan of action packed comics with fantastic female leads, you should check out Smooth Criminals #1.