Welcome to the fifth installment of Shadowhunters Buzz Sessions! Our social media editor, Samantha, and contributor, Shanicka, are watching two episodes every week of the first season of Freeform's Shadowhunters. The series is based on Cassandra Clare's young adult urban fantasy series The Mortal Instruments.
Some background: Shanicka has been watching the series for a while now; Samantha watched the pilot for the first time when they agreed to do this series. Shanicka has not read the books; Samantha has. Together, their knowledge going into each episode is an interesting mish-mash of memory and opinion.
Each Shadowhunters Buzz Session begins in a chatroom while Shanicka and Samantha watch the episodes; then, those chats are transcribed here on Rogues Portal for your reading pleasure (with some points expanded and other, unrelated shenanigans deleted).
This week, they watched Shadowhunters S01E09, "Rise Up" and S01E10, "This World Inverted".
WARNING: There will be spoilers for the series (duh) and the books! Proceed with caution! There will also be some swearing, because that happens.
S01E09, "Rise Up"
Samantha: I AM STILL MAD ABOUT SIMON.
Shanicka: This quality is like better than normal??
Samantha: It does look a lot clearer. Nice.
Shanicka: Like usually it's so Teen Wolf dark. Looove it.
Samantha: I just. Raphael and Simon. My heart. Also, I mean to point this out every time we watch, but the way the credits are edited 1) looks like Livejournal graphics circa like… 2006? 2) make Jace look like he's bald.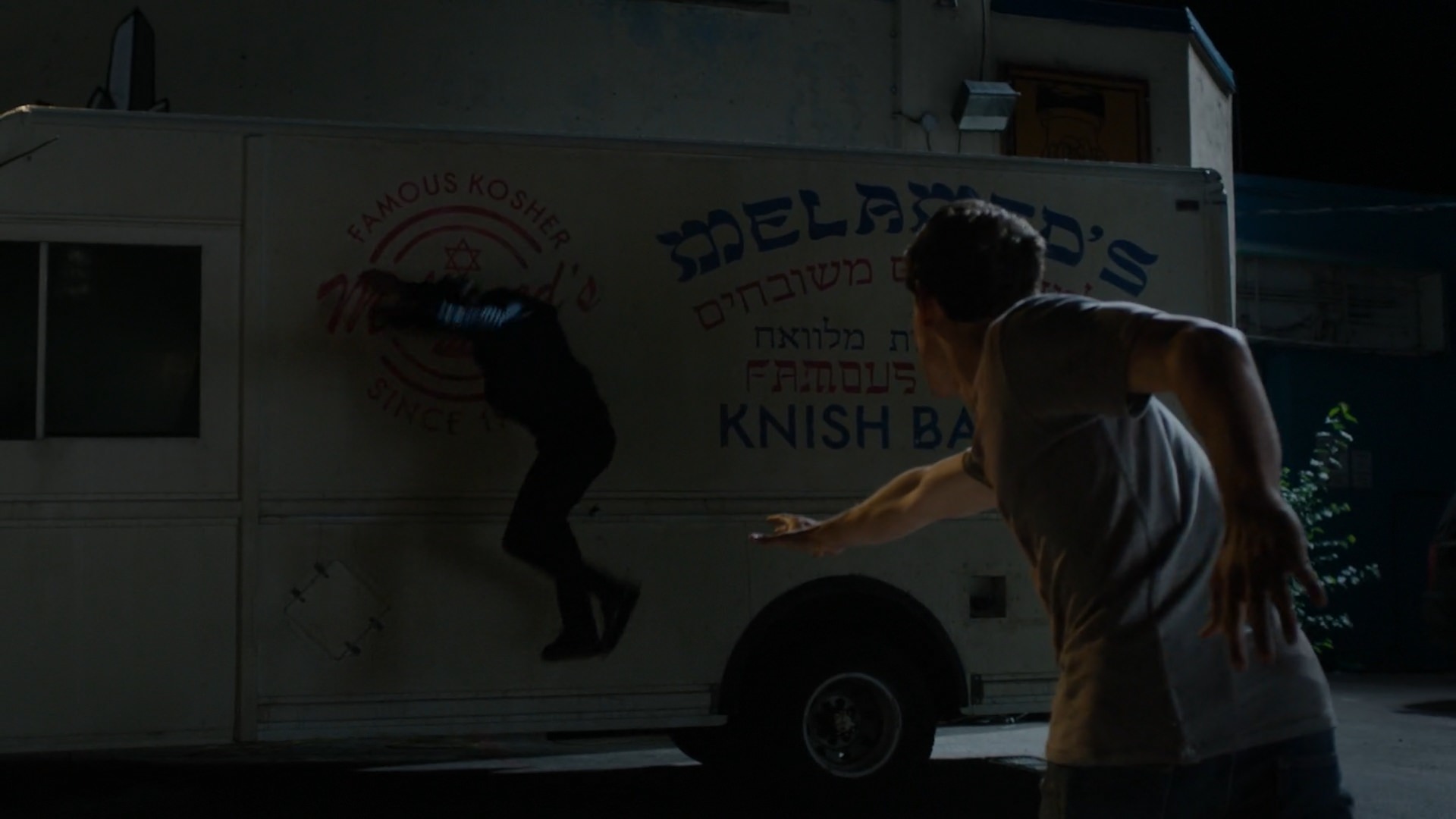 Shanicka: Also lol at the knish bakery truck. Cuz lol New Yawk and lol Simon's Jewish~. It's weird how much better the quality suddenly got tho??? Like a premature production glo up. I'm impressed.
Samantha: Maybe they got like. A budget advance when the show was renewed and they put some of it toward latter season editing. Idk if that's a thing.
Shanicka: It might mbe tbh!
Samantha: I'm so tired of them. They have so little chemistry?
Shanicka: ALWAYS. GET A ROOM. ALSO SIMON IS A VAMPIRE. PRIORITIES, FRIENDS.
Samantha: They're so bad at priorities.
Samantha: Magnus!! HI!! Sjkajglkajglkajg. Alec tries so hard not to be into Magnus and he's so bad at it?
Shanicka: LOL sooo bad at it. He likes him so much and he doesn't know how to handle it so he's just grumpy and distant.
Samantha: This entire plotline is gross.
Shanicka: Hard agree.
Samantha: His arms are absurd.
Shanicka: So unfair.
Samantha: I can't help but feel like whatsername told Alec about his parents to MAKE him suspicious. Lydia.
Shanicka: Oh yeah nooo doubt. I really don't like this whole weird marriage of duty/honor thing.
Samantha: It's such an uncomfortable plot. This Simon plot is ALSO horrible. Everything is horrible.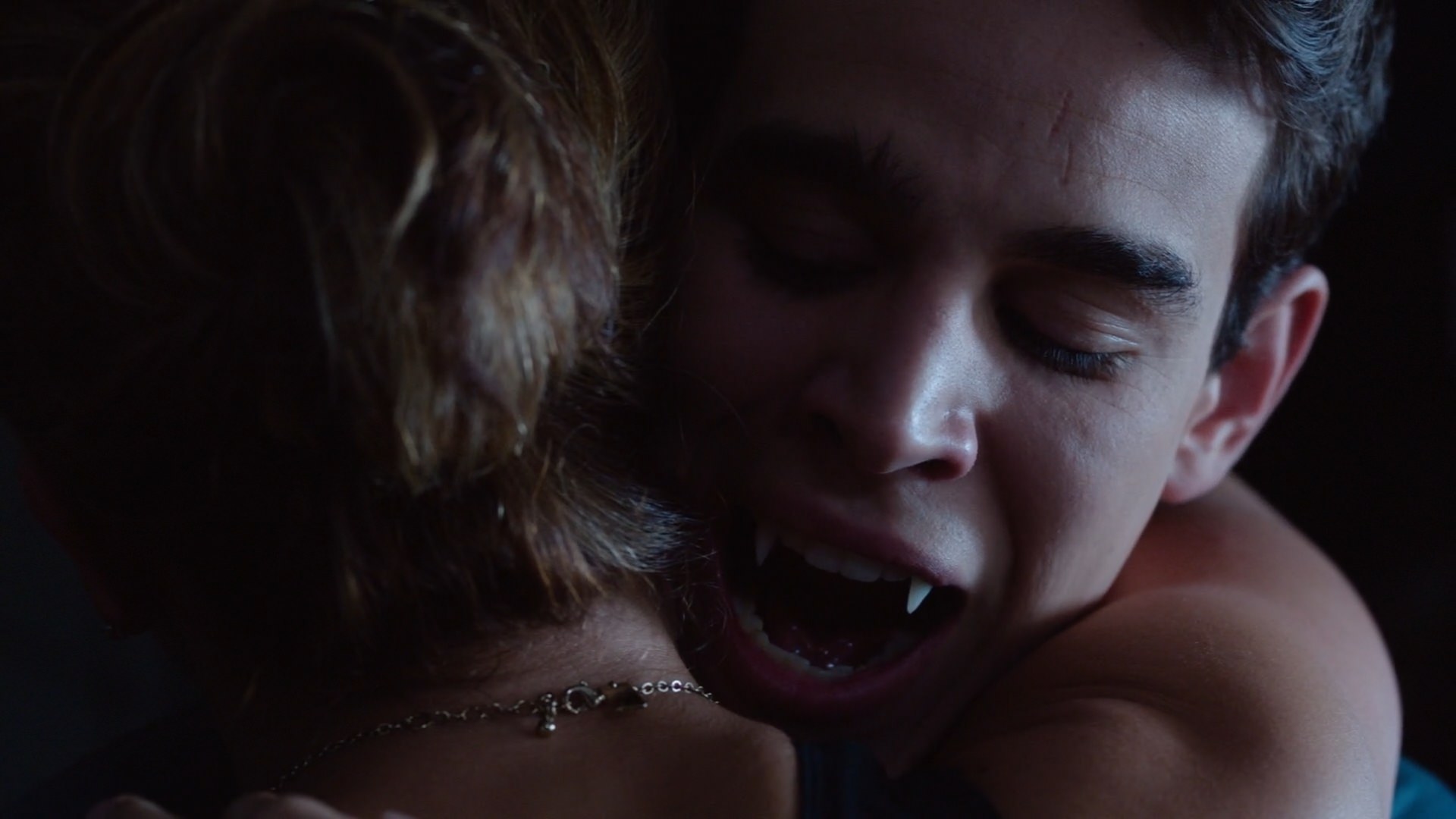 Shanicka: It's honestly so depressing and keeps being so depressing for so long tbh.
Samantha: "Doesn't he look so pale to you? What happened to your glasses?" 🙁
Shanicka: This is awkward. I feel so bad for his mom.
Samantha: This is so sad! "You take care of my boy. You know how much he means to me." UGH CLARY.
Shanicka: His mom literally think he's on drugs on other something. It's so fucked.
Samantha: Okay, I love Alec standing up to his dad. Because the expectations are seriously unreal?
Shanicka: But it also feels so fucked up just because of where the info came from. I don't trust Lydia tbh. I just hate the whole I'm a Shadowhunter, I have to adhere to my duties blahblah. Also Clary and her selfish shit.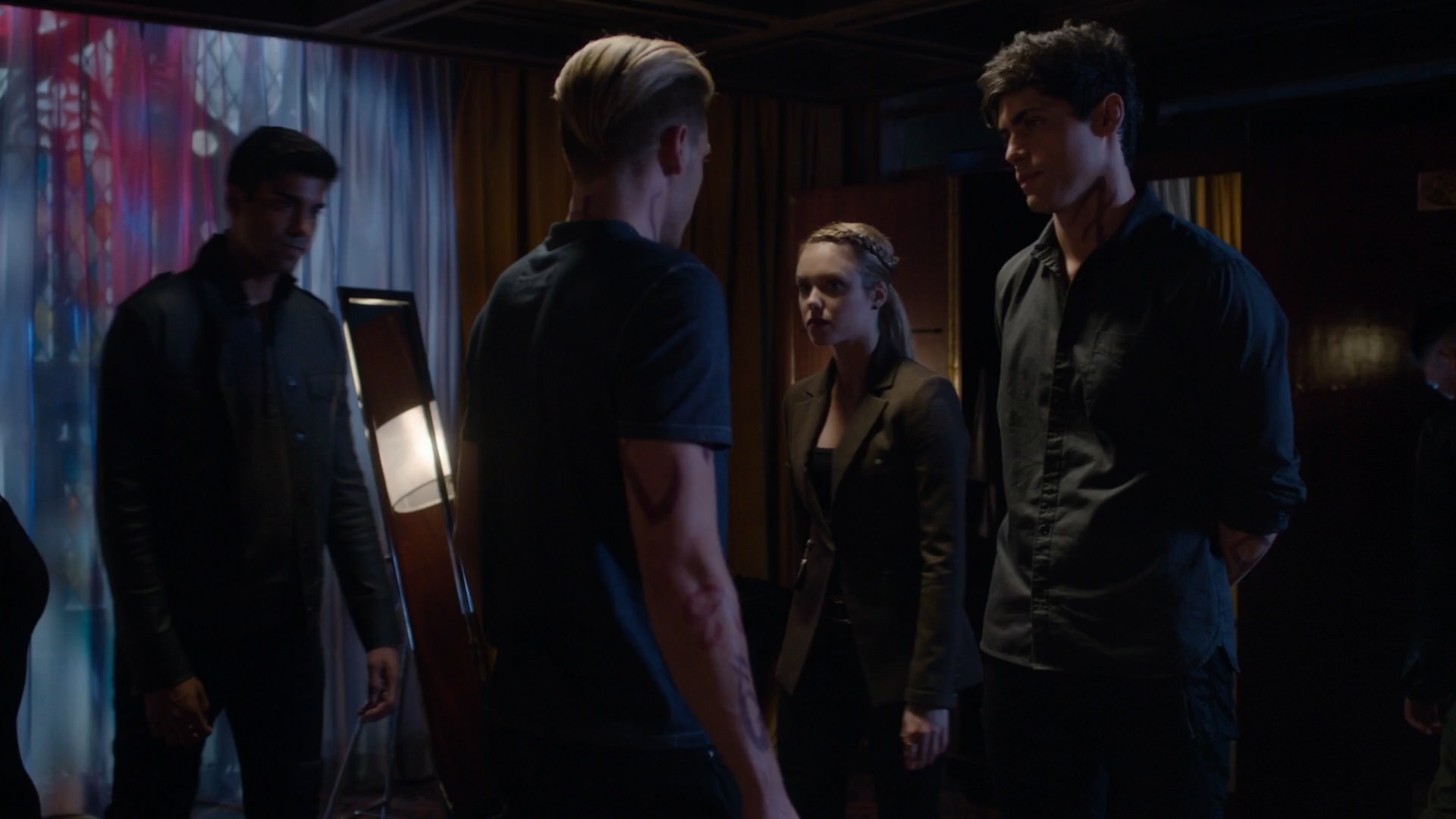 Samantha: I REALLY don't like Lydia, damn.
Shanicka: I hate Lydia and Alec together though. Alec turns into a fucking pod person.
Samantha: I feel like he's always been very concerned with like… being a good shadowhunter? But this is Intense.
Shanicka: Yeah, he's like obsessed with it. To the point of like neglecting his own happiness and well-being and I fucking hate it.
Samantha: Simon's makeup is incredible. The transformation from human!Simon to vamp!Simon is actually pretty amazing. OH MAN YOU CAN HEAR HER HEARTBEAT.
Samantha: The lime wedge on the edge of the cup, I can't.
Shanicka: Lmaooo. Blood but make it fashion~
Samantha: This is HEARTBREAKING.
Shanicka: So fucking depressing.
Samantha: Magnus' face. Ugh. "Solid partnership. That's hot." UGH ALEC JUST LET YOURSELF BE HAPPY.
Shanicka: The next scene made me feel bad for Lydia a bit buttt I still don't like her. Definitely not for Alec.
Samantha: Not least of which because he doesn't like women.
Shanicka: "I'm drinking blood, Clary." MY POOR BEB.
Samantha: Simon's anger at Clary is so, SO valid and I 100% understand and support it. She's sooooo selfish, fuck.
Shanicka: SELFISH AS FUCK.
Samantha: And he's interpreting it as her wanting him, which isn't true. This is garbage. I want to throw my laptop.
Shanicka: EXACTLY. So many layers of shittiness tbh.
Shanicka: Don't fucking answer for him Clary!!! He's his own man.
Samantha: Lol she's done enough of that. I love leader!Raphael.
Shanicka: Me too. I love, love, love Raf.
Samantha: STAY. GOOD DOG. BITE ME. ROLL OVER.
Shanicka: ENOUGH WITH THE DOG JOKES.
Samantha: PLAY DEAD. lksajgklajglkajl.
Shanicka: RUDE.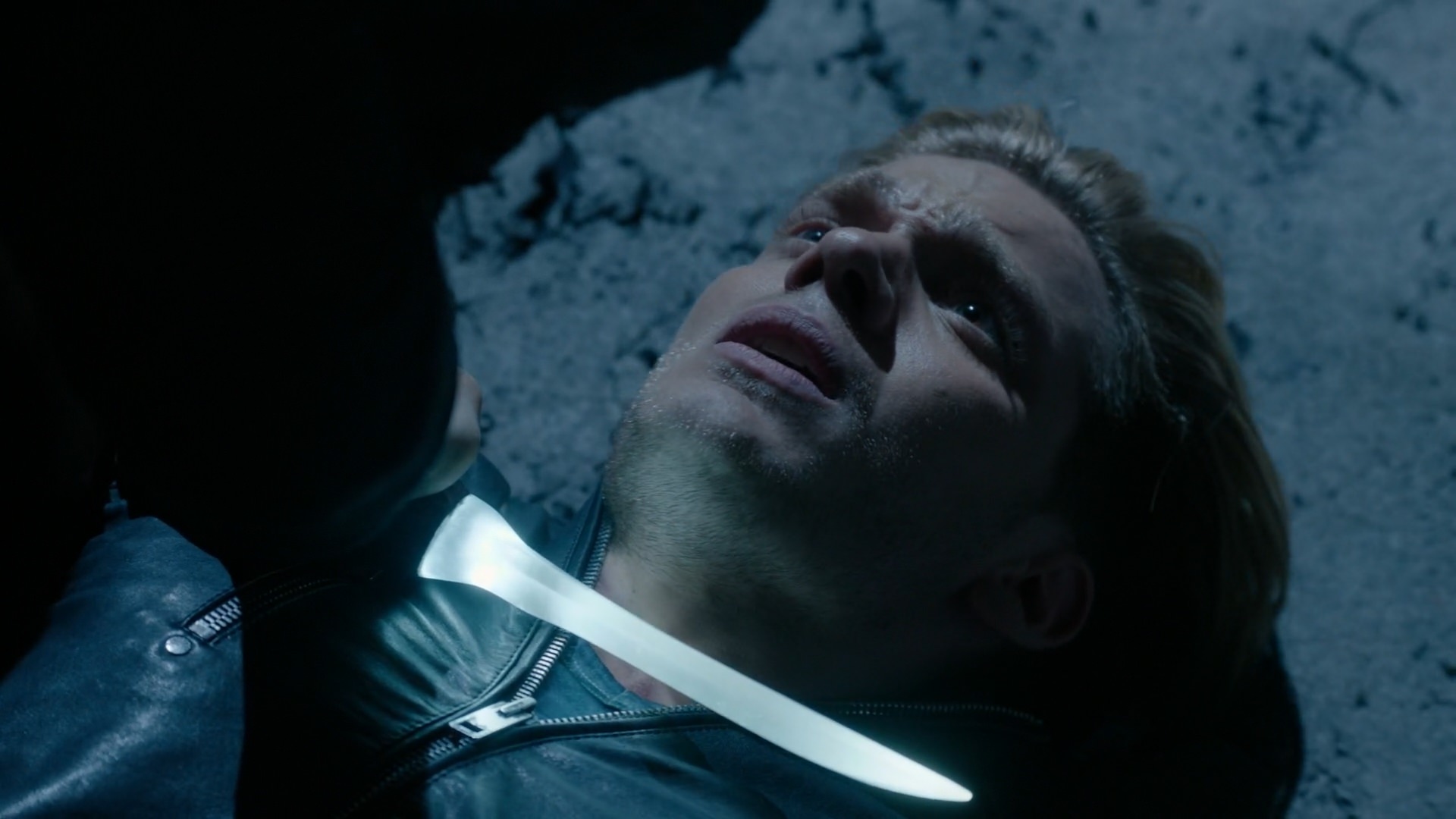 Samantha: Jace… isn't… wrong… This is about him, or at least Alec's feelings for him.
Shanicka: Who woulda thought lmao
Samantha: Seeing them fight feels awful.
Shanicka: I KNOW. PARABROTAIS.
Samantha: "I don't want to be alive if we're on different sides, Alec." OUCH.
Shanicka: 🙁 (Alec's hair is so bad I can't. I'm sorry.) Also I die whenever they refer to their parents as mom and dad. I love it so much.
Samantha: His hair IS really bad. Also, I KNOW! Earlier Jace called them "our parents" and I did a happy little wiggle.
Shanicka: I don't remember his hair being SO bad the first time around cuz I was smitten with that fucking FACE. But, it's really ridiculous lmao.
Samantha: This whole cast is very pretty.
Shanicka: Unfairly so. Except Jace…I really don't think Dom is attractive AT ALL. And I feel bad.
Samantha: He's not horrible to look at though.
Samantha: I TOTALLY EXPECTED THEM TO KISS RIGHT THERE?
Shanicka: Lmao not yet.
Samantha: Wait, what?
Shanicka: Simon's lips look sooo red, wow.
Samantha: "Welcome home" bye.
S01E10, "This World Inverted"
Samantha: I love that they're just in the woods. Meliorn's hair has improved. I am also digging his eye makeup.
Shanicka: Sameee. oMFGGGGGG. I just REMEMBERED WHAT EPISODE THIS WAS. I'M SO EXCITED.
Samantha: I'm loving this tree situation. And the faerie magic.
Shanicka: This is MY FAVE. It's like an AU fic! A+++ episode.
Samantha: I remember them going into faerie in the books????
Shanicka: Okay but you're honestly in for SUCH a wild ride.
Samantha: I LOVED all of these chapters.
Samantha: "There's something dead outside." I just cackled.
Shanicka: Lol my poor vamp son.
Samantha: The werewolves growling is like… too much. I can't.
Shanicka: Teeth boner. Incredible.
Samantha: I— I'm literally in tears.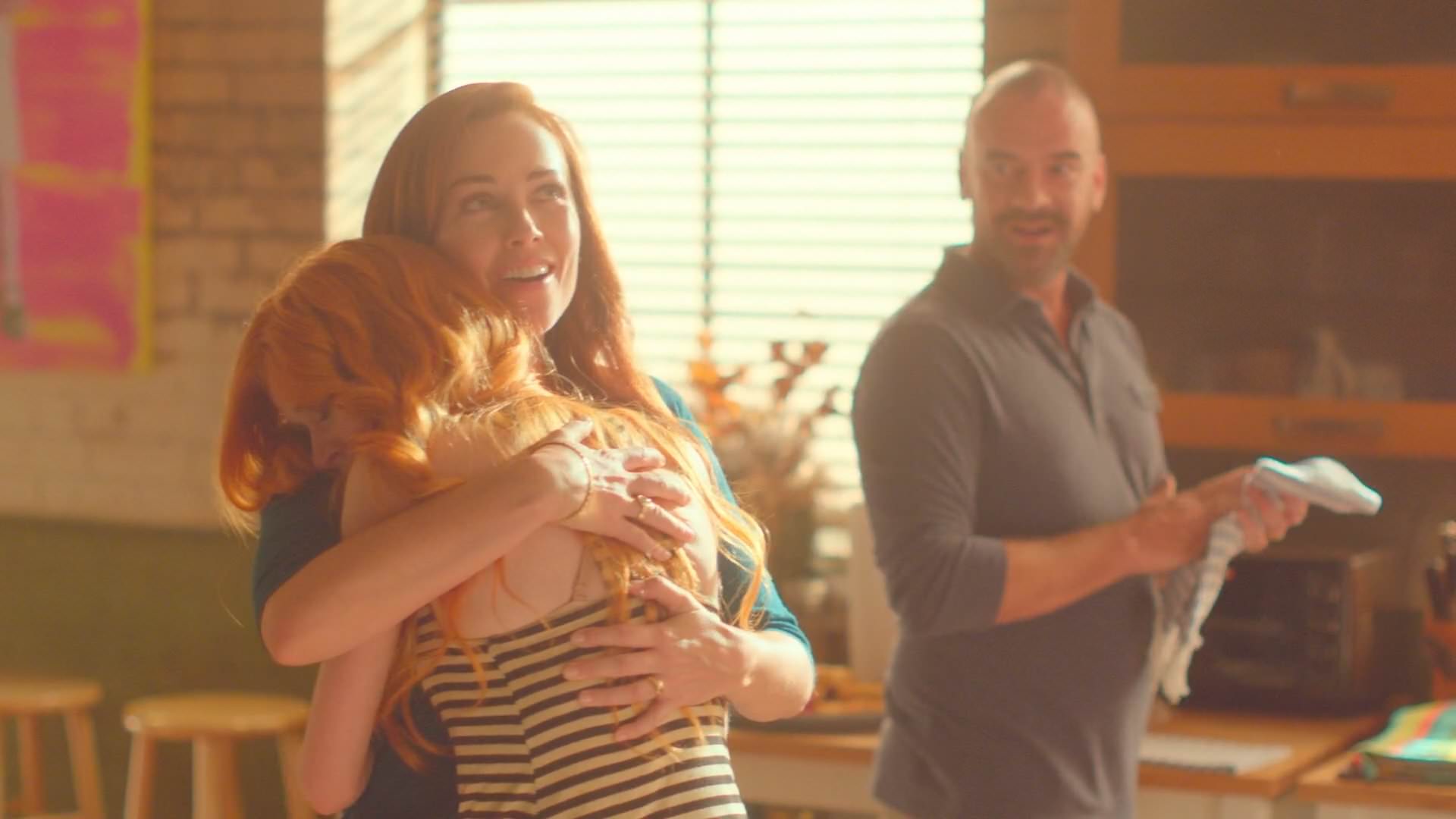 Samantha: This is already so cool. Is she… normal?
Shanicka: Yeah like her family is all nuclear and shit.
Samantha: This is WILD.
Shanicka: It gets SO MUCH BETTER. I fucking adore this episode.
Samantha: This reminds me a lot of the dream at the beginning of the Veronica Mars season two finale. Like. The coloring is the same, the framing is the same, the events are the same.
Shanicka: Omg yes! 100%.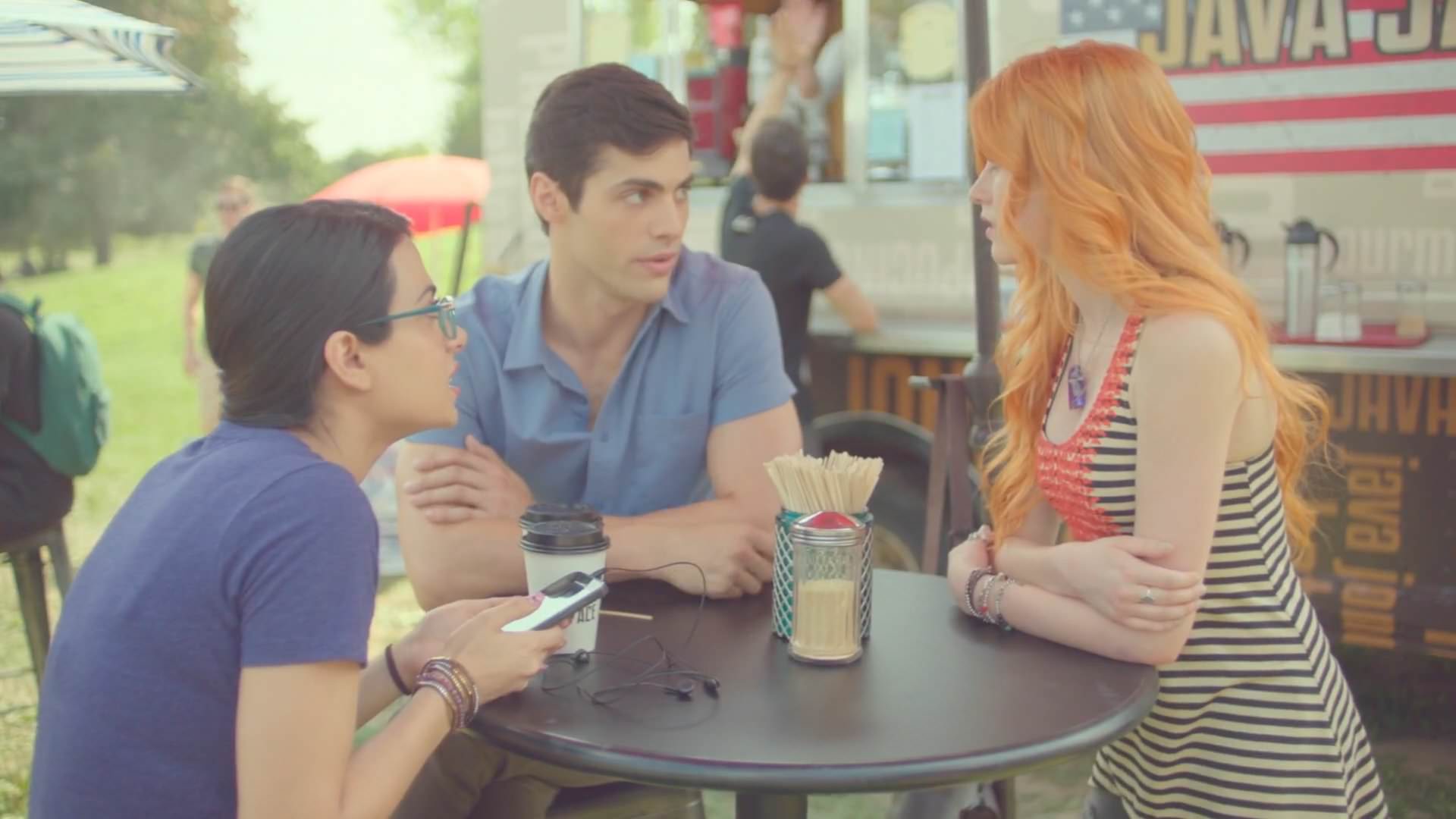 Samantha: Glasses!!!!!
Shanicka: THE BEST. Look at fucking IZZY!!!!!!!!
Samantha: Izzy OMG
Shanicka: Fucking STAR WARS. AND ALEC. UGH. MY F A V E.
Samantha: I'M SCREAMING.
Shanicka: I can't handle how much I love this. I love this even more the second time around WOW. FUCK.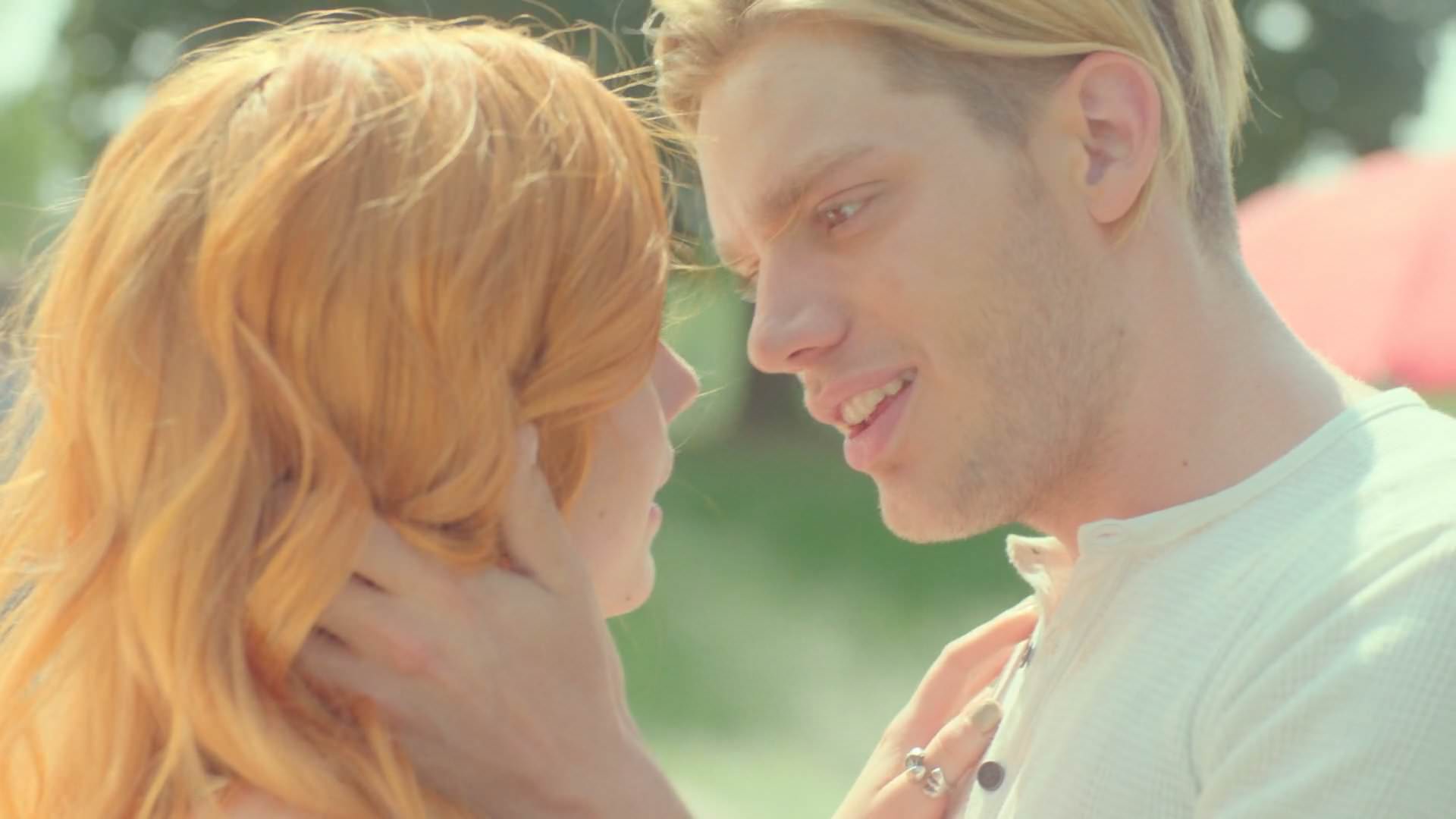 Shanicka: Ew. Still hate them tho. IN EVERY UNIVERSE. FUCK OUTTA HERE.
Samantha: They're possibly worse in this verse. Which is like. A feat.
Shanicka: SIMON AND IZZY
Samantha: SIMON AND IZZY THOUGH
Shanicka: NERD!IZZY AND EMO KID!SIMON. EVEN BETTER. I LIVE.
Samantha: I want a whooooole fic of that.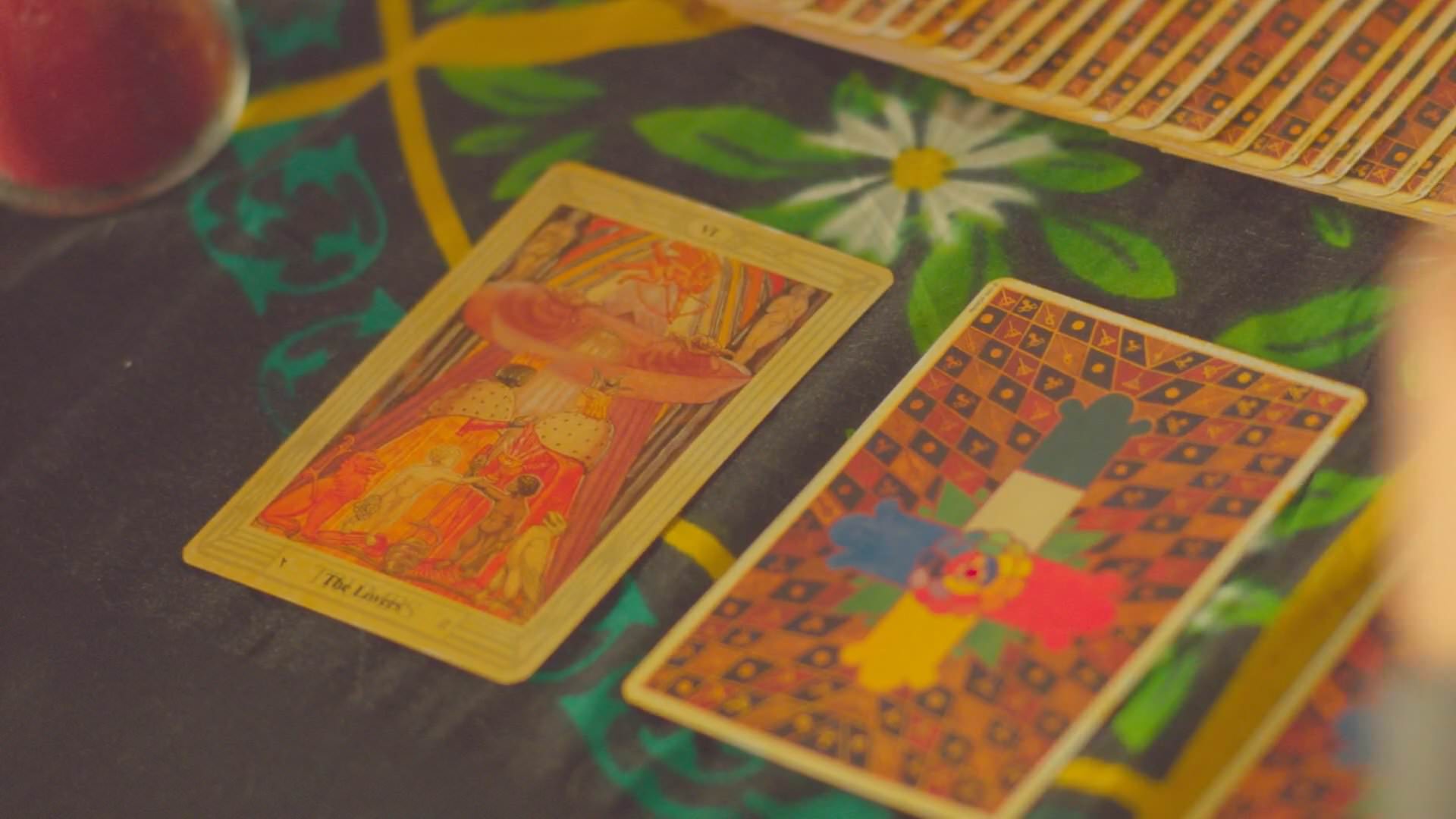 Samantha: That isn't even what "the lovers" means. Hello?
Shanicka: LMAO I KNOW RIGHT
Samantha: THIS IS SUCH A POOR TAROT READING.
Shanicka: Chairman fucking meow.
Samantha: And church! CHURCH WAS IN THE BOOKS. I'm freaked out by how much this AU feels like Pleasantville.
Shanicka: For sureee.
Samantha: I haaaaate the "my duty makes me do terrible things against the needs of my loved ones" plot.
Shanicka: ME TOO.
Shanicka: I love this Izzy so much.
Samantha: Her accent is sooooooo thick.
Shanicka: Also Emeraude's accenttt. LMAO EXACTLY.
Samantha: I would still be down for them to make out tbh. Even in this world.
Samantha: Idk if you know about my obsession with Alice in Wonderland. But it's … making me tweak a little, right now. ThE RABBIT HOLE.
Shanicka: Omg I didn't realize you had one.
Samantha: Yeah it's my favorite book.
Shanicka: NOT EVERYTHING IS ABOUT YOU JACE
Samantha: This is so awkward.
Shanicka: Horrible as per usual.
Samantha: Alec, what the hell. Izzy just told you not to trace Jace with your parabatai bond? Because it can break? What are you DOING?
Shanicka: So fucked up. "Jace is dead to me." LIKE.
Samantha: This is INSANE. Oh, that transition from Jace to Alec, damn. Sometimes the editing is so good.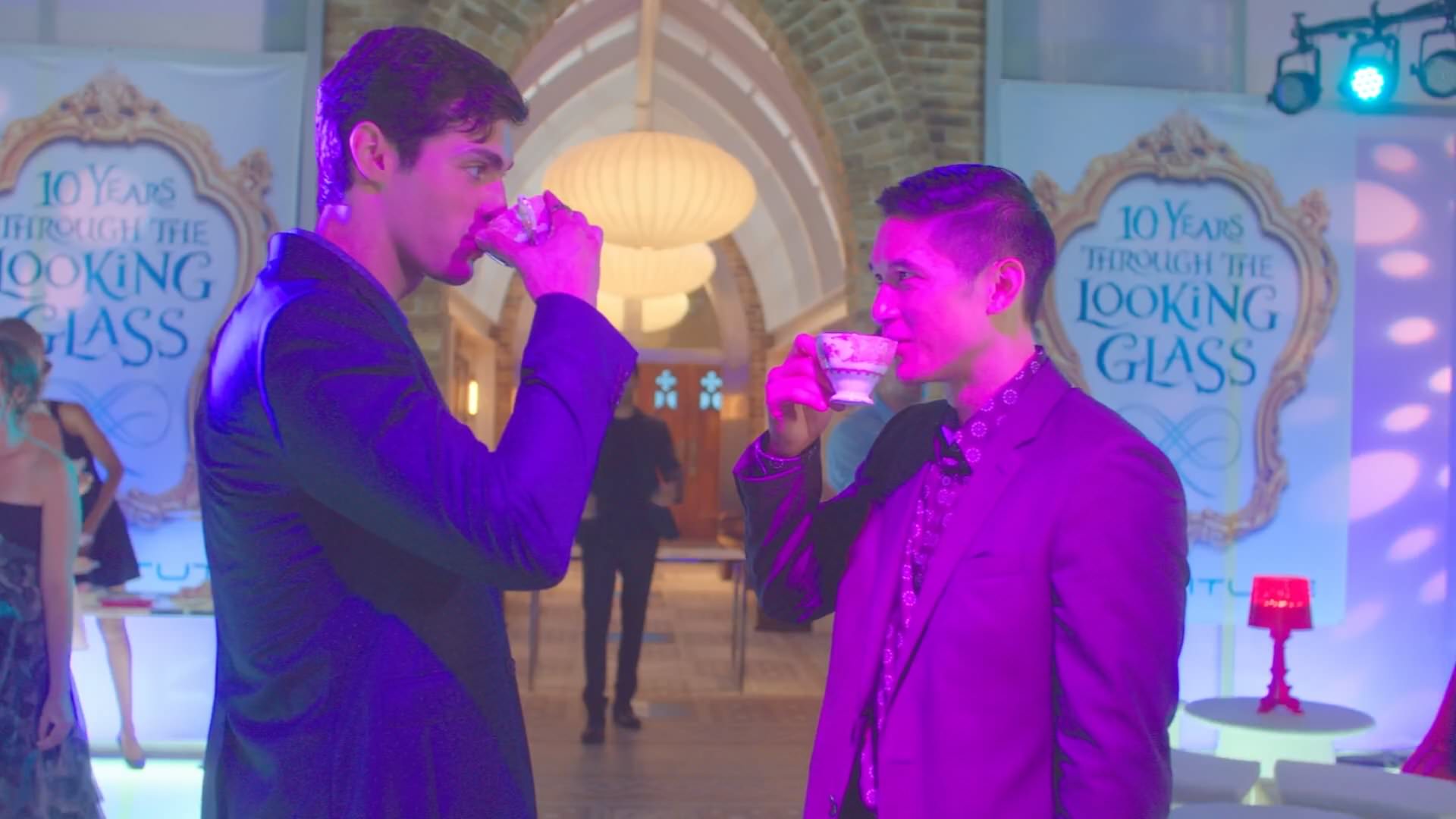 Samantha: !!!!!
Shanicka: This AU!Malec is my fave. Like the role reversal. Love love love it.
Samantha: !!!!!! I'M OBSESSED.
Shanicka: Simon looks so fucking good, ugh.
Samantha: He really does. Dork!Izzy is my fucking fave.
Shanicka: The absolute best ever. I love this universe so much.
Samantha: I'm really fucked up over how much he cares about his sister even when he's being a robot.
Shanicka: Always alwayssss. It kills me.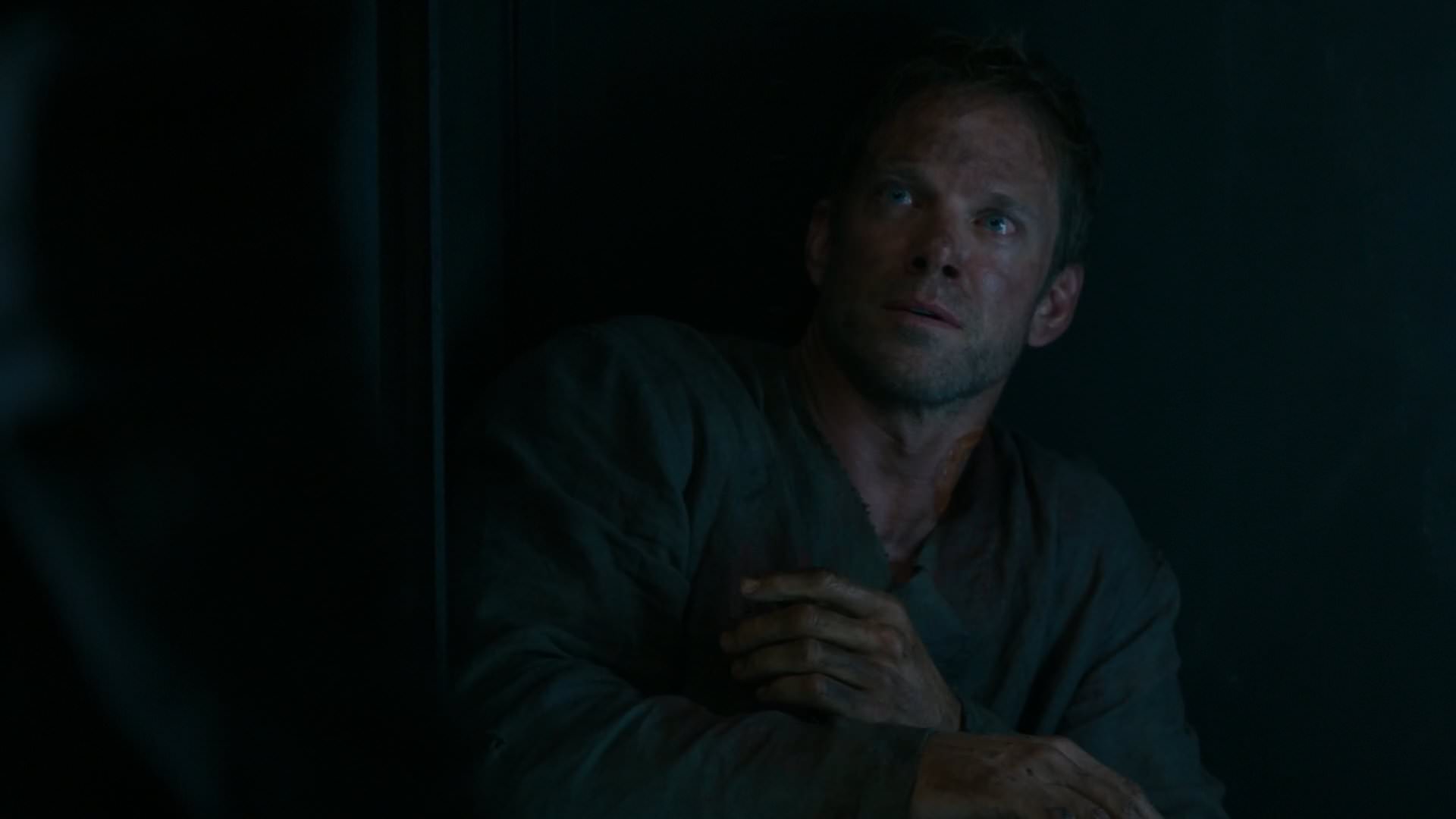 Samantha: Man, imagine if they got radiation poisoning from being here, in CHERNOBYL.
Shanicka: Drama!!!!
Samantha: I'M. WHY THE CLIFFHANGER.