Welcome to the second installment of Shadowhunters Buzz Sessions! Our social media editor, Samantha, and contributor, Shanicka, are watching two episodes every week of the first season of Freeform's Shadowhunters. The series is based on Cassandra Clare's young adult urban fantasy series The Mortal Instruments.
Some background: Shanicka has been watching the series for a while now; Samantha watched the pilot for the first time when they agreed to do this series. Shanicka has not read the books; Samantha has. Together, their knowledge going into each episode is an interesting mish-mash of memory and opinion.
Each Shadowhunters Buzz Session begins in a chatroom while Shanicka and Samantha watch the episodes; then, those chats are transcribed here on Rogues Portal for your reading pleasure (with some points expanded and other, unrelated shenanigans deleted).
This week, they watched Shadowhunters S01E03, "Dead Man's Party" and S01E04, "Raising Hell".
WARNING: There will be spoilers for the series (duh) and the books! Proceed with caution! There will also be some swearing, because that happens.
S01E03, "Dead Man's Party"
Samantha: This previously on is so dramatic.
Shanicka: Sooo dramatic.
Samantha: I love that Alec is blaming Simon for getting kidnapped?
Shanicka: Stupid mundanes.
Samantha: It does suck that Clary is between a rock and a hard place, re: saving Simon from the vampires and saving her mom from Valentine. They all want the stupid cup but even if she finds it, she can only trade it for one of them. Also, "I can't turn into what you are overnight" — oh snap.
Shanicka: ESPECIALLY after literally only getting a day to adjust, LMAO.
Samantha: I'M JUST AN ACCOUNTING STUDENT I HAVE NO VALUE TO ANYONE.
Shanicka: SIMON MY POOR BEB.
Samantha: Oh, Simon. Always throwing Jace under the bus even when he's in danger, LMAO.
Shanicka: I forgot how like…not cool and really MEAN Raf is in these earlier episodes, what the hell? I love him so much. But like damn…that character development.
Samantha: "Downworlders are slaves to their impulses." Are warlocks considered downworlders? I don't remember.
Shanicka: Yep they are.
Samantha: Bahahahaha.
Shanicka: That Gentileschi painting in the background. Loooove it.
Samantha: I love? This casting choice?
Shanicka: He's amazing
Samantha: Are… all of the downworlders people of color?
Shanicka: Raf's the best. Although the makeup is SO weird. It's so funny rewatching early episodes because like…everything is SO low-budget, LMAO. ALSO YEP PRETTY MUCH.
Samantha: Yikes. That's not a good look.
Shanicka: It's actually…so…fucked. That's a huge huge huge topic of the meta I see written tbh. And there's a storyline with Izzy next season (I think? I forgot the episodes now) that's also!!! So!!! Questionable!!!!
Samantha: YIKES.
Shanicka: But yeah like Raf, Simon, Luke, Maia, Magnus, Meliorn???? ALL POCs WOW.
Samantha: That's honestly really fucked up. Like I know the downworlders aren't necessarily bad guys, but they're classified as such. So that's. Not cool.
Shanicka: No I totally get it. And then they (the writers, I guess) do this weird thing where they are all like "Izzy isn't a canonically POC" which is technically true but Emeraude Toubia is VERY CLEARLY Latinx sooooooo. No sry. Bye.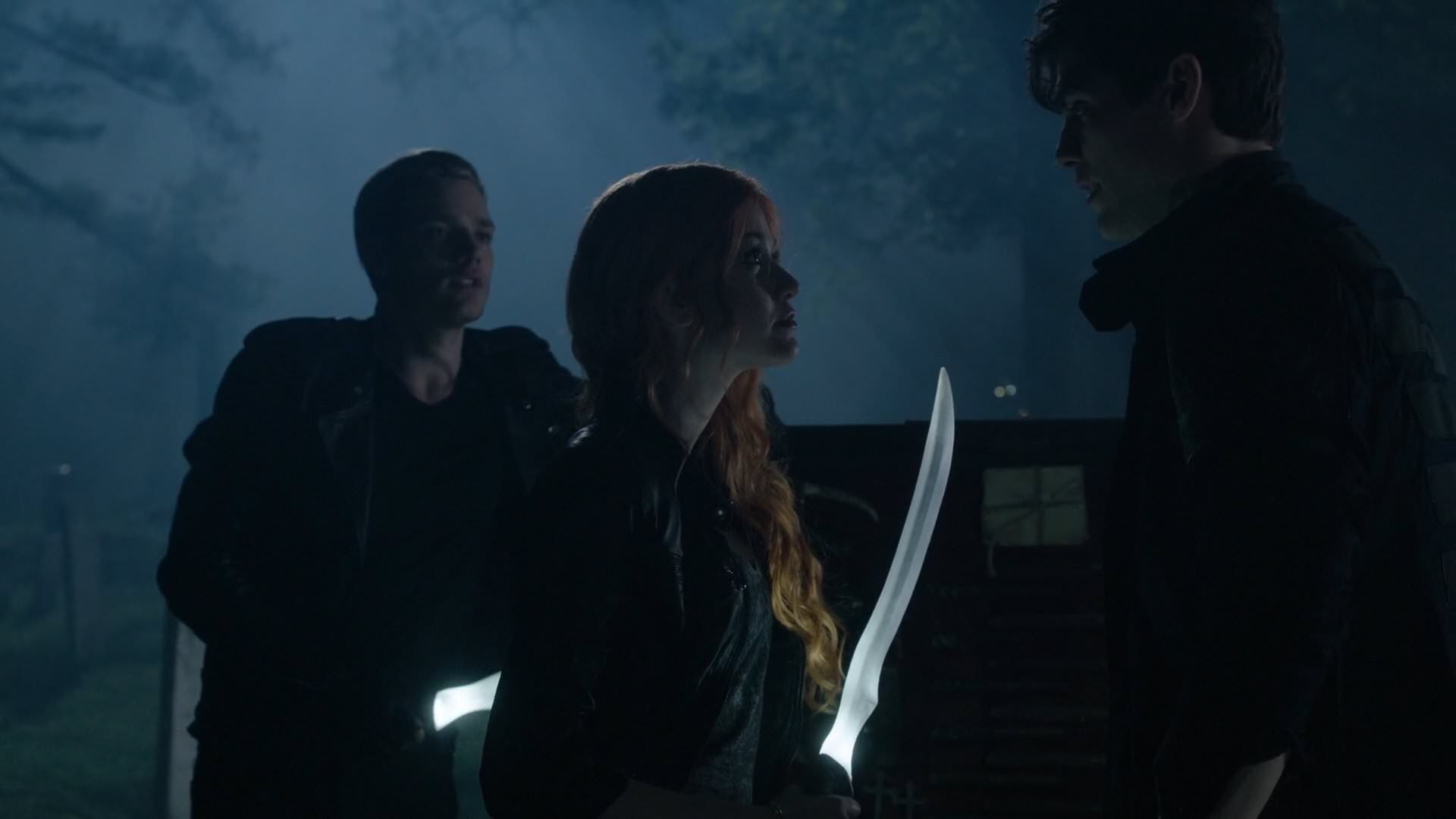 Shanicka: So much Parabatai UST~~~. Just two bros being in love with each other nbd nbd.
Samantha: Oh my God. And then Jace and Clary.
Shanicka: JACE AND CLARY ARE GROSS.
Samantha: This mUSIC I can't. This is weirdly sexual and I'm uncomfortable.
Shanicka: ALTHOUGH I'm fake as FUCK because when I was watching the S02 finale earlier, they made me BAWL. I'm ashamed. LMAOOO. That's Clace~~ inna a nutshell, tbh.
Samantha: OH GIRL WE HAVE ALL BEEN THERE IT'S FINE.
Shanicka: This dumb sultry whisper-speaking.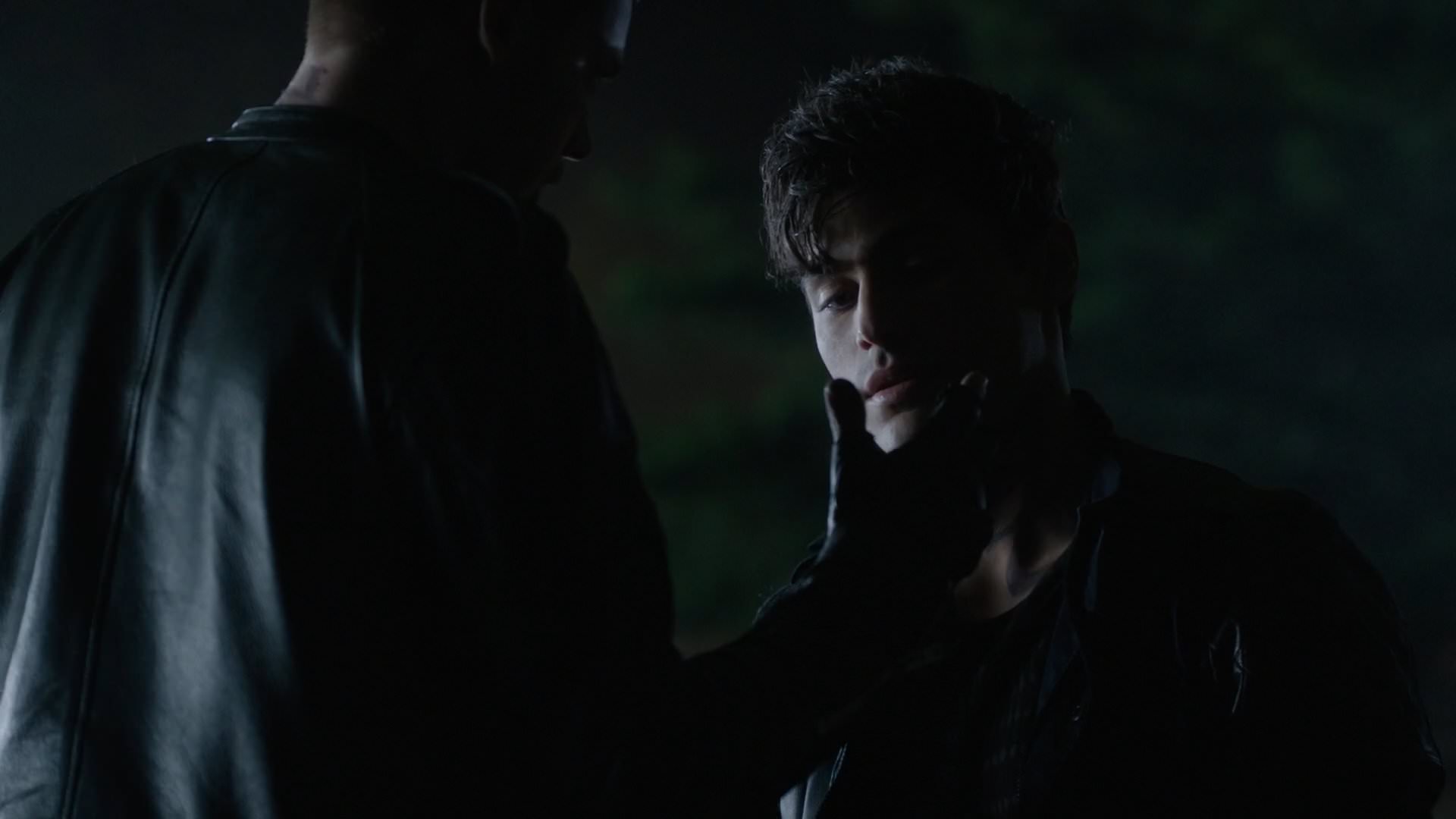 Samantha: That is… not how I have ever pronounced parabatai.
Shanicka: Lolll omg rly? How did you pronounce it??
Samantha: Pear-uh-bah-tee.
Shanicka: PARABATAI LITERALLY SOUL AND HEAR-BONDED. AS TWO BROS DO. ACTUAL SOULMATES.
Samantha: Do they go into how it's HIGHLY DISCOURAGED for parabatai to be romantic?
Shanicka: Yeah pretty sure. There's like a whole half episode dedicated to Alec's Jace angst.
Samantha: Meliorn's hair is really bad wow.
Shanicka: Melioooorn. Such a beautiful lil seelie. LMAO.
Samantha: That rune right in the center of her boobs, wow.
Shanicka: I love him. Also the actor's name is Jade which I dig for whatever reason.
Samantha: This is surprisingly sexual for Freeform.
Shanicka: Agreed.
Samantha: I'm not complaining, just observing.
Samantha: … "Say it. Out loud. VAMPIRE."
Shanicka: Hahahah
Samantha: What's up with the Native art on the wall?
Shanicka: Oh weiird I didn't even notice that!
Samantha: Would be so much more into this if it was Raf and Simon js
Shanicka: ALWAYS!!!!
Samantha: The ideal would be Simon/Raf/Izzy
Shanicka: Dreeeam team.
Samantha: SIMON SHUT UP
Shanicka: I know that vamp decor is supposed to be rly luxurious~~~ but it looks SO CHEAP. Like just straight up gold spray paint??
Samantha: I mean, their budget can't have been that big hahaha
Shanicka: Hahaha especially that first season money.
Shanicka: There's something so SUS about a dude who wears a zip-up hoodie with nothing under it.
Samantha: Hodge is so goddamn sketchy.
Samantha: This is too much.
Shanicka: SUCH BAD GREEN SCREEN. CRINGE.
Samantha: Jace is such a fuckboy. What is going on. LMAO.
Shanicka: OH goddd.
Samantha: SIRIUS BLACK WOULD BE OFFENDED
Shanicka: Hahahaha.
Samantha: I feel like Clary saying she doesn't see the romance in vampires is very…meta. Like that feels like a direct commentary on the Twilight thing, LOL.
Shanicka: Omg yeah so true.
Samantha: Wow, this dialogue
Shanicka: Eye rollll.
Samantha: IT WEARS OFF JUST LIKE LOVE. Yet they're supposed to be all epic. Jesus.
Samantha: I know their runes protect them but the Girl In Sexy Dress Fighting Monsters thing is very… tired.
Shanicka: And her heels!!!! Like the dress okay sure whatever but running in 6 inch heels is sooo unrealistic??? LIKE.
Samantha: YEAH
Shanicka: Sounds FAKE.
Samantha: I don't care how comfortable you are walking in them, that's some next level shit. I don't think even Rihanna could do that.
Shanicka: Exactlyyyy
Shanicka: Alec's bow and arrow is so. Damn. Sexy. uGH.
Samantha: This is making me want Percy Jackson AU of this garbage series.
Shanicka: Lolll poor high and oblivious Simon.
Samantha: I remember Camille from much later in the books?
Shanicka: Yeah I was reading something that this first season covers like the first two books or something? And some of book three.
Samantha: Oh interesting. There are six books so I guess that makes sense?
Shanicka: Jesus I didn't realize there were so many.
Samantha: I do not remember the pacing at all but like, that explains why the show feels so fast. LOL YEAH THERE'S A TRILOGY AND THEN A SEQUEL TRILOGY AND A PREQUEL TRILOGY AND NOW A SPINOFF TRILOGY.
Shanicka: Yeah it's definitely 100x faster. Sooo weird. That seems…uhhh excessive? Like when you see WIP fics that are already 300,000k lmao like. WhY.
Samantha: I thought I was free after book three and then I wasn't. It was awful. BUT ALEC AND MAGNUS JUST GET BETTER AND BETTER SO LIKE IT'S FINE.
Samantha: Fuck, poor Alec.
Shanicka: CUZ HE LOVES U IDIOT. Fucking Jace. WHATEVER. JUST WAIT ALEC.
Samantha: DON'T ALEC AND MAGNUS MEET IN EP 4?
Shanicka: Ew there are legitimately SO many longing~ glances between Clary and Jace? Like, somehow I hate them more the second time around and I didn't think that was possible. But anyways, onwards to Ep 4. I…don't even remember. WE'LL FIND OUT NOW.
Samantha: YESSSSS.
S01E04, "Raising Hell"

Samantha: I totally forgot that Simon thinks Jace is responsible for all this garbage.
Shanicka: LMAO, I HATE THEM.
Samantha: I love how vitriolic you are toward them HAHA.
Samantha: This pissing contest. CAPTAIN AMERICA. I'M SCREAMING.
Shanicka: COME AT ME BRO. BYEEEEEEE.
Samantha: Omg, Simon baby.
Shanicka: Also JACE WISHES he could be like my dad Steve, gtfo.
Samantha: Cackling
Shanicka: But yeah the fucking love triangle/dick measuring contest between them is literally sooo annoying. Like just make out instead or something.
Samantha: That honestly should be the solution to all tension on this show. Orgies. I'm tellin' you.
Shanicka: It works for Sense8!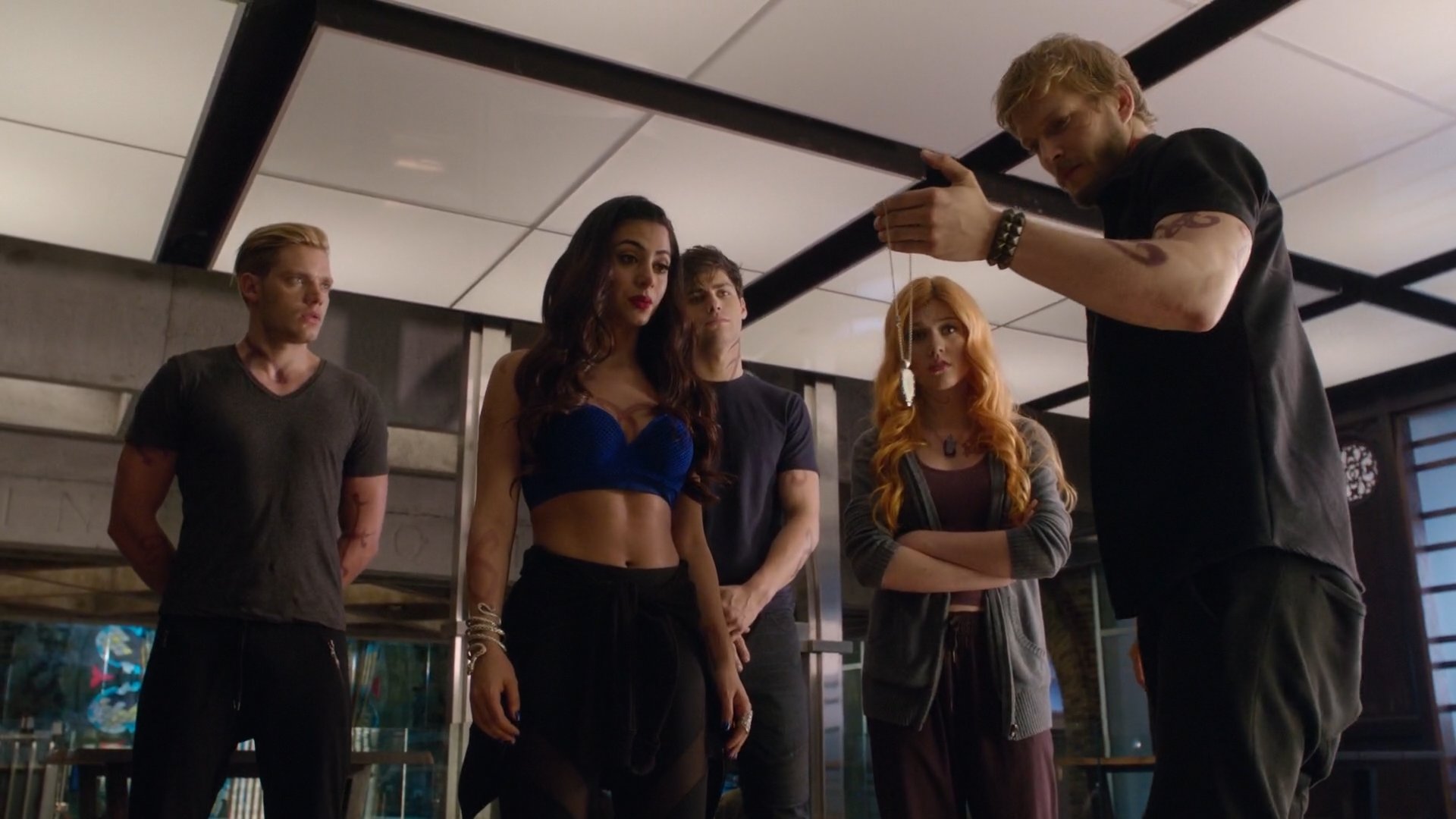 Samantha: This MUST be the episode where they meet, oh my word, I'm not ready, Shanicka.
Shanicka: I think it is!!!!
Samantha: "Never underestimate Magnus' heathenism." Bye. Also I need Izzy's boobs to be less perfect? Thanks.
Shanicka: Hahahaha. Magnus Bane, BISEXUAL ICON.
Samantha: I love him.
Shanicka: ME TOOOOO.
Shanicka: Did ya realize yet who the actor who plays Luke is?
Samantha: No but he looks wicked familiar.
Shanicka: He's the Old Spice guy!!!!!!!
Samantha: Holy shit.
Shanicka: Hahahaha.
Samantha: THE TICKETS ARE NOW DIAMONDS.
Shanicka: I SHIT when I found out lmaooo.
Samantha: I CAN'T. I'm gonna have to link that commercial in this recap omg.
Shanicka: Izzy's kink is dressing Clary up in her clothes. and LMAO YOU MUST.
Samantha: "Look at your man. Look at me. I'm a werewolf." — Reed
Shanicka: HAHAHAH.
Samantha: Also though Izzy dressing Clary up is Good and Right. Because all of her clothes are outrageous so obvi she wants to check Clary out, right? Right.
Shanicka: OBVIOUSLY.
Shanicka: OMG…I always forgot about this girl. I feel bad.
Samantha: Who is this?
Shanicka: She was sweet. I…don't even remember her name. She was in the pilot though.
Samantha: Ohhhhh shit. Her name is Maureen.
Shanicka: YES RIGHT.
Samantha: Does she die?
Shanicka: Nope? I honestly…don't remember what happens to her? I think she just gets fed up and leaves? JESUS this is SO BAD I should remember this.
Samantha: Simon.
Shanicka: Dat bloodlust tho.
Samantha: WITH A BODY LIKE YOURS, EVERYTHING'S YOUR COLOR. Fuck, just make out.
Shanicka: I'M SAYIN.
Samantha: Forget Jace. No one cares about basic blonde boys.
Shanicka: Alec is so grumpppyyy.
Samantha: Oh shit oh shit oh shit I'm nOT READY.
Shanicka: Omg no facial hair yet. He looks like a lil bby.
Samantha: I feel like Harry Shum, Jr. has aged so much? Between this and more recent gif sets?
Shanicka: Yeah it's so WEIRD cuz like Harry Shum vs Magnus is SO HARD TO RECONCILE. He does such a great job.
Samantha: Honestly, I expected to just see Mike Chang but that's. Not what is happening. Harry, you absolute gem.
Shanicka: Hahhaha not at ALL. He's amazing.
Samantha: HELLO. OMG the way his eyes just tracked Alec.
Shanicka: "WHO ARE YOUUU"
Samantha: oaskasjgklasghd.
Shanicka: JUST TWO BROS HOLDING HANDS AND BONDING.
Samantha: Everyone on this show is so bi.
Shanicka: Oh fer sure. I legit ship everyone with everyone (except Clary and Jace).
Samantha: Cackling.
Shanicka: Lmaooo just need to reiterate.
Samantha: No I love it. Every recap we do is gonna be like "all these things are great EXCEPT FOR CLARY AND JACE."
Shanicka: HAHAHAHA. Pretty much. That's literally how feel about the entire show in a nutshell, omg.
Shanicka: LMAOOO MAGNUS.
Samantha: shjakshgjahsjkghajkghajkhg. ALEC'S FACE
Shanicka: Shameless and so unsubtle. AND fucking ALEC. STUTTERING.
Samantha: !!!!!!!!!!!!!!!!!!!!!!!!!!!!!!!!!!!!!!!!!!!
Shanicka: It's the BEST.
Samantha: I'VE NEVER SEEN HIM SMILE?????
Shanicka: He's so grumpy and then he meets Magnus and literally is reduced to a fucking blushing and bumbling preteen. It's my FAVORITE. That is my FAVORITE TROPE.
Samantha: I'M LOSING MY MIND.
Shanicka: Like SINGLE reason I finally took the plunge and started watching Shadowhunters was cuz I saw a post like was like: "Malec is when the ? one meets the ? one and becomes the ☺️? one." AND I WAS FUCKING SOLD.
Samantha: I saw all the gifsets from the kiss at the wedding and I was like "oh god I'm gonna watch this show" and then held out solely because I was so goddamn busy. But now there are super angsty gifsets everywhere and I'm WORRIED, so here I am.
Shanicka: Honestly the writers are SO GOOD at having Malec like, talk out their problems. Also Matt Daddario is the single biggest Malec shipper and he'd probably burn the entire production set down to the ground if anything happened to Malec.
Shanicka: MAGNUS IS SHAMELESS AS FUCK. "PRETTY BOY." "NOT TALKING TO YOU."
Samantha: I'm just. This is so much more than I hoped for.
Shanicka: Hahaha it gets even BETTER. MY BABIES.
Samantha: God. OMFG MAGNUS. LMAO AND JACE LOOKS AT ALEC
Shanicka: Hahaha.
Samantha: Magnus' hip movements are so much
Shanicka: I LOVE IT. YOU'RE IN FOR SO MUCH ALEC ANGST.
Samantha: Izzy's love for her brother fucking me up.
Samantha: OH SHIT. ALEC. ALEC NO. A MEMORY OF THE PERSON YOU LOVE THE MOST. JACE.
Shanicka: GAY PANIC
Samantha: BIG GAY PANIC
Shanicka: Lmaoooo the worst possible outcome.
Samantha: This is AWFUL. I have no clue if this was in the books, I don't care. Alec, oh god.
Samantha: I DON'T KNOW DOES HE NORMALLY JUST LAY LIKE THAT WITHOUT MOVING
Shanicka: "You willll"
Samantha: klsjklsajgklajglakj
Shanicka: YOU WILL. BYE. (Note: We realize this makes no sense unless you watch the episode, but that's fine with us. Watch it!)
Samantha: I CAN'T.
Samantha: Why does everyone wear zip up hoodies with nothing underneath?
Shanicka: It's so SUS. Grab a fucking undershirt ya weirdos.
Samantha: Definitely not a good look. Simon has it figured out though. Too bad he's going to be a VAMPIRE.
Shanicka: My poor bb vamp son. WELP. CUTE LIL FAMILY REUNIONS AHEAD.
Samantha: Valentine is so creepy. OKAY WELL THAT WAS FUN.
Shanicka: VALENTINE IS THE WORST. But hahaha yessss.
Samantha: GONNA HAVE TO READ FIC THIS WEEK PROBABLY. RIP.
Stay tuned next week for a full chat transcript of Shadowhunters episodes five and six!