Shade the Changing Girl #8
Writer: Cecil Castellucci
Artist: Marley Zarcone
Colorist: Kelly Fitzpatrick
Letterer: Saida Temofonte
Publisher: DC's Young Animal
A review by Anelise Farris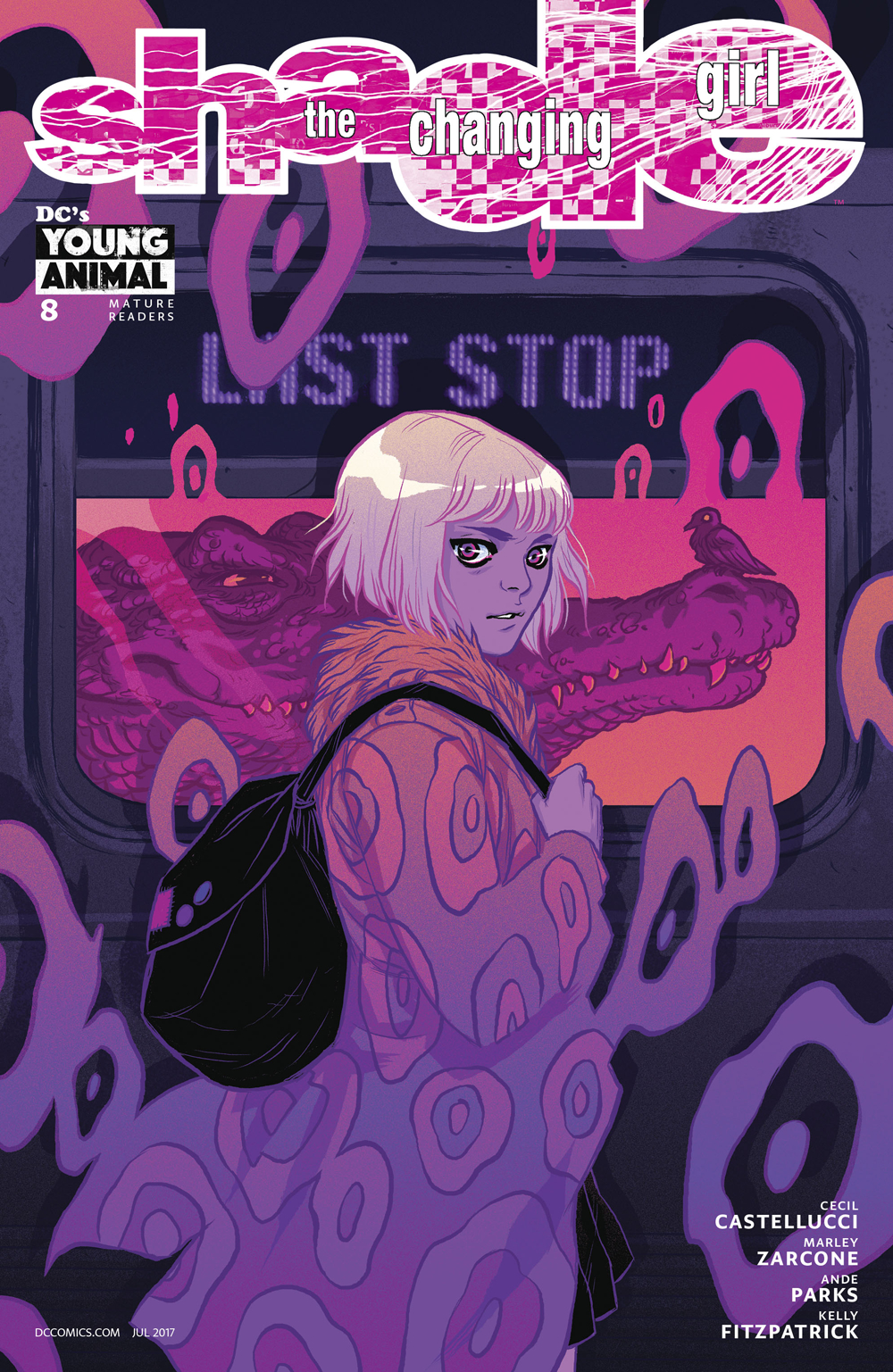 Shade the Changing Girl #8 is the beginning of a brand-new arc for our favorite alien-inhabited mean girl Shade. The previous issue was a standalone issue that helped to draw the first arc to a close and take the second arc in a new direction. Shade thought that things were looking up for her: she had fully taken over Megan's body; however, eradicating the mean girl wasn't enough to make others forget how Megan had terrorized them in the past. The school dance, in full-Carrie fashion, leaves Shade tarred and feathered, and she decides that it is time to head out of town. And this is where Shade the Changing Girl #8 picks up: Shade arriving at Gotham Station.
In Shade the Changing Girl #8, Shade discovers that Gotham is much different from Valley Ville. We follow Shade as she works through a list of to do's in a new city: mingle with locals, try the grub, buy a souvenir—just to name a few.  This is not glamorous New York. Although Shade does visit such sites as the Statue of Liberty, she spends most of her time visiting poverty-stricken neighborhoods and talking with the homeless. Although she is advised to watch out for anyone in a cape, she herself becomes a threat to the city: madness slips in, around, and through the panels, affecting various aspects of each scene. Shade wants people to see Gotham as she does: madness for all! Likewise, life on Meta, Shade's home planet, becomes increasingly dangerous as her friend Lepuck and others become test subjects for new madness vests.
A major question that filters through this issue is what's real and what's fake, and the art definitely reflects this. From the hallucinatory projection of Honey to the psychedelic colors and bits of madness popping up in unexpected places, Shade the Changing Girl #8 feels like a fall down the rabbit hole in the best way possible. While the standalone issue had a new creative team, this arc brings the team from the first six issues back together. And although the art and the use of color is familiar, I was really struck by how Shade has changed since issue #1. In Shade the Changing Girl #8, the artists do a fantastic job of showing how the madness is slowly taking control of Shade. Even from the cover, there are weary, tired lines under Shade's eyes and a heaviness to her posture. The stakes are definitely higher in this second arc, and Shade the Changing Girl #8 carefully establishes a new, compelling narrative for Shade.
The Verdict
Buy it! If you are new to Shade the Changing Girl, I recommend picking up issue #7 before jumping into this new arc. Issue #7 does a great job of providing essential background information, so you don't have to start back at issue #1 (although I highly encourage you to!). Either way, Shade the Changing Girl #8 is a great start to a second arc, and if you are looking for a sci-fi, coming of age story with a colorful leading lady-alien, this is for you!